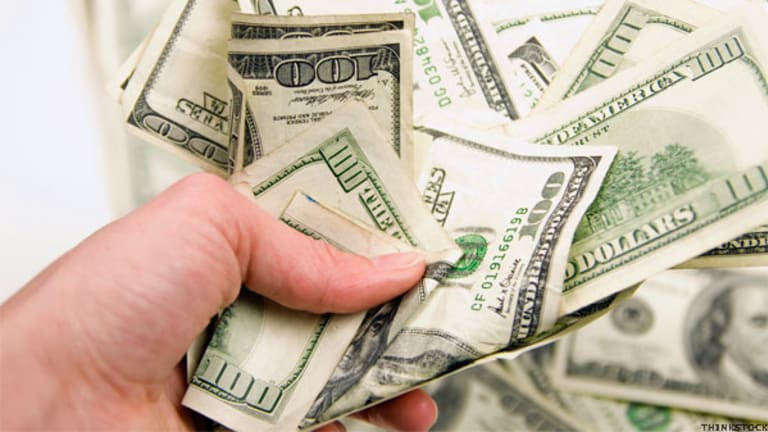 Publish date:
Business Looks to Win at 'Gamification'
Applying game theory to selling, saving, buying or customer service can transform all kinds of businesses.
Applying game theory to selling, saving, buying or customer service can transform all kinds of businesses.
BOSTON (TheStreet) -- Add another business buzzword to the mix: gamification.
"I've been tracking hits on
Google
(GOOG) - Get Alphabet Inc. Class C Report
for the word 'gamification' for the last two months and I've gone from 19,000 in October to about 140,000 this week," says Byron Reeves, a professor at Stanford University and faculty director of the Stanford Media X Partners Program in early December.
Distilled to its fundamentals, gamification is business looking at the psychological tactics long deployed by successful game designers. It is tapping deep-rooted urges -- to collect, to compete, to exert power -- that make social media and console-based gaming so addictive for so many.
In its infancy, this breed of game theory is mostly an add-on to traditional company outreach, adding a game or competition to promote a movie, book or product. Rewards of virtual- and real-world goods are often the lure.
The success of social gaming has
Microsoft
(MSFT) - Get Microsoft Corporation (MSFT) Report
,
Yahoo
(YHOO)
and
AOL
(AOL)
looking for a way to make the niche their own and better compete with Facebook, ground zero for many of these games thanks to
Zynga's
ubiquitous
FarmVille
and
Mafia Wars
.
7-Eleven
has jumped in with special FarmVille Slurpee Cups.
American Express
(AXP) - Get American Express Company Report
now allows cardmember rewards points to be applied to the purchase of virtual goods in Zynga's games.
In many ways the concept is nothing new. There were once S&H Green Stamps to reward purchases, and Boy Scouts have long collected merit badges. Contests such as
McDonald's
(MCD) - Get McDonald's Corporation (MCD) Report
Monopoly game have been used to attract customers. From
Starbucks
(SBUX) - Get Starbucks Corporation Report
to
Kohls
(KSS) - Get Kohl's Corporation (KSS) Report
, free merchandise and cash rewards encourage repeat purchases. Prizes have always been used to not just reward behavior, but to manipulate it.
The twist, made possible by new technology and metrics learned from the social networking revolution, is how to go beyond already plentiful data mining and dig deeper into the psychological motivations of consumers.
How do countdown clocks, such as the one used on
Amazon's
(AMZN) - Get Amazon.com, Inc. Report
Daily Deals, force a sense of urgency that close sales? Why is it that we grumble about mowing the lawn, but spend hours tending to crops in the virtual FarmVille? Is there a way to tap into the addictiveness of multiplayer online communities such as
World of Warcraft
to spur sales, addict consumers and have them come back for more and more and more?
Months ago,
CEO David Helgason predicted that this year would be "the year of gamification."
He thinks his prediction came pretty close to the mark.
"There was practically no mention of this word before November of last year," he says. Now, almost everyone wants to get into the game. His company, which creates game design tools, has already worked with the likes of
Disney
(DIS) - Get Walt Disney Company Report
, Microsoft and
Coca-Cola
(KO) - Get Coca-Cola Company Report
.
"Game designers are solving that problem of how to engage people," he says. "It's natural that other sectors and areas will benefit from this knowledge and these experiences."
"It's a natural evolution of loyalty and marketing programs, plus the lessons we had from the social media world," says Tim Chang, Partner at
Norwest Venture Partners
, considered by many in gamification circles as one of its pioneers. "Social media taught the world about things like virality as a way to acquire users very quickly, very cheaply. But retention was a problem."
"Gaming has always been the expert area of retaining and addicting users and keeping them around for a long time," he adds. "When social gaming broke through, the reason it was such a big hit is you had both the peanut butter and the chocolate together. You had the chocolate of the fast spike and viral growth and you had the peanut butter of stickiness, keeping these folks around. And so gaming helps to solve the engagement, retention and monetization problem."
Game makers have studied the psychology of their creations for years, understanding how the personality archetypes of "collectors" and "slayers" can be manipulated, Chang says.
It is all about understanding Dante's concept of the seven deadly sins, Chang says, half-joking.
"You can actually decode why any given consumer site, service or social network is addictive because it drives one or more of the seven deadly sins directly or indirectly," he says. "You can even engineer an engagement or addiction around some of these impulses."
Who can benefit
Chang sees health and wellness companies as well-suited for gamification strategies. Companies such as
Nike
(NKE) - Get NIKE, Inc. (NKE) Report
and a whole host of third-party Apple "apps" have used game-based motivators to encourage exercise.
Commerce and shopping is another natural fit.
"
Groupon
and all these deal sites really are, at their heart, lightweight game mechanics applied to the shopping experience," Chang says.
The financial sector also has potential.
"In many ways, isn't stock trading kind of like a giant video game?" Chang says. "You'll see that even things like picking mutual funds and investing can be more of a gamified area."
Eric Eastman, CEO of
, sees personal finance as a suitable frontier.
"In the U.S. alone there are 30 million young adults that play social games on
Facebook
, and that population represents $200 billion a year in discretionary income -- not just what their parents are spending on them, but money that is in their pockets from jobs, allowances and gifts."
Using game-inspired strategies can help this young demographic learn how to better manage their money, Eastman says.
"Sometimes, I think we see them as living in the moment only, eating junk food and hanging out at the mall, but the fact of the matter is -- especially coming off the heels of the economic meltdown -- this population gets the bigger picture: 'If I'm smart about my money, I am going to be successful in life and I am going to lead a happier life."
The personal finance site
is also bringing a gaming mentality to its mission.
"What we have learned from our users is that any game aspect has to be, at least for finance, more oriented toward some specific thing that you are working toward: I want to buy a house or a car, take a vacation, get out of debt, save for my retirement or buy a big-screen TV, or whatever it may be. Otherwise you have a system of points with no levels or no end game," says Aaron Patzer, the founder of Mint.
Adding an element of competition was also found to be a motivator. Mint recently launched the
Drop Your Debt Challenge
, described by Patzer as a sort of "The Biggest Loser" for money problems.
It pits user against user and city against city, with cash prizes awarded to those who best reduce their debt and meet financial goals.
Companies themselves, and the enterprise software that powers them, could be gamified.
"The dashboard that a customer service rep uses may not be that dissimilar from
Farmville
because you have these incoming calls, and if you don't harvest them quick enough or deal with them they are going to spoil just like your crops in
Farmville
," Chang says. "You need to respond to them quickly and you need to prioritize the right things. I jokingly refer to it as CusomerSupportVille. If you could make that job even 20% more enjoyable, fun or engaging, you might reduce the churn of your work force by 2% to 3%."
"If you are working in a call center and your work is repetitive and dull, you are likely to quit in a year, and your low engagement is really costing the brand that you are representing," Reeves says. "Just having your name placed on a leader board with everybody else in terms of call resolutions per hour could have some negative effects. But if you actually created a job where people showed up for work in the context of the game and all that meant, all the ingredients that can be applied to that, I think that is going to be a much more enduring solution."
The challenge Reeves sees, and the impetus for the company he has co-founded,
, is to figure out how not only to bring about a "much deeper, fundamental change in the nature of work," but how to deal with "the pain points" that come with that sea change.
"Getting a leader board to run on your website so that people who are helping you in the general public or helping you with customer service can be rewarded with a badge, that is pretty easy," he says. "Redefining the technology back at the call center and in terms of security and compliance and HR is a real different adventure. The big solutions are not only about game mechanics and psychology. They are also about security, firewalls, compliance issues and databases, all that stuff that CIOs worry about."
The backlash
Merely placing incongruous games and avatars on a company site may create a short-term benefit. But the longstanding reward will come from a more immersive approach.
"It is not a silver bullet that can rescue all businesses," Chang says. "My biggest fear is that gamification is hitting its hype cycle peak, but it is also about to go through a trough of disillusionment when people try to just tack it on as an afterthought. My fear is that there is going to be a big backlash, because people will just try to slap things like leader boards and badges onto any kind of business willy-nilly without thinking through how it truly integrates."
"I see a lot of people interpreting it as a more as a sweeping statement and observation that games are effective and everybody loves to play games," Eastman says. "The fact of the matter is most games are not successful. We have all played games that are addictive, we can't stop playing and get deep satisfaction from. Then there are those games that miss the mark. It is not simply about beating the other person, it's about something deeper than that. What we are trying to do is really get down to the motivational psychology and the intrinsic needs that successful games and successful game designers are able to check the box on."
-- Written by Joe Mont in Boston.
>To contact the writer of this article, click here:
Joe Mont
.
>To follow the writer on Twitter, go to
.
>To submit a news tip, send an email to:
.
>To submit a news tip, email:
.
RELATED STORIES:
>>Technology Toys Make Waiting to Buy Pay Off
>>Colleges Incubate Smartphone App Invasion
>>Higher ATM Fees Loom for Consumers
Follow TheStreet.com on
and become a fan on
\