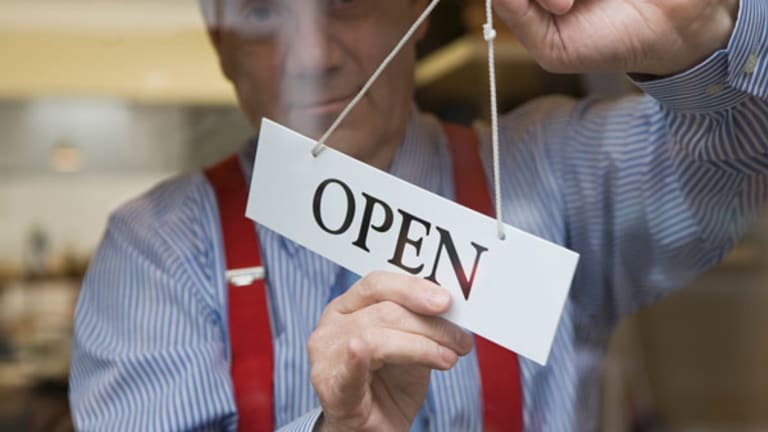 Business Is All About the Team
Successful results arise from teams that are carefully recruited, selected, managed and led.
Editor's note: Don't miss part five of TheStreet's Small Business Success Webinar Series, featuring tips and insights from successful entrepreneurs, on Thursday, Nov. 18, at 2 p.m. ET. Click here to register.
When looking at business opportunities, investors nearly always put their money on a team, not an individual or an idea.
It's true that when you think of great businesses, it's usually a charismatic leader that stands out. Think of
GE
(GE) - Get General Electric Company Report
and you think of Jack Welch; think of
Microsoft
(MSFT) - Get Microsoft Corporation Report
and Bill Gates probably comes to mind; and think of
Apple
(AAPL) - Get Apple Inc. Report
and it's surely Steve Jobs that pops up, pacing the stage in a black turtleneck.
But these leaders don't work alone, because they can't do everything themselves. They lead.
"Steve Jobs surrounds himself with the best people, obviously those people that will continue to work with Apple even after Steve Jobs moves on," says Carmine Gallo, author of
The Innovation Secrets of Steve Jobs
, giving an example in
on techniques he learned from the turnaround genius during years of intensive research:
"A lot of people forget that the principle person behind the iPod is the head of design, Jonathan Ive. He was working for Apple when Steve Jobs was absent during that time in the late 1980s and 1990s," Gallo says. "When Steve Jobs returned he recognized his talents ... I think Steve Jobs chooses the people around him who share his philosophy."
To many people, Jobs
is
Apple, but savvy investors know better. Even when Jobs was off the job for five months with health problems, shareholders stuck around.
"I would not walk away from the stock if he didn't return, because I don't think Apple's future will be derailed by the absence of one person,"
Apple investor Scott Grannis wrote
. "If I thought Jobs was the major factor determining the company's ability to succeed, I would have sold some of my holdings many months ago."
Successful results such as Apple's arise from the work of a team that has been carefully recruited, selected, managed and led. There are critical factors to consider for each.
First comes
truth.
Your team had better be able to tell you the truth -- the good, bad and ugly -- early and often. More importantly, as team leader you must be able to take the truth and act on it. Organizations run without honest discussion of results, issues, failures and successes up and down the organizational hierarchy are destined to fail. Sooner or later information that is withheld, massaged or "managed" leads to poor decision-making at all levels. If as a leader you don't know the truth, you can't deal with the factors creating the results. In the case of good results, you can't replicate them. When things go wrong, you can't fix it. Managing a team that is willing and able to communicate the truth can make the difference between being profitable and closing your doors.
Second, the team needs the ability and willingness to
act and execute
. When you give your team a project, task or objective, you need to be able to rely on them to get it done. If you have to hold their hands, check on them constantly or worry about what they're doing, you might as well do it yourself (not practical) or not do it at all (go ahead, shut your doors). Execution means getting things done: On time, on budget and on objective.
Accountability
is the third critical element to your team's capabilities. Top-performing team members step up to the plate and are accountable for results, and they hold others on the team accountable as well. You can't be everywhere at all times, nor can you produce successful results all on your own; your team, though, should be everywhere. When they are accountable for results, they will keep the entire organization on task and making money by running the business, setting and achieving priorities and spending time and money on projects that matter.
Keep in mind that true accountability also requires that compensation and performance be linked. If you pay regardless of results or for things that don't matter, you will not get the best performance from your team.
The final element of successful teams is
good management
. Management is getting things done through other people. Management focuses on ensuring the team gets results -- that milestones are made, not missed, and that metrics are meaningful, not disconnected from reality. Management is knowing what to do, when to do it and how to specify the desired results.
Just like an investor, if you have to make a choice between investing in a great team with a mediocre product or a mediocre team with a great product, back the great team. They will ultimately be the best resource a company can have.
>To submit a news tip, email:
.
RELATED STORIES:
>>Garmin, Google Give Map to Path of Innovation
>>Innovators Pay for Results, Not Time
>>Technology Failure An Opportunity, Or a Loss
Follow TheStreet.com on
and become a fan on
Lea Strickland, M.B.A., is the founder of
, a program that helps entrepreneurs turn their ideas into businesses. Strickland is the author of "Out of the Cubicle and Into Business" and "One Great Idea!" She has more than 20 years of experience in operational leadership in Fortune 500 and Global 100 companies, including Ford, Solectron and Newell.