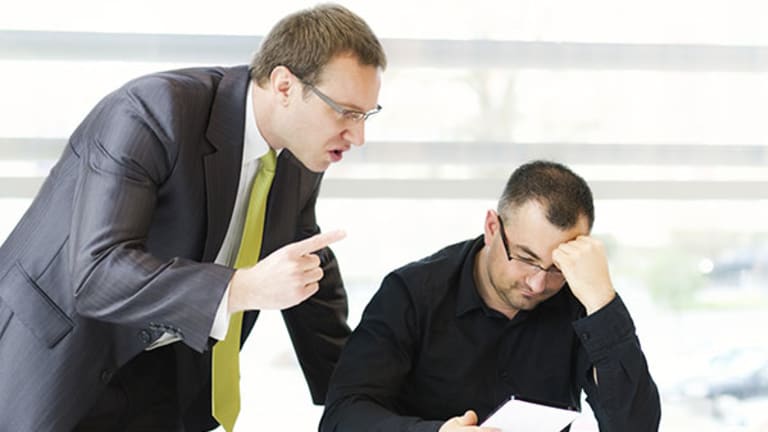 Bullying in the Workplace? Half the Time the Bully Is the Boss
Even worse, there's often also a lack of support from co-workers who can be just as afraid of the boss as you are.
NEW YORK (MainStreet) — Office bullying is a serious problem, with 35% of U.S. employees reporting being targeted by a bully — that's 54 million workers overall.
Stacy Tye-Williams, an assistant professor of communications studies and English at Iowa State University, has taken a look at the problem and says it's even more serious for a simple reason: Victims often don't report instances of workplace bullying.
"Many of the participants felt no one would believe them, or they were afraid of being labeled as a big cry-baby or a whiner, so they didn't tell a manager or someone else in the organization," Tye-Williams says. "When you experience serious trauma in the workplace, it's difficult to explain to people what is happening to you."
Tye-Williams, along with Kathleen Krone, a communications studies professor at the University of Nebraska at Lincoln, conducted their own small study on office bullying, interviewing 48 employees who reported being harassed at work.
Of that number, half said they were bullied by a boss or manager, a particularly insidious problem for employees who believe they don't have recourse in reporting incidents of harassing from a higher-up at work. Many fear for their job more than they fear a pattern of bullying on the job.
Another potential trouble spot is that victims of workplace bullying say it happens gradually, an incremental form of bullying that throws workers off-balance and makes it tough for them to form an effective response to stop the problem.
"When the story is all over the place and feels disjointed or disconnected, people don't understand or they can't make sense of what happened," Tye-Williams says. "Then what often happens is the victim is not taken seriously or not believed, which is really sad, because these victims tend to be the ones suffering most."
There's also a lack of support in the workplace from co-workers. 
Tye-Williams says co-workers want to help but often fail to follow through, primarily because they don't want to be bullied too or risk their jobs. Workers who do get support from a co-worker, though, report feeling more confident about responding firmly to office bullying.
 "If victims are not believed and don't have someone to talk to about their story, then they have a hard time formulating a narrative," Tye-Williams said. "Even if you're not comfortable as a co-worker reporting the behavior, letting the victim tell you their story, go with you to have a drink and vent or just feel believed can help. For a lot of victims, that process of being believed and having someone listen to their story is crucial in helping them better communicate about their experience."
To alleviate workplace bullying, Tye-Williams recommends that companies take a page out of the educational sector's handbook and make bullying a high-profile priority with clear paths to resolutions.
"Sometimes people are already aware of bullying, but others want to know how it's different from harassment or discrimination, so awareness of the issue is important," Tye-Williams said. "It's also important that we learn how to treat each other better and reach out when people are being harmed. We can all make strides in that direction."
— By Brian O'Connell for MainStreet