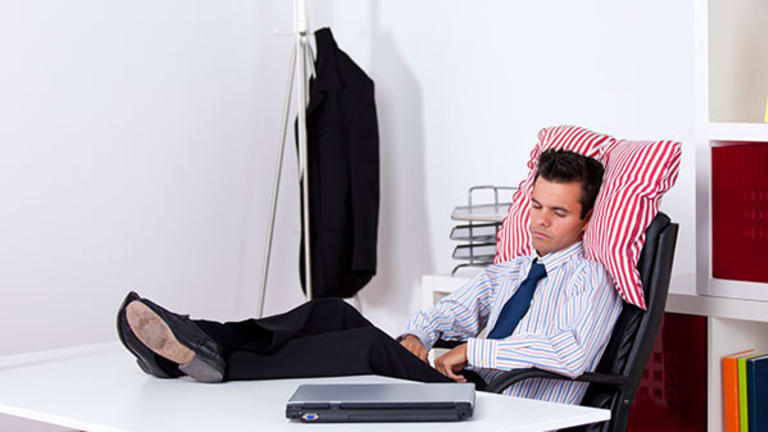 Brutal Common Career Mistakes That Lead Straight to the Unemployment Line
There's a short list of workplace transgressions that can cost you your job - so know them cold.
There's a short list of workplace transgressions that can cost you your job - so know them cold.
NEW YORK (MainStreet) -- Like it or not, your career path is littered with potential land mines than can blow up even the most well-intentioned career professional.
Sure, employers don't like firing people, but there are workplace transgressions that even the most fair-minded manager can't forgive, and likely won't.
Decisions regarding career transition can be challenging, and though we strive to be perfect, it's not always that easy to avoid every misstep, says Tracy Cashman, senior vice president at the Boston-based recruiting firm WinterWyman. However, there are some common mistakes happen more than you think, even though they are also completely avoidable.
In more concrete terms, Cashman points out one common career mistake you have to avoid - burning bridges. If you have been particularly frustrated at your job and get another offer, it's tempting to quit without appropriate notice or to use the exit interview as an opportunity to bad-mouth your boss, coworkers or the company. "While this may give you some short-term satisfaction, you never know when you might run into these people in the future and your words or actions will come back to haunt you," she says.
Other career experts say that being disrespectful toward your company can lead straight to the unemployment line. "Looking for another job on company time is a big issue," Sarah Benz, lead recruiter for Messina Group in Chicago, Il. "Employers see that you are not committed and wasteful of their resources."

Benz says that being inflexible is also a career no-no. "Employees really take a chance when they choose not to participate in a changing environment," she says. "When seen as being uncooperative, managers will begin to write you off and eventually cut your role."
Lynda Spiegel, a 15-year human resources professional and founder of Rising Star Resumes, a career coaching and resume writing service, says being a credit-grabber can also lead to a workplace exit. "If you let everyone else on your team do the work on a project, but modestly take all the credit, that could cost you your job," Spiegel says. "Also, consistently go over your manager's head, regularly showing up late and neglecting to recognize the root cause of your mistake so that you repeatedly make the same error - all can lead to a layoff or firing."
"All of these matters -- employers and co-workers alike won't tolerate behaviors that are self-serving, un-collegial or just plain stupid," she adds.
That's not all. Other firing actions include stealing from your company and a basic inability to satisfy job requirements, says Mike Smith, founder of SalesCoaching1 in Windermere, Fla. "Every employer should have a well detailed description of the expectations of the job," he says. "The applicant has to know what they are required to achieve in that function. If they cannot, they are not fitting the needs of the company."

Another big issue - refusal to follow company policy. "Every employee should have a company policy and procedure manual," adds Smith. "They should be required to read it and sign that they understand the policies. If the policies are violated on a continuing basis after proper warnings, the employee can be let go."
Common sense is normally what can be used as a guiding policy, he says. "The problem is it is not so common," he says. 
Don't take any undue risks with your career. Avoid job-killing mistakes like the ones cited above, and keep your career path clear of any tripwires that can land you on the street and out of a job.