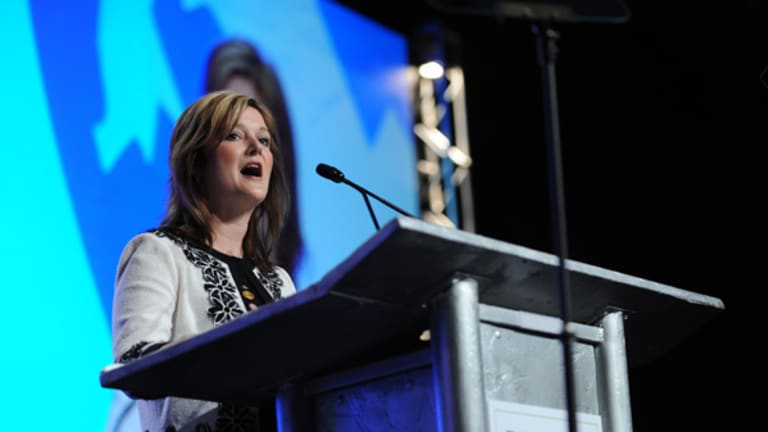 BrightStar Care's Shelly Sun: From Frustrated Consumer to CEO
She couldn't find suitable health care for her husband's grandmother. So she started her own company.
(BrightStar Care's Shelly Sun is the fourth successful entrepreneur to be profiled in our series highlighting women in small business.)
GURNEE, Ill. (
) -- Shelly Sun and her husband, J.D., started
, a health-care staffing company, a decade ago after failing to find suitable care for his grandmother.
As CEO, Shelly Sun has taken the company to far-reaching success, helped by the fact that the franchise is smack in the middle of one of the hottest growing sectors of business: elderly care. BrightStar Care now has 180 franchisees with 260 locations, employs more than 50,000 health-care workers and services more than 31,000 customers every day.
Besides running BrightStar, Sun is on the board of directors for the International Franchise Association, the industry's main trade association, has written a book,
Grow Smart, Risk Less
, and was even featured on CBS's popular show
Undercover Boss
last year.
>>>Janska's Erickson Breaks Mold for Older Entrepreneurs
>>>How One Woman Broke Into The Auto Supply Industry
>>>Style Me Pretty's Larson: Women Business Leaders
Sun has been recognized by the Women Presidents Organization and American Express OPEN as No. 1 in their Top 50 Fastest-Growing Women-Led Organizations in 2011.
A recent conversation with Sun follows.
How did BrightStar Care get started?
Sun:
In late 2001, my husband and I were looking for home care for his grandma, and we needed the whole range of services from companion care, some help with bathing and then she needed nursing care. It was difficult for us to find one company that could do everything. We had to coordinate through multiple providers. None of them really seemed like grandma was the most important thing to them.
Instead quoting us a rate, getting us off the phone seemed like the most important thing to them.
Unfortunately, she passed away the day before my husband and I got married. It was very impactful for us. And so we spent a few months kind of thinking about what we wanted to do with our lives. I was a CPA working in corporate America. My husband was a trader. We decided to take the funds we had built up and go into business for ourselves, helping grandmas and grandpas, moms and dads much like we were trying to do for
my husband's own grandmother. We started our business in October 2002, about six months or so after she passed away.
Neither of us were coming from a health-care background,
but I had seen so much from a consumer perspective. What we were looking for and feeling so passionate about was the difference we wanted to make for other families. We knew we could do this well. We knew we certainly could do it better than the horrible companies we had contacted by phone and got their answering machine or their answering service after hours.
What was the best piece of advice you received when starting the business?
Sun:
We really tried to spend time and talk to entrepreneurs. What we heard from them most frequently was starting a business is hard; it's going to take resilience, but if you're really passionate about what you're doing and you stay committed, then you can be successful. The best piece of advice that I got was a realistic expectation that there would be good and bad days, but with hard work and resilience, positive attitude and a passion for what we were doing that would see us through.
What do you think are the biggest challenges for women-owned businesses today?
Sun:
For any business owner -- and women are no different -- capital access is a challenge today. I think the regulatory environment and the shifting sands of that is difficult for businesses today. The impending cost changes with health-care reform and tax changes make it very difficult for small-business owners to predict the viability and the growth of their business model in the near term. We've been in business for 10 years now, and I never remember a period of time where I had less confidence 12 to 24 months out. I have a lot of confidence 36 to 60 months out.
Why are women good business owners?
Sun:
Small businesses succeed in the long term because they understand in the very beginning that cash is king and you have to make sure that it's not about the egos or seeing your name on the side of a bus or a billboard. Generally women tend to have lower egos and tend to be fiscally conservative of making sure that an ounce of this is going to last a week versus trying to use it up today. In terms of small-business owners, it's the long marathon, it's not the sprint. Women can be very well-positioned to run the long-distance marathons because of that fiscal conservatism. Rarely will I see a woman hire someone just because it would be nice to have. They do it when there is no other way around spending that money and creating that position. They tend to be more resilient and tend to have more financial reserves.
What lessons did you learn from Undercover Boss?
Sun:
As a CEO, it definitely taught and encouraged humility. It's very emotional long days -- in my case having to wear scrubs that don't look good on any woman -- but also really causing an ability to embrace a continuous process of improvement. What I was pleased to see about the show is that I would have hired any of our caregivers to take care of my children or to take care of my own loved ones. But also seeing that there was still an opportunity to do what we do great even better.
There were nuances in the processes that they followed or in some of the creative ideas that they had - creating a mechanism where we could hear those ideas from the front line so we could continue to make the experience for our consumers and for our employees every day even better.
What are the future growth plans ?
Sun:
The last couple of years have been about large technology investments. We really see a changing environment in terms of reimbursements for care
and improving the outcomes for the consumer. We're really focusing on being able to drive our high quality
services, but also to be able to measure the data and support that.
We've made over a $3 million in investment in technology to allow us that capability... And
we're adding systems so that we could also help our franchisees become more profitable over time.
Besides BrightStar, you are active in the franchise community and even have a book out? What's next for you, Shelly?
Sun:
My twin boys are 7. They're at an age where Mommy traveling is really hard on them. I've been try to identify things I'm really good at, but also keep me closer to home. I began in 2012 and for all of 2013
will be hosting two-day strategic planning workshops for my franchisees. We're the only franchisor that offers that type of education and environment for our franchisees, but it also gives me that many more days to at least be home for story time and have dinner with my boys. It's always about finding that balance.
-- Written by Laurie Kulikowski in New York.
To contact Laurie Kulikowski, send an email to:
Laurie.Kulikowski@thestreet.com
.
>To submit a news tip, email:
.
RELATED STORIES:
>>From Battlefield to the Business World -- Veterans Make It on Their Own
>>Business Owners to Obama: This Is What You Need to Do NOW
>>Small Businesses, Social Media Saved My Town During Hurricane Sandy
Follow
TheStreet
on
and become a fan on
Disclosure: TheStreet's editorial policy prohibits staff editors, reporters and analysts from holding positions in any individual stocks.