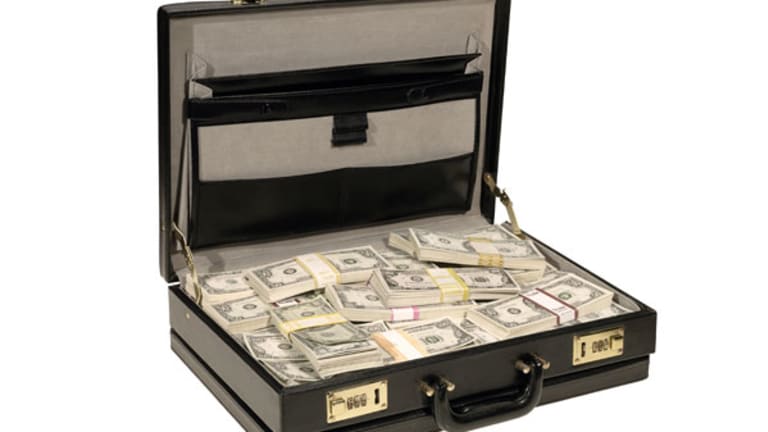 Boomers Poised to Reap $11.6 Trillion
A generational windfall of trillions of dollars to baby boomers via inheritances and gifts is under way.
BOSTON (
) -- The nation's largest-ever intergenerational transfer of wealth is under way.
New research by
MetLife's
(MET) - Get MetLife, Inc. (MET) Report
Mature Market Institute and the Center for Retirement Research at Boston College estimates that boomers will inherit and be gifted with upward of $11.6 trillion, including $2.4 trillion that has already been distributed and roughly $3.2 trillion that will be handed down while elders are still living.
Baby boomers will inherit and be gifted with upward of $11.6 trillion, a study shows. It would mean the nation's largest-ever intergenerational transfer of wealth.
The median per person figure is $64,000, according to the study. Two-thirds of all Boomers stand to receive some inheritance over their lifetime.
The estimates, drawn from national survey data, say the wealthiest boomers will get an average of $1.5 million, while those at the other end of the spectrum will be left in the ballpark of $27,000. Though high-wealth households get much larger inheritances in dollar terms, these amounts represent a smaller share of their wealth -- 22% for those in the top tenth compared with 64% for those in the second-to-bottom tenth.
"For the lower-income people the inheritance means more, proportionally," says Sandra Timmermann , director of the
MetLife Mature Market Institute
.
Total household wealth for Americans of all ages amounted to $65.9 trillion in 2007 (adjusted to 2009 levels), making "the boomers' inheritance a significant portion of total American wealth," the report concludes.
Timmermann says further research is needed to assess fully the impact of the recession and subsequent recovery assets. She also cautions that any prospective inheritance is uncertain and doesn't preclude the "need for increased financial planning and retirement saving."
"Wealth may be consumed by medical and long-term care costs, or simply by virtue of long life," she says. "All said, it can be a nice windfall for the baby boomers, but if they haven't received it yet, they really can't count it."
Timmermann observes a trend where more are giving gifts to their families while they are still alive.
"Perhaps it is a good thing, because the boomer families really need the money now, particularly the younger ones who have kids in college, or they lost their job, or they need help with some of their expenses," she says.
Provisions in the Tax Relief Act of 2010, approved by Congress and signed by President Barack Obama in December, could accelerate the flow of boomers' inheritance money, at least in the short term.
The law's $5 million per person gift tax exemption, raised from $1 million, gives high-net-worth people an unprecedented opportunity to give more money tax-free to family members, says Jonathan Bergman, vice president at
Palisades Hudson Financial Group
, a financial adviser in Scarsdale, N.Y., catering to the affluent.
"Now is the most opportune time I've seen to transfer wealth," he says, adding that many of his clients had "maxed out" at the previous cap.
Bergman says many of his clients are looking for creative strategies to begin shifting assets while they are alive. Within days of the new limit being made official, he had one couple who already gave away $2 million to heirs arrange to increase their gifts by another $8 million.
"I'm not a proponent of someone who has $10 million giving away all of it to their children at present," he cautions. "But we can help you quantify the amount you won't need during your lifetime and get it out of your estate now, letting the appreciation happen at the junior level."
Decreasing the size of the estate can decrease the hit from the estate tax. The gift-tax exemption also provides a means to limit the generation-skipping tax that could be assessed on inheritances to grandchildren.
"The 'kids' who inherit large estates are often in their mid-60s, and the money often doesn't make a big difference in their lives," Bergman says. "Now you can give your children more money at more impactful time, when they might have kids in college and can use it. If your children don't need the money, you can give it to grandchildren or nieces and nephews."
Bergman says the majority of money his clients distribute is done using an irrevocable trust. The trustee can keep the funds in trust for years, disbursing only what is necessary or helpful. Normally, the trust pays income taxes on its earnings, but with a "defective" grantor trust, the grantor still pays income taxes, effectively removing more money from the estate and reducing future estate taxes.
Interfamily loans are also an increasingly popular way for parents to spread their wealth to children and grandchildren.
"One of the strategies we do is essentially have mom and dad act as the bank," he says. "We have wealthy families loan money to younger generations so that they can do a number of things -- business opportunities, for an investment portfolio, to buy a first home or an investment property."
The IRS sets a minimum monthly interest rate that must be charged for the loan not to be deemed a gift. There are different rates based n the term. This month, those rates are 0.43% for a term of zero to three months, 1.95% for three to nine years and nine years or greater at a rate of 3.88%.
Robert J. DiQuollo -- founder, CEO and senior financial sdviser for New Jersey-based financial planning firm
-- has observed the trend of middle age adults wanting to defer inheritances.
"What's curious is the fact that some of the people I'm speaking to are asking if there is a way their parents can tie it up so they don't get access to the principle until their retirement," he says. "I think a lot of people are starting to say, 'I'm not going to have the pension my parents had and maybe Social Security won't be around or it won't be as generous, so how am I going to provide for my retirement?'"
-- Written by Joe Mont in Boston.
>To contact the writer of this article, click here:
Joe Mont
.
>To follow the writer on Twitter, go to
.
>To submit a news tip, send an email to:
.
RELATED STORIES:
>>Estate Tax Makes its New Year Return
>>Few Take Steps to Prevent Outliving Assets
>>Medical Costs Could Top $250,000 for Retirees
>>Health Care Bill: Consumer, Business Angles
Get more stock ideas and investing advice on our sister site,