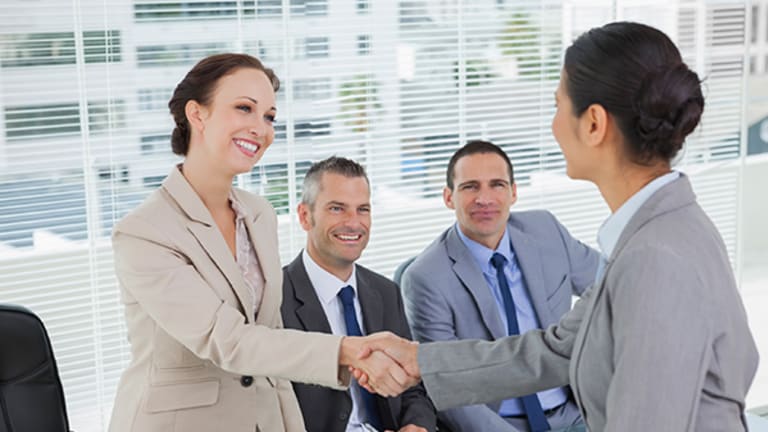 Boomerang Employees Are Rising in Popularity
As attitudes about the workplace progress and evolve, companies are more lax about having employees returning to their former jobs.
As attitudes about the workplace progress and evolve, companies are more lax about having employees returning to their former jobs.
Never one to job hop, Tim Turpin left his position at Spark, a digital marketing firm, after spending eight years building up its venture capital practice.
After accepting an offer to grow a marketing firm's San Francisco and Silicon Valley office, Turpin returned to his former employer in February because of the work culture.
"After a lot of lost sleep, I made the decision that I would return to Spark, because in many ways, it is like family," he said. "I left on good terms and helped with the transition, and as I was leaving, the co-founders and the CEO had told me that I could always come back."
As attitudes about the workplace progress and evolve, companies are more lax about having employees returning to their former jobs. When the workforce was largely dominated by Baby Boomers and Gen X-ers, the turnover rate was much lower and people spent the bulk of their careers with one company, said Jim Craft, a professor of business administration at the University of Pittsburgh's Katz Graduate School of Business.
The Millennial generation's particular professional approach means they plan to have jobs with several different companies during their career, he said.
"The current data from surveys suggest that at any time between 30% and 60% of current employees are looking for other opportunities," said Craft, a former economics policy fellow at the Brookings Institution, a Washington, D.C. non-profit public policy organization and labor force analyst with the U.S. Department of Labor.
Eager to encourage employees to return, human resource managers have adapted to the changes with 98% who said they would rehire a former employee who left on good terms, according to a recent survey by Accountemps, a division of Robert Half, a Menlo Park, Calif. staffing firm for accounting and finance positions. Only 48% of employees said they would return to a former employer, because 23% said they did not like the management, 14% disagreed with the corporate culture, another 14% disliked the job duties and 10% said the company burned bridges with them.
Managers should treat departing employees well, especially top performers to grease the wheels for a possible future return, said Katie Essman, a regional president for Robert Half.
"Some managers take resignations personally, but we recommend extending that olive branch to get them back on the team in the future," she said.
Maintaining a flexible policy about boomerang employees shows workers that companies are committed to their careers, said Donna Burke, a founder of Spark. The company has at least nine employees who returned.
"We make a big point to let them know they can always come back if they aren't happy down the road," she said.

How Employers Can Win Back Workers
Managers used to view employees who left their company as "disloyal" and would refuse to rehire them again, said Craft. Companies have shifted from this mentality and are keen to rehire employees, because getting them back up to speed is faster and costs less. Multinational companies dedicate both money and time to rehire them. EY, the London-based professional services company, created an alumni portal for former co-workers along with LinkedIn groups to encourage networking and possible returns. EY also sponsors local events in each city where the company has an office, all in an effort to draw former employees back. Their programs have worked, because 10% to 15% of their employees return, said Larry Nash, a recruiting director at EY.
"We recognize that not everyone will stay in our organization through their lifetime, but we want to stay connected and continue that sense of family," he said.
Boomerang employees have done well at OperationsInc, a Norwalk, Conn.-based human resources outsourcing firm, because the news of their resignation was applauded.
"We have had our people hired away by clients or into roles we could not really offer them," he said. "In those instances, I personally have emailed the firm to announce the pending departure, to thank them for their service and in some cases to even reaffirm how good a move this is for them."
Why Quitting Is a Good Idea
Companies that hire many college graduates often have a better grasp on Millennials and why they change jobs more frequently. Employees need to experience working in various industries and at companies with different work cultures, Nash said.
"For many people, working at EY is their first job out of school and their careers take them in different directions," he said. "People like the growth and development or challenges they obtain somewhere else."
Employees need change to remain motivated, said Christopher Cabrera, CEO of Xactly, a San Jose, Calif.-based sales performance management company. In the past 11 years, 20 employees have returned, in part because the company has a flexible work culture that has no vacation policy or annual reviews.
"Sometimes change is good because people get bored," he said. "If you can't provide the opportunity for them, sometimes it makes sense for them to leave."
Why People Go Back
Some employees return to their former employer, because they miss the familiarity or the camaraderie they established with co-workers.
In January, Carl Rosenblatt, a marketing and sales executive in Washington, D.C., decided to go back to PwC, the London-based audit and consulting company. He preferred the "systematic and dependable" work environment compared to his other job at a software company. At PwC, return employees make up 17% or 8,000 people out of 46,524 U.S. employees.
"I missed the culture and attention to detail in the work environment there and the friends I had made, many of whom I'd kept in touch with during my five years away from the firm," he said. "The camaraderie makes coming to work fulfilling and enjoyable."
Staying in touch with your former manager and co-workers is beneficial, because you might choose to work for him again or he could want to work for you, said April Masini, a New York-based relationship expert and author.
"Always leave a job as if you will see the person again or work for them again," she said. "There is a good chance that you will run into someone from your old job."
Either drop a line every few months or invite your boss or colleagues from your former job to have coffee or lunch, Masini recommends.
"Staying in touch makes it that much easier for you all to reconnect if a new job opportunity arises," she said. "Always speak well to others of your former employer. Gossip travels faster than the speed of light and you may think that what you divulge is private, but it probably will be repeated."