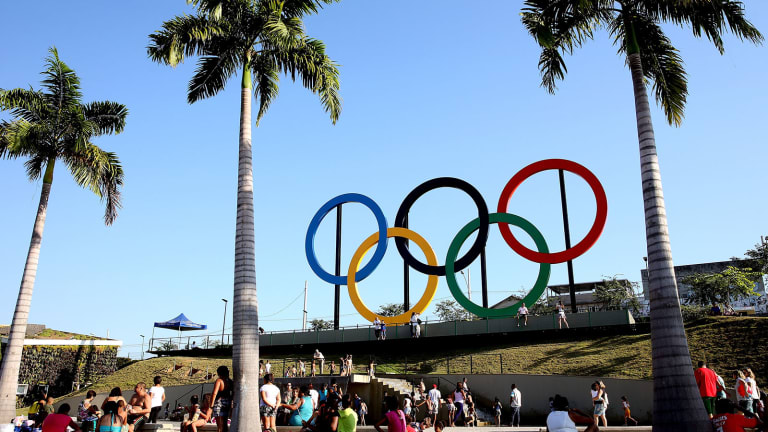 Booking 'Early' for the 2016 Rio Olympics Will Still Cost You
You won't get a discount for booking a hotel room, vacation rental or Olympic event a year an advance, but you may avoid getting the worst deals available.
NEW YORK (MainStreet) – Yes, the 2016 Summer Olympics in Rio are still a year away. No, that doesn't give you "plenty of time" to book a trip to them.
Christine Sarkis, senior editor at SmarterTravel.com, notes that logistical nightmares are just built into an event as large as the Olympics. The International Olympic Committee is expecting 10,500 athletes and 138,000 staff and volunteers alone to stream into Rio in the days leading up to the games. That doesn't include the anticipated 380,000 spectators who'll be joining the mix. And if you think Rio's tour as host of last year's World Cup is going to make things any easier, guess again.
Last year, TripAdvisor issued a report before the World Cup that estimated the average cost of a 3- to 4-star Rio hotel during the event at nearly $445. That's a weekly cost of $2,671. Throw in the costs of meals, cab fare and event tickets, and you're looking at nearly $700 in daily expenses. And, no, we aren't overestimating the cost of Olympic events. Sarkis notes that the Olympic Committee releases allocations of tickets to the U.S. ticket seller CoSport at intervals leading up to the games, and it doesn't issue a whole lot of them.
Right now, tickets for the women's basketball quarterfinal start at $91, while taekwondo tickets range from $35 for cheap seats to the preliminaries to $214 for the best seats at the medal round. That's what's available, because that's what's left over from the last big allocation in April. When CoSport gets a big allocation of tickets, it alerts those people who have signed up through the website. Yes, 3.8 million of the 7.5 million tickets available worldwide cost less than $30, but you have to find them. CoSport doesn't always make that easy.
"For smaller allocations, say of a few thousand tickets, the company will just put them straight on the website without necessarily making an announcement," Sarkis says. "That's a long way of saying, if you want tickets, check the website often, because ticket offerings change quickly and disappear even faster."

You could totally try to beat the system by buying into ticket and hotel packages, but even the cheapest three day/two night package for artistic gymnastics and beach volleyball events starts at $2,500. A six-day, five-night package that includes hotel, all track-and-field events and the closing ceremony will run you more than $9,600 before airfare and meals.
There are, of course, ways to cut the budget a bit. Airbnb recently announced it will offer 20,000 affordable in-home options for travelers during the Games. That ranges from rooms to full-on estates, but you won't be without competition for any of them. During 2014's World Cup year, Rio saw a 183% increase in total vacation rental bookings, according to TripAdvisor Vacation Rentals. Laurel Greatrix, a TripAdvisor Vacation Rentals spokeswoman, says the company is expecting a similar, if not higher, spike in demand for its 2,000 Rio properties for the Olympics in 2016 due to the Olympics.
"August 2016 has already surpassed the total number of planned stays than that of August 2015*, and we're still 12 months away from the opening ceremony," Greatrix says. "In fact, currently, for vacation rental stays in August 2016, Rio has seen the most bookings and enquiries in the world – five times more than the second most popular destination."
Yes, vacation rentals often offer a larger living space, private outdoor areas and homey amenities, but the fact is that many folks books them because they're cheaper than hotels. TripAdvisor's current average weekly rate for an August 2016 vacation rental in Rio with two bedrooms is $1,774. If hotel costs match those of the World Cup, vacation rentals save travelers 43% savings over the cost of a hotel.
Vacation rentals come with another ancillary benefit: giving harried locals a way out of the chaos. Not only do property owners not want to stick around to deal with the influx of foreign tourists, but they'll use their money to get as far away from packed (but free) public transportation, thoroughfares and tourist destinations as possible. In many cases, renting out the penthouse, loft, or beachfront apartment for a few days is preferable to having it serve as your Olympic prison.

"There's this phenomenon around Olympic Games known as 'displacement,'" SmarterTravel's Sarkis says. "Basically, visitors worried about the city being expensive and crowded because of the Olympics -- or even just Olympic buzz -- tend to avoid it. It doesn't always happen, but as a savvy traveler it's worth keeping in mind that during the Olympics, doing non-Olympic activities in the host city can actually mean smaller crowds. So if you like sports and museums, this might just be your moment."