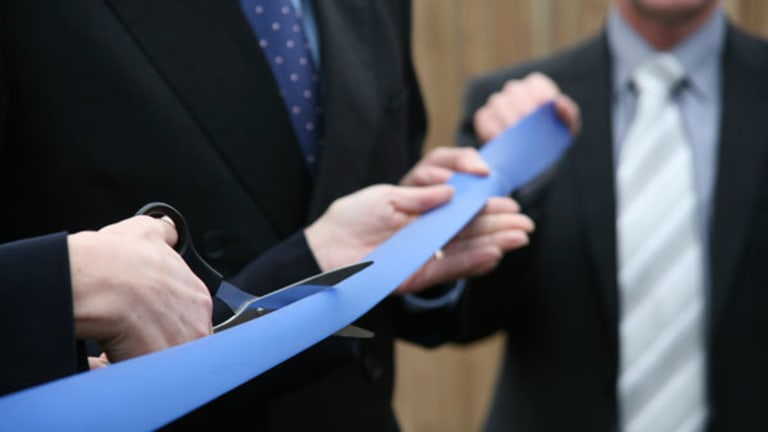 BlackBerry Bold-ly Surpasses iPhone
The new BlackBerry Bold easily surpasses the iPhone as a small-business tool.
The new BlackBerry Bold easily surpasses the iPhone as a small-business tool.
Listen up, $99
Apple
(AAPL) - Get Report
wannabes: behold the small-business majesty of the
BlackBerry Bold
.
Trust me, it's not as glamorous as it sounds, but my job actually is ordering up promising gadgets for small-business customers. I, and my associates, usually test these units for a couple of weeks. There are, however, the rare few gadgets -- or services -- that ace that test and get deployed in this little digital world of ours for a deeper, more real-world test.
The
, from
Research In Motion
(RIMM)
, was one of my elite little soldiers.($199 with plan from
AT&T
(T) - Get Report
)
I've been testing it since January, and -- being an ethical journalist who isn't allowed to keep freebies, darn it (!) -- next week I have to send it back. I don't mind saying I'm feeling more than a little upset about our pending separation. Here's why: For small-business people looking for a good portable, do-it-all business tool, the Bold is the state of the small-biz art.
What you get:
The Bold is not merely a smart phone, it is a portable small-business computing solution.
After six months of near-constant use, it's no understatement to say this unit does all things small business. Setting up of our mobile corporate e-mail was a one-touch affair that took just 20 minutes. And I found I could use both BlackBerry's service and the mobile Web version we use through
Google
(GOOG) - Get Report
Apps simultaneously almost without a hitch. I found mobile messaging to be remarkably robust. As was mobile picture mail. Calendaring. Contacts. Mapping. Wi-Fi connectivity. It all just rocked. The mobile versions of
Microsoft
(MSFT) - Get Report
Word and Excel were terrific. I filed stories regularly using the device.
And best of all, the unit's keyboard was large and easy to use. Get over it, iPhone users, touch keyboards -- even ones designed by Steve Jobs -- simply cannot compete.
I also was pleasantly surprised by the BlackBerry's music and multimedia functionality. I built a nice library of content on an 8 GB media card that dulled the pain of many a low-cost flight. I found audio quality to be serviceable for a phone. The half VGA screen was particularly good. And the Bold had guts. I dropped it dozens of times, messed with the batteries, the SIM cards, the USB connections. I did everything to this thing. And it always showed up ready to work.
I am not overstating this. I have never carried a mobile like it.
What you don't get:
I know, I know. The Bold isn't perfect. There are several annoyances that might deter the non-small-business user. The thing is big -- and I mean, really big -- for a mobile phone. It's thicker and heavier not only than an iPhone, but probably any smart phone on the market. It does not fit easily in your pocket.
And for all the steps forward for multimedia, you will find the camera to be sub-par by a mile. I always carried my
Olympus
waterproof demo for this reason.
I found the AT&T voice service to be irksome on this device. Calls to my partners were often garbled. Tethering mode was a mystery, which meant I had to carry a separate data modem for my laptop. BlackBerry limits email functionality on its non-Microsoft Exchange users, so managing email messages was not as simple as it should be. And this was silly, but a real problem: food or other matter would wind up in the track ball that controls the device, and it would jam, occasionally quite severely.
But most importantly, and this is the deal breaker for the Bold, for all of Research In Motion's attempt to offer mobile apps for this device, there is just not the software available as there is for the iPhone.
If heavy mobile applications are what you must have, this BlackBerry, or any BlackBerry, is simply not for you. Stick with the iPhone.
Bottom line:
If your business is like mine, you use words more than you use software. E-mail, messaging, invoices, documents, these are the sinew of small-business life. And the Bold's keyboard and seamless integration with business software make it the perfect mobile workstation.
Now, for sure, the Bold is not cheap. A hundred ninety-nine dollars is a lot for a smart phone these days. And AT&T is not shy about banging you on service. Do a little international travel, and monthly charges can get above $100 a month fast.
But for my money, it's worth the money. And when this sucker goes back next week, I can't tell you how bummed I will be.
Jonathan Blum is an independent technology writer and analyst living in Westchester, N.Y. He has written for The Associated Press and Popular Science and appeared on FoxNews and The WB.