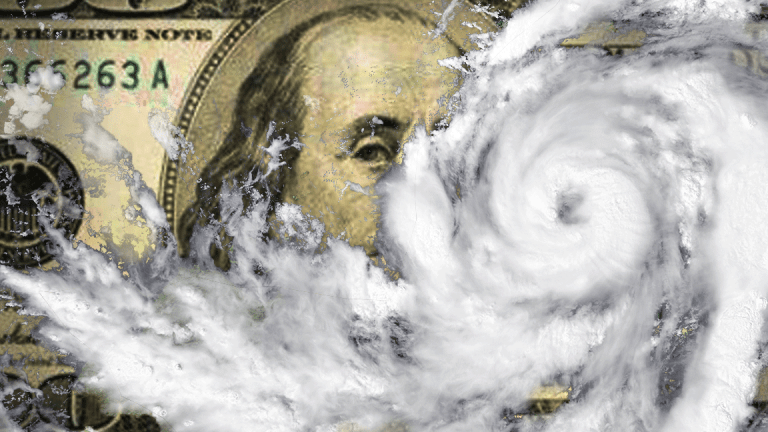 Flood Insurance Becomes Lobbyists' Prize in Hurricane Relief Bill
There's no new funding for the debt-strapped National Flood Insurance Program in a new House of Representatives bill, but there is a prize for private industry: the chance to steal lucrative policies from the government.
Insurance companies like Progressive Corp. (PGR) are latching on to hurricane-relief efforts in Washington in their quest for a prize long sought by industry lobbyists: the chance to compete against the U.S. government in the business of flood insurance.
A Republican-sponsored bill paving the way for more private flood insurance is set for a vote in the U.S. House of Representatives on Thursday, according to Republican officials. The provisions were tacked on to a bill that would give tax breaks to victims of Hurricanes Harvey, Irma and Maria, while extending the Federal Aviation Administration's authority for six months.
The U.S. government's 49-year-old National Flood Insurance Program, or NFIP, currently dominates the market, providing about 98% of all policies. While much of that coverage is provided at subsidized rates, insurance-industry executives say that improved flood maps, elevation-monitoring tools and better underwriting practices have made it easier in recent years to undercut the government on policies where premiums are set artificially high.
Democrats in Congress have opposed the latest bill on the grounds that it would do little to shore up the finances of the NFIP, which has racked up more than $25 billion in debt in recent years as annual payouts exceeded homeowner premiums. Government officials say the program is on track to run out of money by late October, given the pace of new claims from the recent hurricanes.
"The bill does nothing to address the stability of the NFIP," a group of Democratic congressmen led by Maryland's Steny Hoyer, the minority whip, wrote Monday in a statement. "Instead, the bill just includes the Republicans' main priority for reform -- expanding access of private insurers to the flood insurance market."
The new bill, titled the "Disaster Tax Relief and Airport and Airway Extension Act of 2017," was introduced last week by Kevin Brady, a Texas Republican who heads the House Ways and Means Committee. In a statement at the time, Brady said his legislation would allow storm victims to more easily deduct any uncompensated flood losses, while exempting them from penalties for early distributions from retirement-savings accounts.
"These tax-relief measures will help more people be able to bear the tremendous expense of recovering from these destructive hurricanes," wrote Brady. His statement didn't mention the provisions related to private insurance.
The Property Casualty Insurers Association of America, an industry group, said in a statement Monday that it supports the legislation. The association's board is led by John Barbagallo, president of the commercial-lines group at Mayfield Village, Ohio-based Progressive.
"This will increase flood-insurance options for consumers, thereby providing more competition and coverage options to families and businesses," Nat Wienecke, the industry group's senior vice president for federal government relations, wrote in a letter to House Speaker Paul Ryan and Democratic Leader Nancy Pelosi.
House Republican leaders put the bill to a vote Monday under a special procedure that requires a two-thirds majority for passage. The measure failed 245-171, due to the Democratic opposition.
A new round of voting on Thursday would require only a simple majority.
Officials with the Federal Emergency Management Agency, which administers the flood-insurance program, say the government has never failed to make good on a legitimate claim, and that they are confident Congress will allocate new funding before current resources are exhausted.