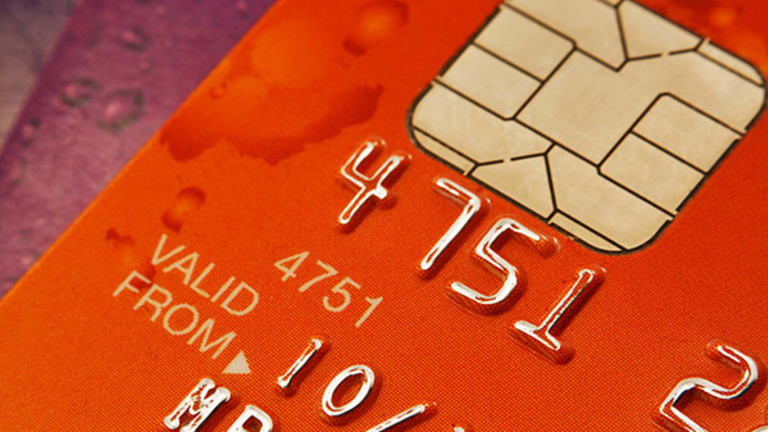 Big Changes Ahead for Consumers, Merchants, With New Chip Cards
For security reasons alone, card users may welcome the switch to chip-based payments. But it will mean relearning even some basic shopping behavior.
NEW YORK (TheStreet) — Banks are spending billions each year to reimburse consumers whose accounts were breached by cyber-thieves. To change that, they are replacing the dated, 50-year-old magnetic strip card with so-called chip-based credit cards that are better equipped to store card data safely.
The change could have real-world consequences to U.S. credit and debit card users, who suffer about half of all credit card fraud even though Americans make up a quarter of all global credit card transactions, according to Barclays. 
Changing to chip-based cards means a new shopping experience for consumers.
For starters, they will have to "dip the chip," says Loc Nguyen, chief marketing officer at Feedzai, a fraud protection services company. "Americans will have to learn a new checkout behavior," Nguyen says. "Magstripe cards are swiped and immediately put back into wallet. On the other hand, chip cards must remain in contact inside card readers while the chip information is accessed and updated. Shoppers will have to dip the chip and leave it – pulling the card out too early is like disconnecting a USB device too early."
That may seem trivial, but generations of shoppers and store clerks have grown accustomed to swiping, Nguyen says, and early implementations of chip cards in the U.S. in the early 2000s revealed that changing behavior takes some time. "Expect some delays at checkout lines as clerks educate cardholders," Nguyen says.
Nguyen says it will also be harder to buy products and services online: "As EMV makes it harder for fraudsters to counterfeit cards for use in physical store environments, frustrated fraudsters will move online where there are no chip readers that can utilize the sophisticated security features of the chip," he says. As a result, some merchants may get hit with increased fraud and compensate by performing additional security checks, such as calling customers to verify large orders or requiring additional verification data. "Thus good customers can be penalized with extra scrutiny when buying online because fraudsters behave badly," Nguyen says.
Shawn Budde, chief executive at 2Checkout, a Chicago payment services provider for online merchants, says new chip cards present more of a challenge for merchants and consumers in bricks-and-mortar retail spaces. "When there is an update needed in the online space, we merely implement it – online payment providers are agile and can update regularly," Budde says. "Those with physical readers, such as Square, will need to send new physical readers to all their customers."
But the chip cards may also push more fraud attempts online, so merchants will want to choose a payment provider that has strong security measures in place, perhaps one that will manage all aspects of security for the merchants. "Not only does this provide peace of mind for the merchant, but this can lend credibility for the merchant in the eyes of the consumer," Budde says.
In some ways, the change could be a big net positive for consumers, says Robert Siciliano, an identity theft expert with BestIDTheftCompanys.com. "Consumers undoubtedly will experience new levels of comfort and security with their new cards," he says. "They won't have to endure replaced cards as a result of a breach, as card data in most cases will be encrypted. Further, they will have an increased awareness of card security, giving them confidence to spend without negative repercussions."
Another positive effect: Overseas travel should be more consumer friendly. "It will make international travel easier and more secure," says Crystal Stranger, president of 1st Tax, a Los Angeles tax services provider, and the author of The Small Business Tax Guide.
"I travel internationally frequently and, particularly in Northern Europe and Scandinavia, it is getting very difficult to travel without a chip credit card," she says. "In many places you cannot purchase a train ticket or pay for your meal without having a chip card. Many times they do not even accept cash or coin, and I have had to ask someone else to pay for me and take currency in exchange."
Stranger says the move to a chip-based card for consumers will likely mean a change away from using cash in the U.S. as a form of payment option. "The IRS will love this, as it makes it harder than ever for businesses to conduct on a cash basis and not report income or wages paid to employees."