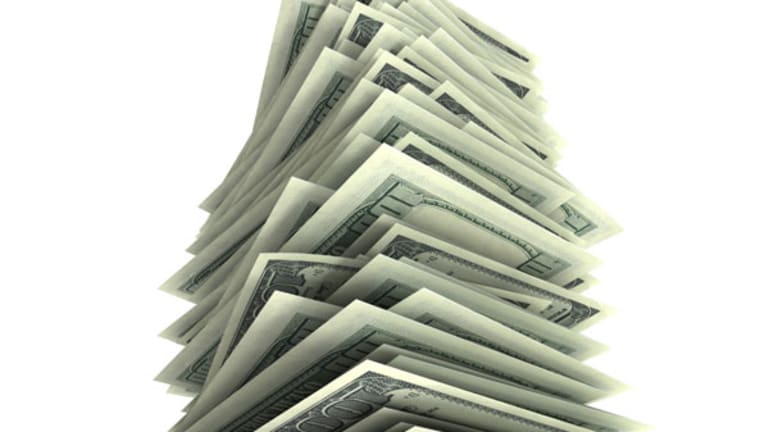 Big Banks Refuse to Budge on Low Interest Rates
Credit unions and online banks are making a big play for bank customer cash, but don't expect big banks to respond with higher interest rates.
NEW YORK (
) -- Customer outcry and the real threat of mass defections to credit unions prompted
Bank of America
(BAC) - Get Report
to cancel its proposed debit card fee, but could similar competitive pressures have the same effect on the big bank interest rates?
After all, credit unions consistently offer more competitive rates than banks, and online-only banks likewise tend to offer more attractive deposit rates than the bricks-and-mortar banks do. As consumers become aware of the alternatives, might banks start to raise their rock-bottom rates to stay competitive? For the time being, it doesn't look likely.
The Credit Power Index, which measures the interest rate climate at the country's banking institutions, got worse for consumers for the third consecutive month in October. Once again, plunging deposit rates are to blame.
As of the end of October, the average 12-month certificate of deposit provided a return of just 0.38%; when limited to banks only, that average drops to just 0.35%. By contrast, the average credit union gives a return of 0.63% on the same product, and online banks tend to offer rates closer to 1% -- Ally Bank, for instance, has an 11-month CD with a return of 0.95%.
The overall downward trend in deposit rates is easily explained by the Federal Reserve's effort to spur lending in the wake of the recession by keeping interest rates low, with the inevitable side effect of falling deposit rates. The Fed's announcement in August that it will keep rates low through 2013 sent deposit rates plunging even further.
But at a time when popular movements have sprung up to encourage people to leave their banks en masse and online-only banks presenting an increasingly attractive alternative, why aren't banks doing more to hold on to their customers? In short, it's because they already have all the deposits they need thanks to skittish investors looking for alternatives to a volatile stock market.
"One of the problems in the system is too much liquidity because of excess deposits," says Russell Price, senior economist for financial services firm Ameriprise. "And banks, on the other end, are not finding suitable candidates to make loans to"
Price says that while the trend should reverse itself over the long term, consumers shouldn't expect to see any significant changes during the next six to 12 months.
So dropping some cash in a 12-month CD offered by one of the online banks listed above may not get you anywhere near the return you would have found four years ago, but it's certainly well above what you'd get from a bricks-and-mortar bank. (For reference, the average return on a 12-month CD from banks and credit unions are also included in the chart.)
On the credit side of the equation though, you don't need to go online to get a good rate on a loan. Three of the four loan rates tracked by the Credit Power Index inched downward in October, with the interest charged on 36-month home equity loans falling to 6.39%, 48-month auto loans falling nine basis points to 4.38% and personal unsecured loans falling a single basis point to 12.17%. The one loan rate to increase last month was the five-year adjustable rate mortgage, which rose nine basis points to 3.18% -- the first rise in that product since February.
The Credit Power Index is calculated by subtracting the current rates of CDs at four terms (12, 36, 48 and 60 months) from the rates of those four loan products; the higher the resulting Index figure, the bigger the difference between what banks pay customers to save and what they charge them to borrow. Until a few months ago, loan rates were falling faster than deposit rates, leading to a gradually improving interest rate climate for American consumers.
But the Fed's August announcement of continuing low rates sent the Index creeping upwards, and that trend has continued through October. While rock-bottom loan rates are still good news for borrowers, remember that it's only good news for those who actually get approved for a loan. If banks were finding enough qualified borrowers to lend to, those rates would surely stabilize.
Finally, it's worth pointing out that some regions of the country are faring better than others as the interest climate takes a turn for the worse. While the western region saw a worrying spike of 27 basis points in October and the eastern states rose by six basis points, the rate climate in the central and southern regions stayed more or less static. That said, it should be noted that smaller sample sizes mean that monthly regional trends are less telling than national ones.
Readers Also Like:
10 Dividend Stocks to Keep You Safe Into 2012