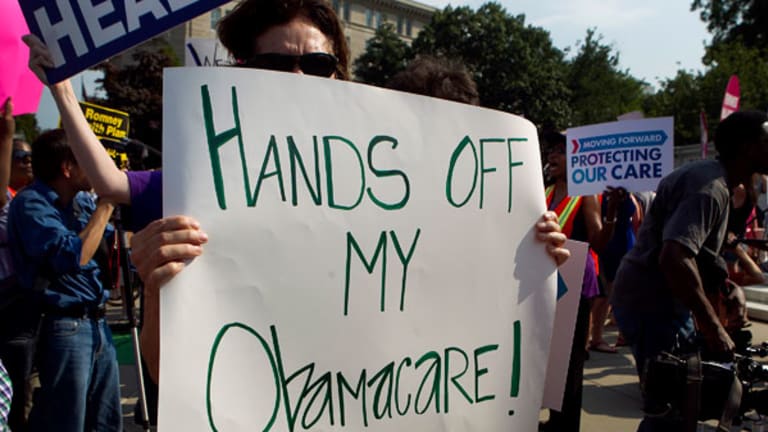 Beware of the Obamacare Con
New Affordable Care Act health insurance exchanges spawn scams.
By Hal M. Bundrick
NEW YORK (MainStreet) ¿ The con is on. The launch of so-called health insurance "marketplaces" created under the Affordable Care Act (ACA) on October 1 not only means consumers have to muddle through a maze of new information, options and costs ¿ but they also need to be on full alert for fraud. Big news events spawn scams and Obamacare is about as big as consumer news gets.
Also see:Why A Dying Poor Man May Not Have Health Coverage >>
The Consumer Federation of America says that the fraudsters are already in full force, contacting people for money, personal information, or both, offering to "help them" sign up for the new health insurance policies. The fact is, most Americans don't have to do anything. If you already have health insurance through your employer, Medicare, Medicaid, your school, the Veteran's Administration, or some other program, you don't have to sign up, get a new insurance card or make any changes. The are for people who don't already have health insurance or for those who buy their own policies and want to shop options.
Also see: Is Your Appearance Ruining Your Career? >>
The CFA offers this info on how to avoid an Obamacare con:
The government will not call you or send you an email about the new health insurance exchanges. And they won't come knocking on your door offering assistance.
Don't give your bank account number, Social Security number or other personal information to anyone.
In spite of the high profile being given to the new system, there is no rush to make a decision. Consumers eligible to buy plans through the marketplaces have until March 31, 2014 to do so. After that, enrollment is open to anyone who wasn't eligible before that date but whose situation has changed ¿ for instance, if you had health insurance through your job and became unemployed after March 31, 2014, or if you were previously covered by your parents' insurance and later need to purchase your own.
Complete information on the program is available at the official government website HealthCare.gov, or you can call 1-800-318-2596. There is no application fee or charge to get help with the process. The only thing that people will have to pay under the ACA is their monthly insurance bill, and some will qualify for free coverage or rate reductions. If anyone wants to charge you for information or assistance signing up, it's a scam.
Also see: Who is the Richest Comedian?>>
--Written by Hal M. Bundrick for MainStreet