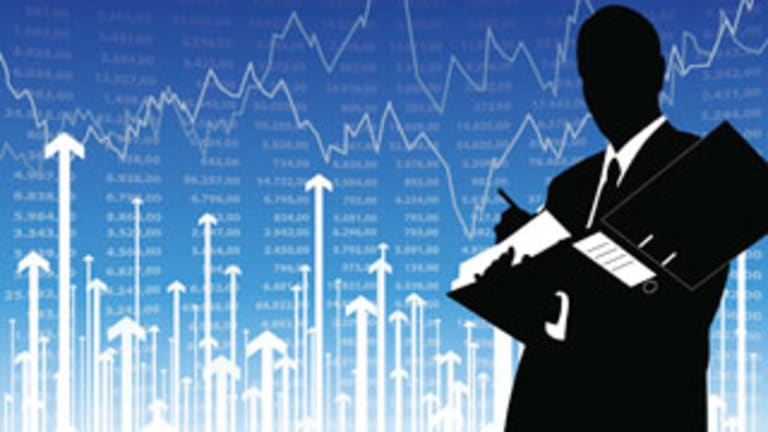 It's been a good week for health-care funds.
This past week, Johnson & Johnson's (JNJ) - Get Johnson & Johnson (JNJ) Report first-ever AIDS treatment, Prezista, won entry for sale to the 27 European Union countries.
Merck (MRK) - Get Merck & Co., Inc. (MRK) Report announced the distribution of its AIDS drug Atripla to certain poor countries at cost, and Thailand, declaring an emergency, is breaking Bristol-Myers Squibb's (BMY) - Get Bristol-Myers Squibb Company Report patent on the HIV drug Sustiva to create a generic version.
Influenced in part by these announcements, the health care and biotech funds followed by TheStreet.com Ratings edged up a healthy 0.48% on average for the week. Similarly, the Amex Health Care Select Sector Index advanced 0.44%.
The fund scoring the highest efficacy in our weekly clinical trial was the (FSHCX) - Get Fidelity Select Health Care Svcs ReportFidelity Select Medical Delivery Portfolio (FSHCX), returning 3.32% for the five trading days ending Feb. 15.
The fund is highly concentrated, with a 20.6% holding in UnitedHealth Group (UNH) - Get UnitedHealth Group Incorporated Report, 6.6% in Cardinal Health (CAH) - Get Cardinal Health, Inc. Report, 6% in Caremark Rx( CMX), 5.8% in McKesson (MCK) - Get McKesson Corporation (MCK) Report, and 4.6% in Medco Health Solutions (MHS) .
To balance out double-digit losers such as Imaging Dynamics (IDL) and Visicu (EICU) , Fidelity Select Medical Delivery's top gainers included Carriage Services (CSV) - Get Carriage Services Inc. Report up 25.2%; FTI Consulting (FCN) - Get FTI Consulting, Inc. Report up 16.1%; and Stereotaxis (STXS) - Get Stereotaxis, Inc. Report up 13.0%.
Being relatively immune from broad economic conditions, Carriage Services announced expected earnings from its funeral home business well in excess of analyst estimates, burying CSV short-sellers.
Next on the list of top-performers is the (LOGSX) - Get Live Oak Health Sciences ReportLive Oak Health Sciences Fund (LOGSX), which climbed 2.33%. The assets are allocated between biotech at 37%, pharmaceuticals at 34.5%, healthcare products at 20.6%, electronics at 5.7%, and healthcare services at 2.3%. Medtronic (MDT) - Get Medtronic Plc (MDT) Report, Teva Pharmaceutical (TEVA) - Get Teva Pharmaceutical Industries Limited Sponsored ADR Report, Invitrogen( IVGN), Amgen (AMGN) - Get Amgen Inc. Report, and Waters Corp. (WAT) - Get Waters Corporation Report are the five largest holdings. Two of those holdings, Invitrogen and Teva, jumped 10.2% and 7.1% respectively on good fourth-quarter results.
Highlighting the volatility of the health care sector, the best-performing fund from one month ago reversed course to top the worst-performing list. That fund, the (BIPIX) - Get ProFunds Biotech Ultra Sector Inv ReportProFunds Biotechnology UltraSector ProFund (BIPIX), lost 1.20%. The fund is 80% invested in biotech stocks, with 17.8% in pharmaceuticals and 1.8% in health care products. Amgen at 24.1%, Genentech( DNA) at 10.5%, and Gilead Sciences (GILD) - Get Gilead Sciences, Inc. (GILD) Report at 7.6% make up the largest holdings.
But, two of the stocks that contributed to the down week were Telik (TELK) and Enzon Pharmaceuticals (ENZN) . Telik lost 10.2% on news of corporate restructuring and a layoff of 25% of its workforce, and Enzon sank 4.5% with announced fourth-quarter losses.
The next fund on the list, the (FBIOX) - Get Fidelity Select Biotechnology ReportFidelity Select Biotechnology Portfolio (FBIOX), also absorbed the decline in Telik shares and took an even larger loss in Momenta Pharmaceuticals (MNTA) - Get Momenta Pharmaceuticals, Inc. Report. Momenta plummeted 32% after Amphastar Pharmaceuticals and Teva Pharmaceuticals beat Sanofi-Aventis' (SNY) - Get Sanofi Sponsored ADR Report patent on Lovenox, an anti blood-clot treatment.
Momenta may now have to compete with these two companies on the generic form of Lovenox, eliminating its potential place as the sole generic provider, and cutting the potential profit margin on the drug.
Fidelity Select Biotechnology Portfolio is allocated at 58.4% biotech, 40.2% pharmaceuticals and 1.2% health care products with Gillead Sciences, Genentech, Biogen Idec (BIIB) - Get Biogen Inc. Report and Amgen as the fund's largest holdings.
Last month in my article, Revival for Health Care, Biotech, I warned that in this highly volatile sector, "the worst performers above could easily switch places with the best performers" with a stalemate on health care legislation in Washington, D.C.
The progress made by the Democratic-controlled U.S. House has been stalled in the U.S. Senate, aiding the flip-flop in direction for some of these funds. Both sides are digging in for a fight, so look for the volatility to continue.
Kevin Baker became the senior financial analyst for TSC Ratings upon the August 2006 acquisition of Weiss Ratings by TheStreet.com, covering mutual funds. He joined the Weiss Group in 1997 as a banking and brokerage analyst. In 1999, he created the Weiss Group's first ratings to gauge the level of risk in U.S. equities. Baker received a B.S. degree in management from Rensselaer Polytechnic Institute and an M.B.A. with a finance specialization from Nova Southeastern University.