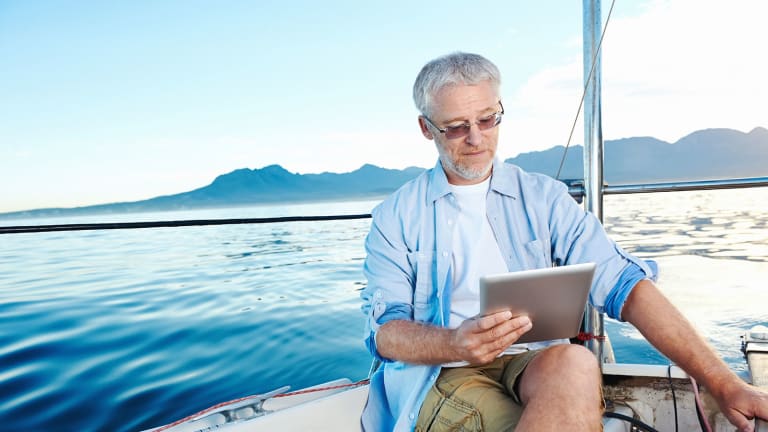 Best Retirement Planning Apps (Not the Same Old Useless Ones)
Beyond the 'how much money do I need to retire' tools, these apps offer some actionable info to help you envision retirement.
NEW YORK (TheStreet) -- Retirement planning apps can sometimes be pretty useless, whether they're "How much money do I need to retire?" calculators or "How long will my money last?" tools. It's the same old issue: garbage in, garbage out. Apps that try to predict your future income often rely on faulty input: your own estimates of where you are today and what you'll spend in the future.
However, there are some pretty cool apps that you might find helpful in planning your life after work. Rather than getting caught up in financial projections, these tools and Web sites offer actionable information that provide insight -- and perhaps, motivation.
Financial Engines Social Security Planner -- Strategies for maximizing Social Security benefits can be complicated. After all, there are more than 8,000 possible claiming combinations. If you do this and your spouse does this -- and you disclaim this – you can make this amount. Financial Engines has developed a clean, straightforward tool that gives you sample scenarios, without the double talk.
You input in your name, age, income, gender and life expectancy (you can be optimistic and just select "Average") -- as well as your spouse's. The tool will give a ballpark estimate of your benefits (or you can use the estimate provided on your annual Social Security income statement) and then provide some sample strategies on how to maximize your benefits.
It's graphically appealing and a great way to get at least a high-level view of your options.
Blue Zones -- This life estimator is located on the Web site of the fascinating study regarding where on the planet people live the longest. People in the so-called "Blue Zones" live to age 100 at 10 times the average rate. The original National Geographic expedition morphed into a best-selling book and now a global community-improvement initiative.
The Vitality Compass calculates your overall life expectancy. Even better, it provides 12 customized lifestyle recommendations to help you live longer. After you see the years you're losing because of your less-than-healthy habits, you'll likely be motivated to implement at least a few of the suggestions.
iFinance -- Nobody likes to make a budget, but this app can be the start of a near-painless planning process. An Apple (AAPL) - Get Report iOS app, iFinance imports your banking info and compiles your data into a budget. Immediately, you have a history of your spending, categorized by type of expense. That's an important component of retirement planning -- and a key to really determining how long your nest egg will last.
With three-dimensional graphs and category-level reports, you can determine where you might be able to trim expenses and make your retirement assets last longer.
Life Reimagined -- A website launched by the AARP, Life Reimagined provides "a personal guidance system to help people navigate transitions and live their lives to the fullest."
"We recognized a demand for a service that not only inspires people to explore their goals and passions, but gives them an actionable plan on how to navigate a new and evolving life phase," said Emilio Pardo, executive vice president at AARP and president of Life Reimagined, in a December statement.
The one- to seven-day programs guide you in a process to clarify your lifestyle, set goals and "reevaluate priorities." Good stuff for those seeking to define their life after work.