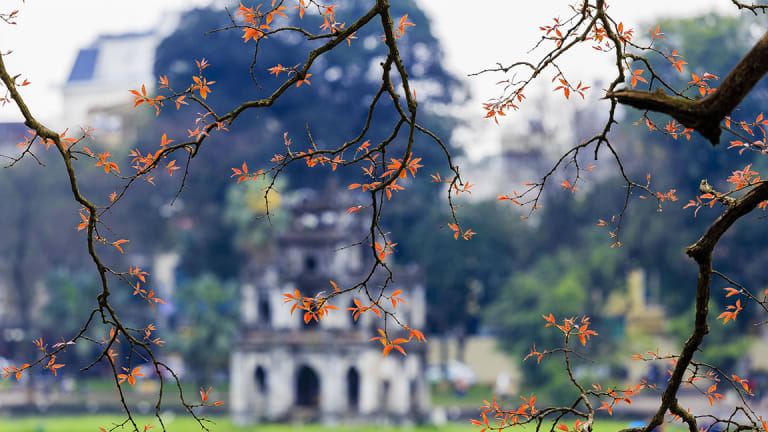 The Best Places to Visit in Asia
Immerse yourself in the mystery and cultures of Asia, relax on a beach, visit a Shogunate castle, savor delicious street food, or catch a lantern festival at one of these top destinations.
Asia is big, to be sure. It is home to billions of people and some of the largest cities in the world. For travelers, it is a rich experience of history, sacred sites, remarkable scenery, adventure, natural wonders, food, art, architecture, and a mysterious blend of religions and cultures. 
To find the top destinations in Asia, TripAdvisor used millions of reviews on the site, choosing the winners based the quantity and quality of reviews and ratings for hotels, restaurants and attractions in destinations all over the continent, gathered over a 12-month period (2019), as well as traveler booking interest. Based on TripAdvisor's Travelers' Choice Awards, these are the best destinations in Asia. (Always check for Covid restrictions and travel advisories before you go.)
The Best Places to Visit in Asia
1. Bali, Indonesia
The tropical Indonesian island is loved for its volcanic mountains, rice paddies, beaches and coral reefs. Bali has the biggest Hindu population in Indonesia. Pictured is Canggu, Bali.
Popular resort towns in Bali include Seminyak, Sanur (pictured above) and Nusa Dua. The island is also known for its yoga and meditation retreats.
2. Phuket, Thailand
Thailand's largest island is known for its beaches, excellent diving, watersports and fabulous food. In Phuket, ancient recipes are passed down through generations within families and communities. This commitment to preserve traditions is highlighted by the annual Old Town Festival, a three-day event that attracts more than 400,000 people.
Pictured is a street food market in Phuket.
Phuket also offers plenty to explore at the island's aquariums, gardens, and Buddhist temples. It's also home to many seaside resorts.
3. Siem Reap, Cambodia
The resort town of Siem Reap is the gateway to the ruins of Angkor, the seat of the Khmer kingdom from the 9th to the 15th centuries. The complex encompasses over 400 acres of temples, reservoirs and canals, and is one of the largest archeological sites in the world. Above, huge, mysterious faces are carved into the Bayon Temple at Angkor Thom.
Beyond the temple, Siem Reap offers plenty to do, great food, shopping and a hip party scene.
4. Hanoi, Vietnam
Vietnam's capital and second largest city features centuries-old architecture and a blend of Southeast Asian, Chinese and French culture.
Shop the busy, narrow streets of Hanoi's Old Quarter, and visit sites such as Ho Chi Minh's Mausoleum and Hoa Lo Prison. Hanoi has parks, lakes, shaded boulevards and more than 600 temples and pagodas.
5. Tokyo
Japan's huge capital has a population of more than 9 million, and just about everything you could ask for -- pop culture, ancient temples, a Disney (DIS) resort,
and great food. Tokyo also has one of the best airports in the world. Above, the Skytree, the tallest structure in Japan, dominates the city's skyline and offers one of the most stunning urban views in the world.
Despite the number of people, Tokyo is also likely one of the cleanest cities you'll ever visit. Tripadvisor recommends visiting the fish auction at the Toyosu Market and the beautiful East Gardens of the Imperial Palace.
6. Kathmandu, Nepal
Nepal's capital of one million people is a jumping-off point for many historic sites, villages, ancient temples and shrines. Although some of the monuments were damaged or destroyed in the 2015 earthquake, many remain intact.
7. Jaipur, India
Jaipur is called the Pink City because of the color of its buildings. Explore the City Palace, a complex with gardens, courtyards and museums; part of it is still a royal residence. Above, decorated elephants carry riders from Amber Fort.
8. Hong Kong
The former British colony of Hong Kong is packed with nearly 7.3 million people. The city has a vibrant, dense urban center. Visit the Temple Street Night Market, and get your fill of dim sum, shown here.
9. Seoul, South Korea
Seoul is one of the oldest inhabited cities in the world. Prehistoric remains have been found here that date as far back as 7,000 years. Visit the Gyeongbokgung Palace, the main royal palace of the Joseon dynasty, built in 1395. It was burned down by Japanese invaders in 1592, then rebuilt 300 years later, and now has 330 buildings and 5,792 rooms. Pictured is the National Museum of Korea.
10. Goa, India
Goa sits on the Western coast of India, on the Arabian sea. Its beaches make it perfect for relaxing. Goa was a Portuguese colony before 1961, and features 17th-century churches and tropical spice plantations. Above, the city's night market.
11. Bangkok, Thailand
Bangkok features ornate shrines, vibrant street life, and is famous for its floating markets. Above, the Golden Buddha, a gold statue of a reclining Buddha weighing 5.5 tons sits in the temple of Wat Traimit.
12. Hoi An, Vietnam
Hoi An has a well-preserved Ancient Town (above) and the city is a tapestry of French, Chinese and Japanese culture and history. Architecture here is a mix of eras and styles. If you visit on the 14th day of the lunar month, you can catch the lantern festival.
13. Kyoto, Japan
The ancient city of Kyoto is known for its traditional wooden houses, geisha performances, and the Shimogamo Shrine, which dates back to the 6th century. Also see the Nijo Castle, built in 1603 by the Tokugawa shogunate.
14. Chiang Mai, Thailand
There's plenty to see and do in Chiang Mai, a small mountainous city of about 130,000 and a popular destination for travelers and expats. It has lively nightlife, excellent cuisine and great shopping at the night market. Tripadvisor recommends seeing the old city temples, such as Wat Phra That Doi Suthep, the Patara elephant farm, and Dsi Inthanon National Park. Above, Loi Krathong is a festival celebrated annually in Thailand.
15. New Delhi
The capital of India and seat of all three branches of the country's government, New Delhi is a vibrant, bustling city of 22 million people with free-roaming cows. Top attractions include the Qutub Complex, the 17th-century Red Fort, Humayun's Tomb, the India Gate and the National Museum. Above, men thread colorful flower garlands used as offerings in temples.
16. Beijing
Beijing is a sprawling city of nearly 22 million, with a history stretching back 3,000 years. See both modern architecture and ancient sites such as the Forbidden City complex, the imperial palace, Tiananmen Square, the Great Wall of China and the National Museum of China, which has a huge collection of cultural relics. Pictured is Wangfujing Snack Street, a night market with great street food.
17. Da Nang, Vietnam
The coastal city in central Vietnam is one of the country's most important port cities, and has a history as a French colonial port. TripAdvisor recommends the culinary tours and the street food. Da Nang is also known for its sandy beaches and the Dragon Bridge over the Han River, shown here.
18. Krabi Town, Thailand
The southern Thailand town of Krabi is a good jumping-off point for seeing the area's sights - limestone cliffs, idyllic islands, white sand beaches and Buddhist shrines.
19. Singapore
The island city-state and global financial center off southern Malaysia is one of the most innovative cities in the world. Even its airport is worth a visit for its lush gardens and rooftop swimming pool. Top sights include the Gardens by the Bay, shown here, Orchard Road for shopping, and the Singapore Zoo.
20. Ho Chi Minh City, Vietnam
Also known as Saigon, the city is famous for the key role it played in the Vietnam War, and has a number of related sights, including the War Remnants Museum. The city features several French colonial landmarks, and the Cu Chi Tunnels are a network of underground tunnels used by the Vietnamese to stay safe during the war.
21. Shanghai
Shanghai is China's biggest city. The Bund is a famous waterfront promenade lined with colonial-era buildings. The Oriental Pearl, a radio and TV tower, has double-decker elevators that can carry 50 people to the top at 23 feet per second.
22. Taipei, Taiwan
Taipei is a modern city with a lively street-food scene. One of its top sights, the Taipei 101, shown here in the center of the photo, is a supertall skyscraper with elevators that carry passengers to the 89th floor in 37 seconds. Don't miss the Longshan Temple and the National Palace Museum.
23. Lombok, West Nusa Tenggara
This Indonesian island east of Bali has pristine, white beaches and is popular with surfers and divers.
24. Osaka, Japan
Osaka is a large port city and commercial center of 9 million people on the Japanese island of Honshu. It has modern architecture contrasting with older structures like the Osaka Castle, one of Japan's most famous landmarks. The castle was built in 1583 by a powerful feudal lord and warrior who was obsessed with gold. You'll enjoy good street food, shopping, restaurants and nightlife in Osaka. Other attractions include the aquarium, Universal Studios Japan, and the futuristic Floating Garden Observatory.
25. Cebu Island, Phillipines
Cebu City features Spanish colonial architecture. Nearby you can enjoy white beaches and clear blue waters and the city has a lively bar and restaurant scene. Pictured is a Taoist temple in Cebu.