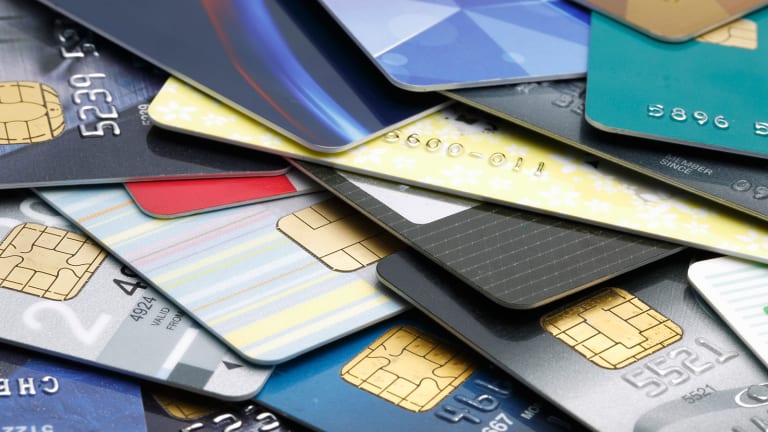 Best Credit Cards for College Students to Build Credit
College can be a great time to get a jump on building credit... if you use it wisely.
NEW YORK ( MainStreet) -- Are there good credit cards for college students? The answer can be yes. Sometimes. Like all of us, college students could use a good boost to their credit scores and some reward points, but they have to be careful. College is expensive enough without adding 20% APR to the picture.
For college students, building a solid credit score is a huge challenge. No credit can create almost as many problems as bad credit when it comes time to get a car loan or starter house, and it can even challenge students who need to take out private loans for school.
Graduates without credit, "ghosts" in the language of the banking industry, have one leg up on their classmates though: they won't be paying for that junior year bar tab until age 28. Credit cards are one of the easiest ways to build a credit history, but in the wrong hands they can range from troublesome to absolutely disastrous.
Still, smart students can get a lot of value out of a good credit card. Bills and fixed expenses like textbooks, which a student would otherwise buy with cash, can be put on a decent card and then paid off right away. It's a great way to develop history and build a relationship with companies that will make you eligible for more glamorous rewards cards down the future.
If, as University of Oregon Director of Financial Aid Jim Brooks said, students approach this newfound spending power wisely. Too many don't.
"Students, even graduate students, don't think long term," Brooks said. "They're just thinking about now."
"Occasionally students will use them [credit cards] to buy books and things like that, so sometimes they'll use them for school related expenses," he added. "But more often they're not. They're using credit cards for more personal expenses, clothing and that sort of thing… That's where my source of concern comes in. It becomes an easy resource that you can pull out to make a purchase that you otherwise wouldn't make if it weren't there."
Undergraduate students in particular are dangerous abusers of consumer credit because of their combination of impulsivity and low income. A student who suddenly has $5,000 worth of extra spending power may very well use it… and may very well have an incredibly hard time paying that back with extra shifts at the local Jimmy Johns.
Even a relatively low limit card can create real problems. Where an employed graduate might face four-figures of debt with some tough financial planning, for a student it can represent absolute ruin.

It's occasionally heartbreaking, Brooks said, to see students come to his financial aid office seeking help when they hit rock bottom on credit card debt.
"We see students come in and then basically say, 'I need additional money because I have these bills I have to pay,'" Brooks said. "We ask what those bills are for… A lot of times it was like, 'I used my credit card for this or that and I've got this bill and can't afford to pay it.'"
For those students, there's no help. That bill will grow, or parents will step in… or they'll learn the meaning of default at a very young age.
It's why an increasing number of campuses have banned banks from pushing credit cards on campus.
Still, students who can manage their card responsibly can reap enormous benefits. These days being a student comes with increasing overhead, from books to class fees and semesters abroad. Even more and more landlords are accepting plastic as the student shantytowns many of us remember recede into the background of high rises and per-room luxury leases.
Charging then promptly paying for day-to-day life can help build a roaring credit score and even might rack up some points to help pay for a decent post-graduation trip.
Matt Goldman, from Wallaby Financial, suggested a few pointers for students to keep in mind when selecting a card to start out with.
First and foremost, he said, "you want to start out with something that is a student credit card. You want to avoid the low credit/no credit cards. Those have different underwriting standards."
Cards for people with low credit are designed to accommodate the risk of default, so they come with high fees and few (if any) rewards. They may not even help your credit all that much, since they're designed for someone who's already deep in the hole.
Student-specific cards, on the other hand, are designed to build a relationship with the bank.
"There's no reason that you, as a student, can't get a card that has good rewards and low APRs," Goldman said. "Just because you're a student and you're graduating doesn't mean you have to give up on the benefits that credit cards can give to prime customers."
Like anyone else, he suggested, students should consider their specific lifestyle. Someone interested in studying abroad, for example, might consider cards like Capital One's Journey, which has no foreign transaction fees. Others who look forward to the gamesmanship of managing an account might consider the Discover It for Students, which gives 5% cash back but in rotating categories.
Students should also consider whether they want to establish a relationship with specific banks, and above all else should avoid an annual fee.
When it comes to the dangers of misuse, Goldman agreed with Brooks that students can get into trouble and "need to be cautious."
Still he is a huge proponent of building credit.
"Having good credit is a big part of living here in the United States," he said. "This is a time of life when you should learn good behavior. You get this bonus for good behavior and it's a very solid issued card from a good issuer."
In fact, most student cards afford some leeway on late payments and penalties.
Ultimately for responsible use, Brooks summed it up well. The risk of a credit card is in the temptation to buy things you otherwise wouldn't.
For students who can use one responsibly, though, Wallaby recommends the following five places to start:

The Capital One Journey Student Card
The Citi Thank You Preferred
The Discover It for Students
The BankAmericard Travel Rewards Card for Students
The BankAmericard Cash Rewards Card for Students