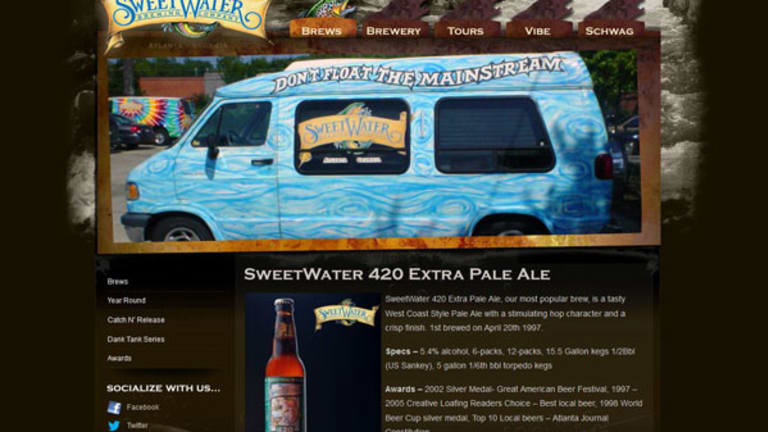 Best Beers for March Madness
Here's a sampling of the best beers available to basketball fans in NCAA host cities over the next few weeks.
PORTLAND, Ore. (TheStreet) -- It's March Madness, and you know what that means: Pretending beer doesn't exist. At all. Whatsoever. And certainly not around colleges.
Last year, we launched
, our craft beer March Madness bracket, just as a friendly reminder that beer plays a big role in the NCAA Men's Division 1 Basketball Tournament whether the NCAA wants to admit it or not. The NCAA's broadcast partners at
CBS
(CBS) - Get Free Report
and
Time Warner's
(TWX)
Turner Sports have no problem letting
Anheuser-Busch InBev
(BUD) - Get Free Report
and SABMiller-
MolsonCoors
(TAP) - Get Free Report
joint venture MillerCoors into the big dance. The networks have taken more than $50 million in combined ad money from the brewers each year since 2011, according to
Kantar Media
.
The NCAA bans alcohol sales during all its championships except football's postseason and bowls -- which it doesn't run -- and limits alcohol ads to malt beverages, beer and wine products with a sessionable 6% alcohol by volume or less. Even at that, beer ads made up less than 6% of all advertising during last year's Final Four.
That doesn't mean there isn't plenty of beer to go around come tournament time. With the NCAA's bracket broken up into convenient little regional stops, the tournament provides a great opportunity for college basketball fans to not only burn some frequent-flier miles, but to sample some of the nation's best craft beers while doing so.
While we're not running our Beer Dance this year, here's just a sampling of the best beers available to basketball fans making their way through the host cities during the next few weeks. Though your on-court allegiances might lie elsewhere, don't be afraid to support the home team when it comes to tournament beers:
Listerman Friar Bacon
Host city:
Dayton, Ohio
Dayton's star has risen as the host city for the tournament's play-in games and one of the site's for its East regional match-ups, but it still has a long way to go to catch up with Ohio's other brewing towns.
Home to a huge
Boston Beer
(SAM) - Get Free Report
Samuel Adams brewery in Cincinnati and the home of powerhouse craft brewers such as
Great Lakes Brewing
, Ohio knows its beer. Unfortunately, Dayton is still kind of feeling its way around. Listerman has been fighting the good fight as a small brewery since 1991, though, and has supplemented its income by selling home brewing equipment since 2008.
During that time, it's also produced this smoky rauchbier that gets its roasted flavor straight from the grain and malt, pulls a little more maple flavor out of said malt and hits a drinker with just a little hoppiness at the finish. At 7% alcohol by volume, this amber beauty is going to be downright beastly for fans who enjoy their beers light, fizzy and bought in pairs during game breaks. But it's a must-drink brew that's a great -- if gimmicky -- example of Dayton's brewing potential.
Sun King Osiris Pale Ale
Host city:
Indianapolis
Indy's been fortunate enough to host the Final Four and Super Bowl in recent years, but Sun King's been even luckier to have fans from each event check out its pale ale and spread the word back home.
Indiana brewing is no lightweight, with Sun King bolstering a growing Indianapolis beer scene and
3 Floyds
across the state in Muenster making its Dark Lord Russian Imperial Stout known around the world. Sun King's Osiris Pale Ale, however, is a beer built for big sporting events and made to convert game day big beer fans into craft beer believers.
Available year-round on draft and in cans, Osiris is just hoppy enough to seem like a sedate IPA, but just tame enough at 5.6% alcohol by volume to let drinkers have more than one without fear. It's bitter, but not knocked-out-in-the-first-game bitter.
Boulevard Brewing 80-Acre Hoppy Wheat
Host city:
Kansas City, Mo.
Go ahead, name the largest American-owned brewery in Missouri.
Anheuser-Busch, you say? Sorry, but that little InBev bit is Belgian. The big all-American brew in the Show-Me state doesn't live in St. Louis, but cranks out nearly 200,000 barrels a year right in Kansas City. The scary part about Boulevard is that even with a growing distribution radius that already reaches from coast to coast, it still hasn't reached its 600,000-barrel potential.
A few more sips of 80 Acre Hoppy Wheat in far-flung places and that won't be the case. A witbier-IPA hybrid, 80 acre combines the citrusy flavor of a Belgian wheat with the hoppy aroma of a West Coast IPA. At 5.5% ABV, it's mild enough to get you through game day. With that combination of flavors, however, it's one departing fans will want to keep on file for warmer days once the nets have been cut down and school is out.
Host city:
Salt Lake City
In the past, there was little beer-loving college basketball fans dreaded more than an opening-round NCAA tournament matchup in Utah. Private drinking "clubs." Watered down 4% alcohol beer. It was beer purgatory.
All that's changed in recent years, however, as Utah eased up its alcohol restrictions and let its brewers sell their full-powered beers in their home state for the first time. That was great news for Uinta, which has been brewing in Salt Lake City since 1993 and couldn't go full-throttle at its brewpub until 2010.
With that over, sips of Hop Notch IPA once reserved for out-of-staters now await Salt Lake City's sports visitors. Don't let that old 4% alcohol limit fool you: Hop Notch is 7.3% ABV in SLC these days and packs a wallop in potency and aroma. That huge helping of hops is just as floral and bitter as anything drinkers will find farther west, with just enough malt to make it as smooth as a laid-back Utah beer should be.
21st Amendment Back In Black Black IPA
Host city:
San Jose
San Jose itself doesn't have a whole lot to offer beerwise. Fortunately for fans, it's just close enough to San Francisco and other key California craft beer addresses that it doesn't have to do much but sit back and let the beer pour in.
So what do you pick? Do you go classic and crack open an
Anchor
that was first brewed more than a century ago and made California Common "steam beer" famous? Do you go hyperlocal and get some organic brew from Argentinian beer and empanada joint Cerveceria de MateVeza?
Or do you take the path of least resistance and get a can of 21st Amendment that you have a fighting chance of finding back home? Good choice. 21st Amendment has been kicking around since 2000 and, more recently, made its name by putting its extremely strong pub beers in extremely unsuspecting cans. Its Back in Black is no exception, with 6.8% ABV and an extremely bitter brew loaded with Columbus hops packed into its container. The dark malts make Back in Black look far more sinister than its sunnier California IPA cohorts and its potent aroma and flavor gives drinkers little reason to think otherwise.
Eagle Rock Brewing Equinox
Host city:
Los Angeles
L.A.: Great basketball city, terrible beer town.
What's the problem? Is it all the driving? That hasn't killed the bars or made the cocktails suck, so no. Is it the real estate prices? Fickle tastes? The logistical difficulties of squeezing a kettle and mash tun into a food truck?
We're not sure, but basically Los Angeles has way fewer breweries per capita than its California neighbors and shamefully few for a city of its size. Eagle Rock, the first brewery in Los Angeles in nearly 60 years when it opened, has been trying to change that a bit by giving L.A. a small brewery and tasting room while not playing it safe with the offerings.
Equinox is a mild, barrel-aged Belgian sour blonde ale that blends citrus with earthier, fruitier flavors that overwhelm palates accustomed to more Teutonic brews. At 6% ABV, though, it's not nearly as potent as the Belgian styles it's emulating and is a great gateway beer for L.A. drinkers baby-stepping away from
Heineken
and Old Fashioneds.
West Sixth Brewing Snakes In A Barrel
Host city:
Lexington, Ky.
So the University of Kentucky didn't make the tournament this year after winning the whole thing last year. Louisville's in and playing here in the first round, and the bourbon's still flowing.
It's not an ideal day in Lexington, but it's close. West Sixth isn't about to go messing with that equation by foisting any old beer off on folks who've been looking for some bourbon since they and their buddies got into town.
That's where Snakes In A Barrel comes in. An imperial stout aged in
Pappy Van Winkle
bourbon barrels and packing a 11% ABV wallop, Snakes In A Barrel is just about as close to pure bourbon as a beer is going to get. Chocolatey and roasty on the tongue and fiery going down, it's a shot as fierce as any as fans will see on the court during their stay.
(512) Brewing Pecan Porter
Host city:
Austin, Texas
Just as the city recovers from South By Southwest, yet another contingent of out-of-town rowdies starts taking up seats at
and asking what's on tap despite the list staring them in their faces.
If you're one of these folks and have already spent much of your time in town defaulting to Shiner Bock at the moment of truth, might we suggest this off-kilter offering from a local favorite. As a company, (512) hasn't seen much need to stick with standard formulas and gives its mix of crystal, chocolate and black malts a little extra kick by adding locally grown pecans to the equation for aroma and flavor.
At 6.7% ABV, it's already a tough customer. Double down on the pecan and malt, throw it all into a whiskey barrel and let the vanilla and whiskey flavor soak in for a while and you get a special treat that should still be available during the Big Dance: Whiskey Barrel Double Pecan Porter. Kicked up to 8.2% ABV, it keeps Austin's beer weird in just about the tastiest way possible.
Kuhnhenn Fourth Demential Olde Ale
Host city:
Auburn Hills, Mich.
Consider yourselves fortunate, beer fans. Your team is playing in malt and hop heaven.
Awash in great breweries such as
Founders
,
Bell's
,
New Holland
and
Jolly Pumpkin
, Michigan has made itself into a land of plenty for visiting beer lovers. If you're that close to Detroit, however, drop in and say hi to the Kuhn brothers, who founded Kuhnhenn after a big box hardware store helped put their mom-and-pop hardware operation out of business.
There you'll find the most bang for your buck in a snifter or 22-ounce bottle of the lovingly nicknamed "4D." This old ale is a menacing brown and almost dark red concoction with a malty caramel, maple, toffee and molasses flavor that masks a potent 13.5% ABV. This is the kind of rich, dark brew that's made Michigan craft beer famous and has become one of Kuhnhenn's strengths. While its hoppier brews tend to be a bit understated, its porter, stout and 4D are a warm welcome for cold fans.
Yards Brewing Brawler
Host city:
Down by the Delaware River on the outskirts of raucous Old City and burgeoning hipster hotspot Fishtown sits an unsuspecting block of a building that most visitors bypass completely on the way to the waterfront casino.
Considering Brawler may be the single best game-day beer in Philly, those visitors pass up its brewery at their peril. Considering that
Philadelphia Brewing
also calls Philly home and that the city and its vibrant craft beer community are coveted by nearby
Victory
,
Dogfish Head
and
Flying Fish
, giving Brawler the sports beer title is no small compliment.
Modeled after English session ales, Brawler is heavy on the sweet malt and light on the alcohol content. With a ruby red hue and a bit of roasted grain and caramel for flavor, Brawler entices fans to have more than one and rewards them with a 4.2% ABV similar to that found in light beer. If you like the idea of getting more flavor without taking yourself out of the game early, Brawler may make Philadelphia a friendlier sports town than you anticipated.
DC Brau's The Corruption
Host city:
Washington, D.C.
Until 2010, if you wanted craft beer in D.C. you had to get it from another area's brewer, sip it at a brew-it-yourself joint or steakhouse or make your own.
DC Brau put an end to all that when its founders -- who'd previously made beer at breweries in Michigan and Maryland -- opened their own operation and started distributing cans of their creation throughout the capital. It's found success with its The Public pale ale, but really hit stride by dumping in 40 pounds of hops, kicking the ABV up to 6.5% and smacking drinkers right in the nose with a mix of pine and citrus.
The Corruption is as drinkable as a standard IPA but as bitter as an imperial. Though stronger IPA continues to find its way into cans, The Corruption is one of the most potent and pleasurable beer fans will find.
Host city:
Atlanta
We featured this Atlanta favorite last year, but had to bring it back for ATL's turn as the Final Four host city.
Founded in 1997 with the hopes of bringing a West Coast-style brewery to Atlanta, Sweetwater excels when it's allowed to sweeten up the brew a bit. Its popular 420 Extra Pale Ale is no exception in combining a mouthful of fruity, citrusy Pale Ale flavor into an East Coast-appropriate 5.4% ABV package.
It's the kind of pale ale
Sierra Nevada
built a brand on, and it's a brisk sipping beer perfect for when Atlanta temperatures break into the mid-70s. Considering that's about where the mercury will be once the title game tips off, 420 is a tough pale ale to pass up ... especially for folks whose lips pucker at the thought of an overly bitter IPA.
-- Written by Jason Notte in Portland, Ore.
>To contact the writer of this article, click here:
Jason Notte
.
>To follow the writer on Twitter, go to
.
>To submit a news tip, send an email to:
.
Jason Notte is a reporter for TheStreet. His writing has appeared in The New York Times, The Huffington Post, Esquire.com, Time Out New York, the Boston Herald, the Boston Phoenix, the Metro newspaper and the Colorado Springs Independent. He previously served as the political and global affairs editor for Metro U.S., layout editor for Boston Now, assistant news editor for the Herald News of West Paterson, N.J., editor of Go Out! Magazine in Hoboken, N.J., and copy editor and lifestyle editor at the Jersey Journal in Jersey City, N.J.