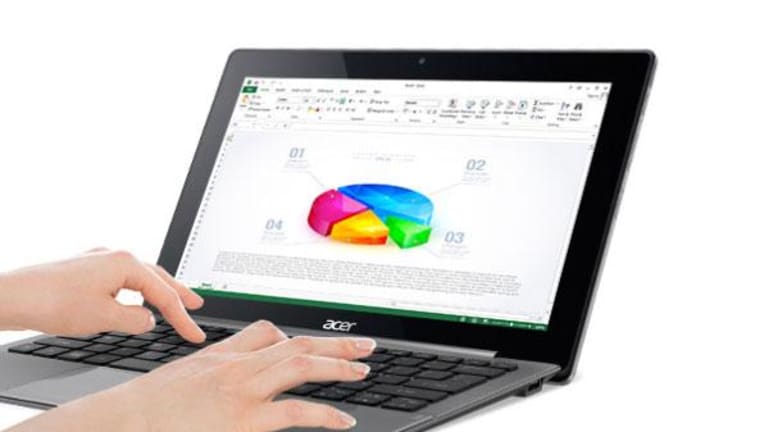 Best Back-to-School Laptops for Under $500
All of the laptops on this list are dual-core (at least) and will work great for relatively simple activities.
Editors' pick: Originally published July 29.
School is expensive, but you don't have to give up computing power or durability in order to save money on a back-to-school laptop. Machines that cost less than $500 were best avoided for a long time, but over the last couple of years, the sub-$500 price point has become more and more attractive owing to smart upgrades by nearly every major computer manufacturer. One big trend in the sub-$500 range is the flexible device that can go from laptop to tablet to movie screen, some of which pop up in this buying guide. All of the laptops (convertible or not) are dual-core at least, and will work well for relatively simple activities like shopping online deals, streaming music, rocking social media, and writing emails. They all run Windows 10, too, which means that they can support word processing software easily. All of them come standard with 4GB RAM (some manufacturers allow you to add more, which is recommended if you can afford it -- at least to 8GB), and all of them offer a day's worth of up-time, averaging about 8 hours in the battery department. That will come in handy if you've got four lecture courses back-to-back.
There are some differences among the laptops in this buying guide (largely having to do with graphics and how well the physical laptop converts to a tablet), but each one is a sure bet for an active lifestyle: compact, effective, and reliable. It really comes down to your personal style.
Acer Aspire Switch 11V($499.00)
The Acer Aspire "Switch" refers to your ability to detach the screen entirely to use it as a tablet, or reattach it backwards to use it as a presentation screen. Or, you could just use it like a laptop. In any event, it's the next generation of Acer's Snap Hinge-meaning it's easier to, indeed, "switch" for quick conversion from solo lab work to a quick explanation of isotopes to your lab buddies who napped through the lecture.
If Acer goes to so much trouble to create a flexible screen experience for the user, certainly its screen technology is up to par, right? In the case of the Aspire Switch 11V, yes-the company's trademarked LumiFlex technology beats glare no matter the screen angle and the full HD display makes everything from the darkest movies and the brightest PowerPoint slides look great. For all those dark, moody movies, the sound on the Aspire Switch is also on point, and although the company claims that its TrueHarmony technology is stunningly rich (presumably to watch movies alongside dorm-mates), the real test is when you've got your headphones on during your crosstown commute to your internship. Aspire Switch's HD audio-with Dolby Audio enhancement option-gives you all the highs, lows, and middles you need.
The specs are good, too. Windows 10 Home is your environment, and the entire system operates on an Intel Core M processor -- a relative newcomer to the market that Lenovo and Dell have also picked up in the last year. The Intel Core M (dual core) processor boasts a lower running temperature and an eight-hour battery life. Another benefit of lower running temperature is less heat dissipation, meaning manufacturers like Acer can ditch the bulky fan (no more incessant whirring), creating ever-thinner products such as the Aspire Switch. The standard memory on this is 4GB, which is enough for all of the basics that you need at any one time. There are two USB ports -- one on the keyboard and one on the tablet/screen -- which give you on-the-go flexibility to transfer files to a classmate via jump-drive without logging in to a cloud service. All in all, this is the machine you want if you want a reliable device that lets you "switch" between work styles.
Buy the Aspire Switch 11V now
Asus VivoBook E403SA  ($379.00)
Unlike the trendy laptops out there that convert to tablets or A-frame video screens with a click or swivel, the Asus VivoBook E403SA is a classic laptop that opens and closes just for your viewing pleasure. And, it's quite a view-a 14-inch screen gives way to full HD, 1080P video and graphics, which should be something you care about if you care about what stuff looks like on your screen. The thing Asus really wants you to know is that the VivoBook features a USB Type-C port-next gen stuff if you're a futurist. There are two other, arguably more impressive things you should also know about: up to 14 hours of battery life for the super-busy student who is out and about all day and an Intel Braswell Quad-Core processor for the super-demanding student who needs their machine to perform without a hiccup.
It's also just over three pounds and just over half-an-inch thick. That's not even backpack sleeve thin; that's purse thin. Passive cooling (no fans) means that you can stay as silent as a ninja at the coffee house while you cram for that afternoon's exam. It also means that your purse won't become a convection oven while you're headed to that very exam. The Asus VivoBook is incredibly powerful for its welterweight class, and can go the distance for full day of obligations.
Buy the Asus VivoBook E403SA  now
Dell Inspiron 15 3000 Non-Touch ($249.99)
Dell's line of Inspirons has powered the everyday work and correspondence of students and young professionals for almost half a decade, and the latest in a long line of reliable, high-performing laptops is the Dell Inspiron 15 3000 Non-Touch. This one is a little chunkier than the others in this buying guide, but that's because of the tray-load DVD/CD player, which lets you rip and transfer to your heart's content. Forget the Spotify playlist. With this, you can make an old fashioned mix CD for the apple of your eye.
When you're not feeling googly-eyed and need to get down to work, the Intel Celeron Processor will keep your research paper, source PDFs, and podcast humming along. The only downside-and it's a comparative one surveying the rest of this buying guide-is that it provides between 6.5 and 8 hours of battery life. Still, it's just under two-and-a-half pounds, meaning it won't be a burden in your bag-especially when you have so many other things you need to tote around. Standard 4GB RAM is right in line with its competitors, too, which-for the relatively low price-means you can do just as much as with others in this class for a little less than what you'd pay otherwise.
Buy the Dell Inspiron 15 3000 Non-Touch now
HP Pavilion x360 ($379.00)
HP Pavilion x360 refers to the very impressive flexibility of this device-it goes from laptop to tablet easily and quickly along an arc, anchored by a stainless steel hinge. That would be a mere parlor trick if the machine didn't function. This one, however, definitely does the job you need it to do. Speaking of flexibility, the Pavilion x360 is really a family of machines at three different sizes (and various price points). There's the 11", the 13", or the 15"-so you can decide for yourself if you really need something big enough to compare two data tables, or if you just need something just big enough for the lecture hall desk.
The largest size comes with 8GB RAM standard; the smaller two sizes come with 4GB standard. In terms of processing power, each size comes with a different configuration, from an Intel Celeron processor in the smallest size to an Intel Core i3 processor in the largest. It should be noted, too, that HP put some thought into the sound. The audiophiles at Bang & Olufsen spin-off brand B&O Play (purveyors of reasonably priced and technically very good speakers and headphones) consulted on the Pavilion x360 family of machines, which means that if you care about playback and levels, you might want to test drive one of them.
Buy the HP Pavilion x360 now
Intel Compute Stick ($149.95)
While not technically a "laptop," the Intel Compute Stick holds a lot of potential to make students-or anyone, really-even more streamlined than they were before without compromising their ability to get work done. This stick plugs into the HDMI slot on a television or monitor, effectively turning that display into a computer screen (powered by Windows 10). It comes in four distinct models, each with different capabilities-and the two at the higher-end of the range are backed by quad-core Intel Atom processors.
Three out of the four arrive standard with 2GB RAM (bare bones, yes, but consider the fact that this thing is the size of a Roku remote). It also has two USB ports, so you can deal with files that may be too large to store on the actual device, as well as hook up a peripheral (an improvement over the first-gen Intel stick, which had only one USB port). A micro-SD slot also increases storage options. This is not something you'd want to purchase to replace your computer, quite honestly, but it is something you'd want to investigate if you spend time doing field research, or if you regularly travel to give presentations, or if you DJ on the weekends and don't want to lug your laptop to the club, or, frankly, if you just want the novelty of having a fully functioning computer in your breast pocket.
Buy the Intel Compute Stick now
Also see: 10 Best Laptop Bags for 2016

Disclosure: TheStreet has advertisers and partnerships; we may get a share of the revenue from your purchase.