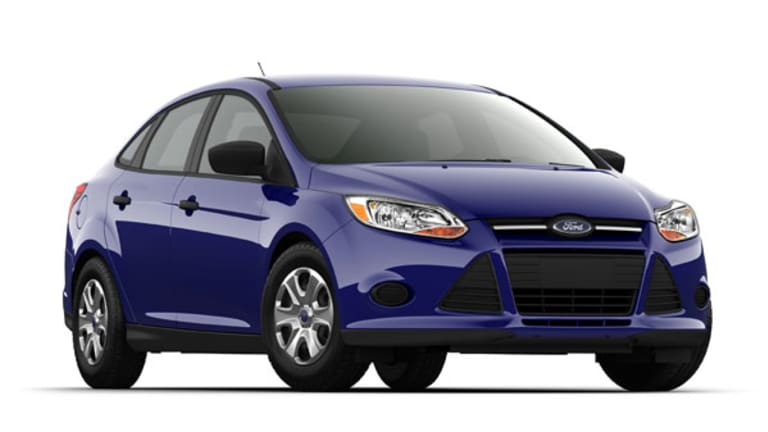 Best 2013 Vehicles for the Money
Make your way through these comprehensive ratings and you'll likely wind up wanting a Ford.
BOSTON (
) -- It's easy to find cars that are cheap and easy to find ones that are good, but here's a look at five 2013 models that are cheap and good at the same time.
"These are cars that aren't only great to own, but represent great values," says Jamie Page Deaton of
, which recently named 21 models as 2013's Best Cars for the Money.
Page Deaton and her colleagues compiled their list by analyzing some 200 of the industry's 2013 models for quality and price.
The magazine measured quality by looking at each vehicle's crash-test results,
J.D. Power and Associates
reliability data and reviews from
Motor Trend
and some 50 other top publications.
Then
U.S. News
factored in price by using
TrueCar.com
estimates of what the average consumer pays to buy a given vehicle and cover five years of ownership costs such as gas and depreciation.
Ford
(F)
did surprisingly well in the study, winning in
-- the most for any U.S. or foreign automaker.
Page Deaton says that's because Ford impressed car reviewers with designs far better than the "plain-vanilla" looks that foreign brands such as
Honda
(HMC)
and
Toyota
(TM)
often favor.
"Domestic automakers have had this rep for so long that they build subpar cars that aren't good values and aren't going to last, but we've found that reviewers don't think that way," she said.
Read on to see
U.S. News'
best 2013s for the money in five of the most popular automotive segments. Prices listed refer to the average that TrueCar.com found U.S. consumers have paid for base versions of each model.
Best 2013 Compact Car for the Money: Ford Focus
Average U.S. price:
$16,522
Page Deaton says consumers can buy the Focus as "a bare-bones economy car that's fun to drive, or
they can add all sorts of extra features and make it more of a 'near-luxury' car."
Available as a hatchback or a sedan, the Focus scores an 8.6 out of a possible 10 on
U.S. News'
scale.
The magazine notes that car reviewers have given the vehicle high marks for quality interior finishes, comfortable front seats and a decent amount of cargo space. The Focus has also garnered top crash-test scores from the Insurance Institute of Highway Safety and the National Highway Transportation safety Administration.
Additionally, J.D. Power gives the car an above-average 3.5 stars out of a possible five for reliability, while the base Focus' 160-horsepower four-cylinder engine gets a good 26 mpg/city and 36 mpg/highway.
On the downside, some reviewers have faulted the Focus for so-so rear-seat legroom, less cargo space than rivals and two electronics systems -- Ford Sync and MyFord Touch -- that are hard to use.
Best 2013 Midsized Car for the Money: Ford Fusion
Average U.S. price:
$21,779
"The Fusion is really fun to drive in class of cars that are usually pretty boring," Page Deaton says. "And it's got a lot of room. You can put adults in the back seat for a long drive and you won't hear many complaints."
Completely redesigned for 2013, the five-passenger Fusion garners an 8.7 score in
U.S. News'
rankings.
The magazine found that most reviewers give the car a thumbs-up for good looks, a roomy interior, quality finishes and sporty handling.
The base model's 175-horsepower four-cylinder engine also offers a decent 22 mpg/city and 34/mpg highway, while the Fusion earned top IIHS and NHTSA crash-test scores and 4.25 stars out of five on J.D. Power's reliability rankings.
In fact, the Fusion's only real negative is its poorly reviewed Sync and MyFord infotainment systems.
Best 2013 Compact SUV for the Money: Ford Escape
Average U.S. price:
$22,592
Another model Ford redesigned completely for 2013, the Escape scores an 8.6 on
U.S. News'
scale -- with good reviews and crash-test results overcoming so-so predicted reliability.
"Reviewers just like how practical the Escape is," Page Deaton says, noting that the model has lots of great features for busy families.
She particularly likes the Escape's optional new "kick-activated" tailgate, which opens automatically when a user sweeps a foot under the rear bumper. "Something like that is incredibly helpful when your arms are full of grocery bags or stuff like that," Page Deaton says.
The Ford also gets a top IIHS crash-test rating and four out of five stars on NHTSA's crash tests, while most front-wheel-drive Escapes get a decent 22 mpg/city and 31 mpg/highway.
That said, the sport utility vehicle only gets 2.5 stars out of a possible five from J.D. Power, pointing toward slightly below-average predicted reliability. Some reviewers have also found the Escape's 168-horsepower base engine underwhelming and recommend drivers upgrade to one of two available turbocharged ones.
Best 2013 Midsized Three-Row SUV for the Money: Hyundai Santa Fe
Average U.S. price:
$24,668
Redesigned for 2013, the seven-seat Santa Fe earns U.S. News' endorsement primarily because of good crash-test results and a long list of standard features.
Page Deaton says all Santa Fes come with Bluetooth, an iPod interface, a backup camera and other features that most manufacturers either sell as options or only put on luxury trim lines.
"I'm always kind of shocked when people end up buying a different
three-row SUV, because you get so much more with the Santa Fe," she says.
The model also gets a respectable 21 mpg/city and 29 mpg/highway, offers Hyundai's industry-leading 10-year/100,000-mile powertrain warranty and earned the IIHS' top crash-test score. (NHTSA has not tested the Santa Fe for crashes.)
All told, the Santa Fe scores 7.9 on
U.S. News'
10-point scale. That said, J.D. Power only gives the SUV two stars out of a possible five, indicating below-average reliability.
Best 2013 Minivan for the Money: Mazda5
Average U.S. price:
$19,952
Inexpensive, fuel efficient and fun to drive, the Mazda5 scores 8.2 in
U.S. News'
study.
"In my personal opinion, the Mazda5 is one of the most overlooked cars on the market today," Page Deaton says. "It's a lot smaller than most minivans -- but if you can give up a little cargo space, you'll gain so much in maneuverability and fuel efficiency that it's worth it."
The Mazda5 combines sporty handling with a smaller size than most minivans, making the vehicle easy to drive and park. The minivan's 157-horsepower four-cylinder engine also offers an impressive 22 mpg/city and 28 mpg/highway when outfitted with automatic transmission.
On the downside, the Mazda5 seats only six people and has less storage space that most minivans. Many car reviewers have also found its engine a bit weak, while J.D. Power only gives the Mazda5 2.5 stars out a possible five -- indicating slightly below-average reliability. (Neither the IIHS or NHTSA have crash-tested the minivan to date.)
Still, Page Deaton says the Mazda5's positives far outweigh its negatives. "It's a great little car," she says.