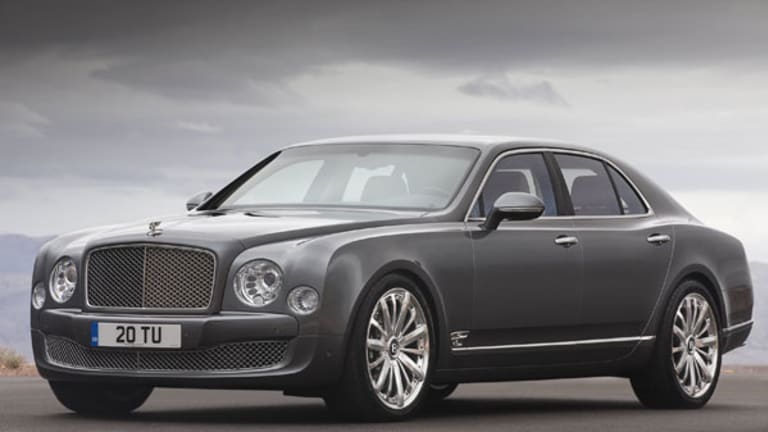 Bentley Mulsanne Mobile Office Is a Commute You Never Want to End
You don't know comfort at work until you mix the automaker's duck down cushions and Apple iPad docks.
SAN DIEGO (
) -- If you're the type of busy person who's always wished your car could serve as a luxurious office space on the go -- complete with Wi-Fi Internet access, iPad workstations and keyboards -- consider the
Bentley
.
At the 2013 Geneva Motor Show, Bentley unveiled its Mulsanne Executive Interior Concept car, which gives new meaning to mobile office. Designed to be a mobile business headquarters for the busy, high-powered executive, the Mulsanne's Executive Interior package includes twin tables that deploy electronically from the rear of the front seats, providing a hide-trimmed writing surface. At the touch of a button, those writing surfaces lift to reveal a dedicated iPad space and keyboard. There's also twin, eight-inch LCD screens in the rear-facing headrests, a 20GB hard drive, a DVD player and two sets of Bluetooth headphones.
But wait, there's more.
"We've also enabled this car to create it's own Wi-Fi hotspot," says Graeme Russell, Bentley's head of public relations and communications in the United States. "It allows multiple devices to be used. You could connect an iPhone. Someone else could connect an iPad. The rear seat can basically serve as a conference center. That's what this car allows you to do -- it recognizes that the type of people who own Bentleys need to be connected more frequently than others."
All of this technology comes surrounded by Bentley's usual luxury, including such niceties as duck down-filled cushions in the "Comfort Specification" package.
Russell says the model is one of a kind.
"You can find elements of similar technology in other cars, but they don't have the refinement and the craftsmanship of Bentley, and I'm not aware of the integration of the iPad," Russell says.
Custom designed for each customer and hand-built at the company's factory in Crewe, England, the Mulsanne's base price is $289,900. The "Executive Interior" package is $27,640.
"Ultra high net worth individuals are the audience for this car," Russell says."Celebrities, athletes, musicians, royalty and heads of countries."
Bentley begins taking orders in April. Each Mulsanne takes about six months to build, which means you'll have to conduct meetings from a much more ordinary vehicle for the time being.