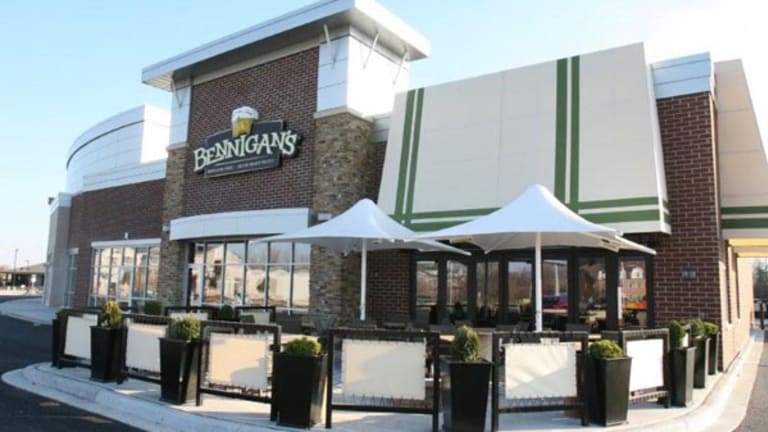 Bennigan's Turnaround Hinges on Franchise Success
Five years after the company went into Chapter 7 bankruptcy, Bennigan's is looking to rise from the ashes, this time by focusing on franchising.
Five years after the company went into Chapter 7 bankruptcy, Bennigan's is looking to rise from the ashes, this time by focusing on franchising.
NEW YORK (
) - Five years after the company went bankrupt,
Bennigan's
is reinveinting itself and using franchising as its avenue for a successful brand reintroduction.
The iconic 37-year-old restaurant, once known for its Irish hospitality and Monte Cristo sandwiches, became a tired, outdated brand because of what current CEO and President Paul Mangiamele calls "brand drift," meaning the company got away from what made it successful in the first place to chase growth. Instead Bennigan's parent company ended up filing for Chapter 7 bankruptcy protection in July of 2008, shuttered all 150 company-owned restaurants seemingly overnight and left a handful of franchisees to fend for themselves.
Fortress Investment Group
bought the brand from creditors the following month. Bennigan's Franchising Corp. was created. Mangiamele was hired in 2011 to head up the brand reintroduction.
Now the brand is staging a comeback with Mangiamele, a 30-year franchise veteran, at the helm. But with fewer than 100 restaurants, the Dallas-based company has an uphill battle to climb if it wants to regain the trust of customers and existing franchisees all while succeeding in today's ultra-competitive U.S. restaurant segment.
"I'm not quite sure the brand can bounce back," says Tom Kelley, president of AccessPoint Group, a restaurant consulting firm.
"The fact is when you have a brand that dies and lets locations die and lets your franchisees at the time go out of business without letting employees know ... it drives a big wedge in the community," Kelley says. "It's really hard to build public acceptance or public accountability."
On top of that, the demographic that once ate at Bennigan's has aged, leaving the restaurant no choice but to attract new customers, Kelley says.
Bennigan's is looking to appeal to multi-unit franchisees that are already in the food business, where the concept would complement their portfolios and have the opportunity to scale their operations across several brands.
"The plan is to grow, but not grow for growth's sake," Mangiamele says.
"I want to go to markets that were already penetrated from a corporate standpoint before bankruptcy, where I already know the markets did well and the brand was very well received," Mangiamele says. "We're looking in the Southeast, penetrating more in Houston, Austin, Denver and other cities within Colorado because the brand did phenomenally well." The company is also looking to expand internationally as well.
But a lot of changes needed to happen first.
New restaurants will be smaller, with contemporary design and a more inviting atmosphere, yet have hints of Bennigan's nostalgia. The revamped menu carries both old favorites like the Turkey O'Toole and newer selections that Mangiamele hopes will entice both once-established customers and the younger generation.
Mangiamele, a 30-year franchising industry veteran, has concepts like Salsarita's Fresh Cantina, Dalts Classic American Grill, Carlson Companies (franchisor of Radisson Hotels, Country Inns and Suites, and T.G.I. Friday's) and Sports Clips on his resume.
He's also looking at alternative locations, such as universities and airports, to open Bennigan's On the Fly, a nod to the fast-casual establishments that have taken consumers by storm. Mangiamele says the fast-casual concepts will increase brand awareness and increase points of distribution, where full-sized restaurants won't fit. Currently there is just one opened, but roughly 10 slotted for development over the next 24 months, he says.
"There is a pride factor of our heritage
and our legacy. It's a very iconic brand," says Mangiamele. But, "there is a different kind of energy now. It's a different vibe."
"In some circles, people don't know we're still around," he says.
Bennigan's expects to end 2013 with 85 restaurants both domestically and abroad - 18 of which are still around from the old regime. The company so far has agreements for another 35 restaurants in the pipeline.
Mangiamele is confident that his plans will work and even wrote a book this spring, "Bennigan's Return to Relevance ... Bleeding Green 25/8," in which he talks about the turnaround the management team has completed to reinvigorate the brand.
"When you're a franchisor you have to make a decision where do you want to deploy and direct your resources. Is it to spend an inordinate amount of time on your own company operations or do you want to give that support and resources to the very people that invested money," Mangiamele says. "I owe it to them to deploy my resources to a greater extent to their success."
Restaurant companies from
Wendy's
(WEN) - Get Report
to
DineEquity's
(DIN) - Get Report
Applebee's and others have been selling off and closing corporate-owned units in order to devote resources to the likes of marketing and technology, and have
. The strategy, known as re-franchising, is not new in the restaurant industry but has picked up in recent years as a by-product of the recession.
Franchising is a good plan for growth because it frees up capital and franchisees have skin in the game, "which makes them really want to work hard to achieve success," says Steve Caldeira, CEO of the International Franchise Association.
"The smart franchisors really work hard to engage their franchisees
in marketing programs, product and menu innovation, best practices around operations, customer service, those kinds of things," Caldeira says. "It's really all about clarity and transparency and when you foster open dialogue and communicate, you build the trust of franchisees."
Also see:
Refranchising Gets Hot Again in the Restaurant Industry
The $82 billion chain restaurant market struggled throughout the recession since it is highly dependent on consumer spending habits. IBISWorld pegs the five-year growth rate of the industry through 2013 at a muted average annual rate of 2%. Though the industry is forecast to grow 5.5% in 2013, chain restaurants in the U.S. remain challenged.
"During 2013, competition within this industry and from other food services industries will remain brutal, putting further pressure on profit margins," according to a May report by IBISWorld. "In any subdued economy, all industry segments are affected; however, mid-price restaurants are affected more, with competition increasing from the lower and upper industry segments, since the latter segment has the leeway to reduce menu prices dramatically."
Longer term, changing consumer preferences towards lower price and healthier options is also forcing chains to re-evaluate their offerings as profit and sales decline. Industry analysts also say the U.S. restaurant market is maturing, causing restaurant behemoths like
Darden Restaurants
(DRI) - Get Report
, parent company of Red Lobster and Olive Garden, among others, and
Bloomin' Brands
, the parent company of Outback Steakhouse and others, to compete with each other, likely on price, "rather than trying to win a larger share of a growing market, as they had in years past," the IBISWorld report says.
Full-service restaurants in general are also getting a healthy dose of competition from the more hip fast-casual market which includes names like
Chipotle
(CMG) - Get Report
,
Panera Bread
(PNRA)
and newly public
Noodles & Co.
(NDLS) - Get Report
So will franchisees get on board with Bennigan's new strategy?
The new design isn't cheap. Remodels could cost around $300,000 while building an entirely new store could be upwards of $800,000.
"In a lot of systems, franchisees welcome rebranding because it drives bottom line numbers. Other times they'll resist it because they don't think the cost will generate enough payback," says franchise lawyer Peter Silverman of Shumaker, Loop & Kendrick in Toledo, Ohio.
Silverman represented a handful of Bennigan's franchisees at the time of bankruptcy, who filed a lawsuit against the parent company seeking damages. The suit was ultimately settled.
The company says that a handful of existing restaurants have gone through the remodel, with the expectation that all will have switched over in a few years.
"Paul is clearly a very passionate smart and energetic leader that seems to be doing a good job of taking investors, prospective and existing franchisees and staff with him as he tries to reinvigorate an iconic brand," IFA's Caldeira says. "I think only time will tell what the results those efforts will bring."
-- Written by Laurie Kulikowski in New York.
To contact Laurie Kulikowski, send an email to:
Laurie.Kulikowski@thestreet.com
.
>To submit a news tip, email:
.
Follow
TheStreet
on
and become a fan on
.
Disclosure: TheStreet's editorial policy prohibits staff editors, reporters and analysts from holding positions in any individual stocks.