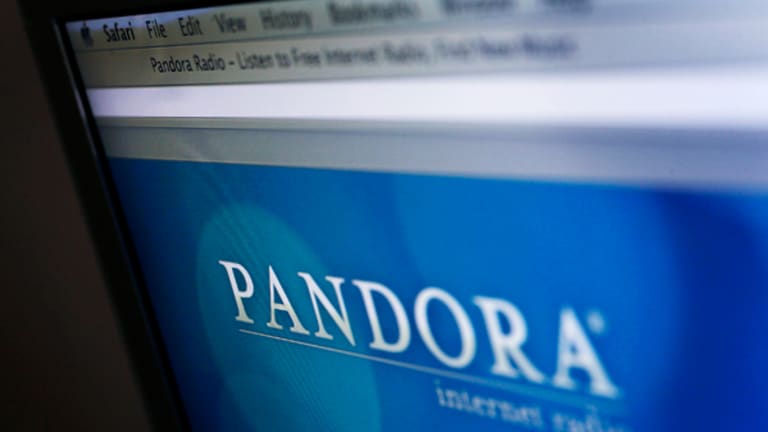 Being a Music Streaming Service Is No Big Deal -- Nor an Easy Win
7digital will set up a music streaming service for anyone. But entry starts at $30 million, and then come the losses.
NEW YORK (
) -- Before investors start humming a happy streaming-music tune for
Pandora
(P)
,
Spotify
and music subscriptions services coming soon from
Apple
(AAPL)
,
Google
(GOOG)
and even
Beats by Dre
, they may want to take a long, hard listen to
.
"Online music is an exciting business," Drury explained to me over the phone from London. "But it's also a hard, low-margin business."
Investors should realize that Drury is not some Web music wannabe. He's co-founder and CEO of
7digital
, one of the world's largest open-source music software providers. His
110-person shop
, which he says has revenues in the "low tens of millions," provides so-called white-label streaming, download and other music services to Fortune 1,000 companies around the globe, including
Samsung
,
BlackBerry
(RIMM)
and dozens of others.
"If Samsung wants a music service on their devices, for example," he said, "We help them manage the licensing and technical infrastructure."
What makes Drury a music investor rock star is his blessed candor about the hard-knuckle realities of getting paid in today's crowded and competitive online music world.
Drury points out that the days of artists having little control over their content, in the face of 90's-era sharing services such as Napster, are long over. Today's Digital Age musician is savvy, legally armed and keen to make up for lost royalties and publishing fees in the face of collapsing compact disc sales.
"Rights holders have monopolies on their catalogs and they work very hard to control the market," he said. He dramatically paints the firsthand picture of how effectively artists can maximize return by exploiting a newly dynamic online music business.
"iTunes used to be the dominant digital player," he said. Now Pandora, Spotify,
Deezer
,
SiriusXM
(SIRI)
and many other companies each do music, although in subtly different ways that creates leverage for content creators.
Also see: #DigitalSkeptic: Investor Sees Pandora as Dumbest Way to Double Your Money>>
"That makes the market very tricky, challenging and expensive," he said. He estimates that a $30 million bankroll is needed merely to cover the licensing fees for even a basic online music service.
"And for that you haven't even solved one technical problem," he said.
The 70/30 online music rule
What's shocking about spending any time talking with Drury is just how low-margin the modern music business has become. Though expenses can vary dramatically by geographic location, artist and musical genre, the basic rule is that 70 cents of each sales dollar flies right out the door to cover the cost of music publishing rights and artist royalties.
"There are real nuances to how that split works," he said. "But basically, you are looking at a round number 70/30 economics for digital music, with streaming companies being on the wrong side of that split."
Then the real costs start: Streaming music firms face significant management expenses to administer royalties and publishing. "In some Western European countries and in Canada, there is a limited number of collecting societies," he said. But in America, he says, there are hundreds of entities that collect royalties, each with the legal power to drag an infringing music service into court.
Also see: The Digital Skeptic: Tommy Boy Has Happy Tune for Music Industry>>
"There are enormous costs to administer these license frameworks," he said.
Next, companies face dramatic costs for technology that tends to reinvent itself every few years. "I worked in this business since the late '90s, and the technology involved never seems to stop changing," he said. There are bandwidth costs and legal fees. And that does not cover the cost of branding and marketing.
"Figuring out to communicate with consumers is expensive," he said.
Squaring the circle that is online music
Even more stunning is how basic questions such as the overall size, growth rate and fundamental
profitability of the global music business
are still very much an arrangement in progress.
"The lucrative CD era was a bubble," he said. "It was a long ride, but it's over." And the assumptions for how much the world will spend on music are subject to intense debate.
"There are optimists who say we are at the beginning of a new boom in sales," he said. "And music is truly global. But it is still to be worked out how much customers are willing to pay for music."
Tellingly, Drury chose not to comment on my question about what it feels like to run a business that in many ways is bigger than Pandora and Spotify -- which, by some measures, have a combined value of nearly $10 billion -- but is valued at far less.
Rather, he said the world he operates in works another more subtle way: "We are trying to square the circle when it comes to finding return in the music business."
This commentary comes from an independent investor or market observer as part of TheStreet guest contributor program. The views expressed are those of the author and do not necessarily represent the views of TheStreet or its management.