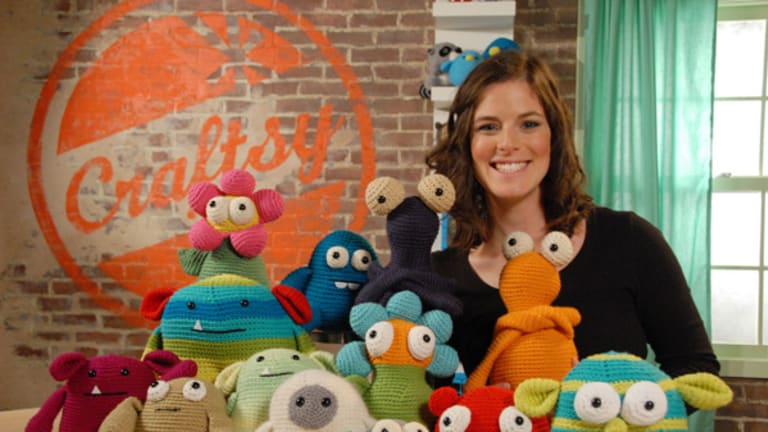 Before Selling On Etsy, Learn to Craft on Craftsy
As Etsy and Pinterest inspire consumers to make and sell homemade goods, Craftsy is cashing in on craft and hobby-based online learning.
DENVER (
) -- With more than 600,000 students who have taken at least one class, 68,000 people who "like" its Facebook page and 12,000 followers on Twitter, it's safe to say that
, a one-year-old online education platform for crafts and hobbies, has a strong following.
As the growing following of Pinterest and Etsy inspire consumers to make and sell homemade goods, Craftsy is seizing a big opportunity in craft and hobby-based online education.
"There is a resurgence in being a 'maker,'" says Craftsy co-founder and CEO John Levisay.
Whether it's quilting, sewing, cake decorating or knitting -- Craftsy's four most popular course categories -- the do-it-yourself approach to unique handmade goods is appealing to the artistically inclined and as such turning them into entrepreneurs looking to sell their creations.
Similarly, consumers are itching for unique goods, preferably made locally, as opposed to goods mass-produced in Indonesia and sold through chain stores like
Target
(TGT) - Get Target Corporation Report
,
Kohl's
(KSS) - Get Kohl's Corporation (KSS) Report
and
Wal-Mart Stores
(WMT) - Get Walmart Inc. Report
.
The trend is evident in the success of
, the seven-year-old online marketplace for small crafters. Last year, sales on Etsy were $525 million, according to company data. As of July 2012, year-to-date sales were $437 million.
Founded in June 2011 by former
eBay
executives, Craftsy is taking advantage of the crafting trend -- and the ubiquity of technology access -- by providing classes for a large under-served market of women who are clamoring to learn how to make goods associated with local, "old school" industries.
Craftsy says its most popular course -- quilting -- has 95,000 students. According to a study done by
Quilts Inc.
, a provider of tradeshows for the quilting industry, there are 21 million quilters in the U.S. who spend $3.58 billion annually.
By the end of 2012, Craftsy expects to have 300,000 paid enrollments in at least one class. (The company also offers select free sessions as part of its marketing strategy.) With an average course price of $26.50, that's a hefty sales accomplishment less than two years from its launch.
"We fill a void," Levisay says. "People are busier than ever and it makes it very difficult to go to a live class. Five years ago a lot of people still didn't have wireless. There was no such thing as an iPad...People can take these classes anywhere they want, anytime they want," he adds.
Customers pay for indefinite access to a course. Courses are typically four to six hours long with as many as 30 lessons. All lessons are time indexed. Any questions that are inputted by the user are also time indexed and open for all to see. Instructors check frequently for questions.
Levisay prides the platform on being "contextually relevant," meaning that if someone types in a question regarding a point made at the 3:12 mark of lecture 12, everyone else who watches the lecture will see that discussion, even if they're not active at the same time.
"We heavily curate the instructors that we put on the site. We film and produce the material so that it's top quality audio and video," he says. "The fundamental basis of our platform is that it's interactive -- it's not a passive classroom experience."
Mary Colucci, executive director of the
, a trade association which represents yarn and accessory suppliers, attributes strong yarn sales to the surge in knitting spurred on by technology advancements and social appeal.
"It's a craft that you have to learn," Colucci says. "From research we've done over the years, most people learn
knitting from friends or family but they're also using the Internet a lot more -- and this speaks to the younger audience -- so that they can reference things. You can go online and find the answer."
The Craft Yarn Council also has an education program that is taught by teachers at craft-centric retailers like
Michael's Stores
, but Colucci says Craftsy's online courses on knitting aren't viewed as a competitive threat. "The more exposure the better," she says.
"We also have a pretty robust e-commerce business now," Levisay says. "A lot of folks are taking classes and asking for the materials to make the projects. So we're selling a lot of fabric and yarn."
Craftsy is also finding a market in allowing some of the indie designers that have taken its classes to sell their patterns or blueprints through the site. (The site also provides free patterns.)
Craftsy does not take a percentage of the transactions. "It is a transaction on our platform between an independent designer and the crafter. We make our money from revenue from course sales and our instructors are paid on a royalty or percentage agreement based on course sales," Levisay explains.
Craftsy is the latest entrant to hit the for-profit online education space, and it sees plenty of room to craft a better e-learning process across a wide range of non-academic subjects.
Rosetta Stone
(RST) - Get Rosetta Stone Inc. Report
is the best-known provider of tech-based learning, but Levisay thinks crafting is a better fit for online education than languages. "The reality is it's extremely difficult to learn a new language," Levisay says, especially when not physically immersed in a foreign culture, "whereas you can learn to sew or knit or cake decorate and you can put it into practice as a life skill you can use."
Craftsy's holding company,
, has broader ambitions. It already offer online courses on entrepreneurship and woodworking, and is planning to expand into cooking, gardening, health and wellness, parenting and professional development.
"As we see these new areas germinating, like the artisan food category, eventually that becomes a standalone cooking vertical," Levisay says.
A site for professional development will launch in October.
"The promise of online education has not been fulfilled," Levisay says. "A lot of current online modalities for education are substandard. They're either a PowerPoint on steroids or kind of a voice over, or they are a second class experience with poor audio and poor video."
-- Written by Laurie Kulikowski in New York.
To contact Laurie Kulikowski, send an email to:
Laurie.Kulikowski@thestreet.com
.
>To submit a news tip, email:
.
RELATED STORIES:
>>A Family Making Sweet Business Tunes
>>How to Get a Microloan From a Major Corporation
>>Leadership Lessons From Our Favorite Teachers
Follow
TheStreet
on
and become a fan on
Disclosure: TheStreet's editorial policy prohibits staff editors, reporters and analysts from holding positions in any individual stocks.