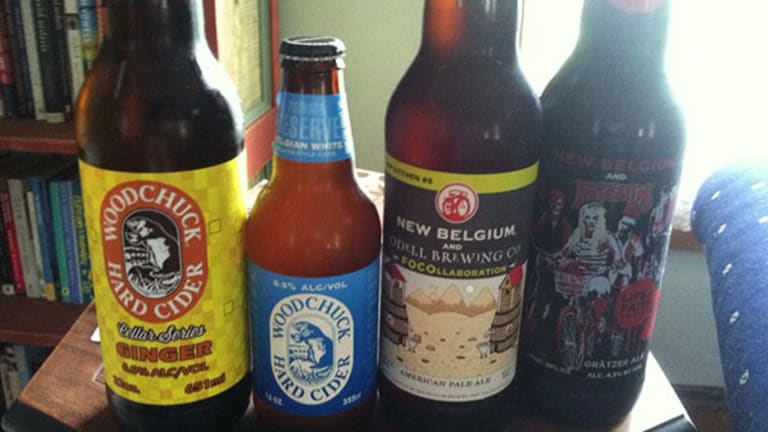 Beer Mailbag: New Belgium, Woodchuck Send Off Summer
The summer beer season will be over by the end of July, but limited edition seasonal offering and collaborations will stay around until then.
PORTLAND, Ore. (TheStreet) -- It's only July, but here in beer world it's the end of summer.
We're not kidding. Last year, we got our first press release about a brewery's pumpkin ale Aug. 3. Days later, we saw pumpkin ales on shelves. This is it, folks: the last summer beer hurrah before the nation's beer drinkers are buried beneath a pile of malty seasonal offerings and holiday brews -- which start appearing well before Halloween.
So why are the lighter summer styles going away? According to the Treasury Department's Alcohol and Tobacco Tax and Trade Bureau, July is the last of the peak summer months for beer sales. Shipments that fester around 14 million to 15 million barrels through spring suddenly jump to about 18.5 million barrels in May and June before settling in a 18 million or so in July. By August, it's down to roughly 17 million barrels before collapsing to as low as 13.6 million by December.
Brewers realize their drinkers have a very specific window for certain beers, and fatigue shuts that window abruptly when July vacations yield to back-to-school planning and Thanksgiving leftovers are cleared out before the winter holidays. Those brewers put a lot of their seasonal production toward the front end just to make sure there isn't a whole bunch of summer ale lingering around after Labor Day. Also, those fall and winter seasonals aren't always easy to make. St. Louis-based Schlafly Bottleworks' Pumpkin Ale has 8% alcohol by volume, which means there's a whole lot of yeast doing its best Pac-Man impression on the Pumpkin Ale's sugar. That means it's wiped out after being reused only once, which means the brewery has to space out its usage a bit to stay in budget and avoid running out. It's a huge juggling act of supplies, kettle space and beer varieties that prevents Schlafly from just loading up the tanks for five weeks and limiting shipments to September and October.
Last year, Schlafly Bottleworks Production Manager Brian McBride noted that not only did the brewery step up pumpkin ale production 75% this year -- making it 10% of all the beer Schlafly brews -- but that kind of production took its toll on the brewery's yeast supply. They're far from alone, as a whole lot of the nation's nearly 3,000 brewers are racing to get their fall seasonals ready and out by the time the kids' classes are back in session.
In the meantime, brewers have a scant number of limited-release and seasonal offerings to push around this time of year. Just two brewers sent samples this time around, so this month's mailbag is going to be somewhat abridged:

A season of collaboration
It's going to be a great month for brewers working well with others.
The folks at Sierra Nevada dropped us a line to remind us about their Beer Camp Across America mixed pack, which required Sierra brewers to go across the country to make a 12-pack of beers to celebrate the opening of their new brewery in Mills River, N.C., in August. They'll be doing a seven-city tour starting in mid-July, but they've already created their 12-pack with a little help from brewers including Colorado/N.C,-based Oskar Blues, Pennsylvania's Victory, Wisconsin's New Glarus, Oregon's Ninkasi, Maine's Allagash, Michigan's Bell's, Indiana's 3 Floyds, Florida's Cigar City and California's Russian River, Ballast Point and Firestone Walker. That 12-pack comes out the middle of this month.
Also see: Beer Mailbag: Kona Brewing Goes IPA, Woodchuck Cans Cider
Also see: Beer Mailbag: Kona Brewing Goes IPA, Woodchuck Cans Cider>>
Meanwhile, Fort Collins, Colo.-based New Belgium Brewing is also about to open a second brewery in North Carolina and just wants to remind folks that it collaborates with other brewers every year. They didn't have to go all this summer, as their Fort Collins neighbors at Odell Brewing were up for making a hoppy seasonal treat. Their FOCOllaboration American Pale Ale uses a whole lot of Odell's Fawcett Crystal Malt to balance out a healthy helping of New Belgium's Centennial, Cascade and Citra hops.
While that Citra makes it slightly juicy up front, this is one dry, old-school pale ale that functions as it should. Not as bitter as an IPA, but just enough bitterness to distinguish it from milder ale offerings. It has IPA strength at 6.75% ABV, which explains why it's available only in 22-ounce bomber bottles, but its 55 international bitterness units put it more in line with a standard English IPA -- balanced, malty and more like a beer than a bale of hops shoved into your face.
New Belgium had to go a bit farther for its other summer collaboration, hooking up with Muenster, Ind.-based 3 Floyds on a Polish beer style known as Gratzer. Though fairly obscure here, Gratzer got some play about five years ago in the craft beer community as the search for esoteric styles plowed through kolsch and gose and went straight to this Polish smoked-wheat favorite. Breakside Brewing in Portland, Ore., made one, a Gratzer recently won Samuel Adams' LongShot brewing competition and Philadelphia's Yards Brewing collaborated with Mid-Atlantic brewpub chain Iron Hill on one.
Don't let the smoke scare you. New Belgium and 3 Floyds' version is reddish black, malty and a bit more spicy than smoky. New Belgium credits that to the Polish Lublin hops for that. Its 4.5% ABV makes it a drinkable summer beer, but its flavor profile suggests that it could just as easily hold until that first crisp day of fall. New Belgium and 3 Floyds went through the trouble of oak-smoking their own malt -- the least a drinker can do is appreciate it on a night that calls for some fire.
Spicing up cider
Woodchuck Cider was the only other company to send along some samples, and they're not letting summer go without a fight.
A Belgian white ale, or witbier, plays no small role in summer beer drinking. Blue Moon took it mainstream, but brewers including Allagash and Boulevard have made it part of their regular rotation for years. The problem for some drinkers, however, is that it isn't exactly friendly to those with gluten allergies or gluten-free dietary restrictions. Cidermaster John Matson decided that wasn't fair and used orange and coriander to flavor this otherwise dry cider and used Belgian yeast in its fermentation.
Also see: Beer Mailbag: Gordon Biersch Turns 25, SweetWater Takes Pils
Also see: Beer Mailbag: Gordon Biersch Turns 25, SweetWater Takes Pils>>
The result? It isn't witbier, but it isn't off by much. Though it lacks the haze of an unfiltered wheat beer and finishes with more bite than a wheat typically would, the coriander spice comes through in a way that complements the apple. It's not like apple pie, but more like a thinly mulled, chilled wine. The orange gives it a much juicier finish, but has its acidity cut a bit by the apples. At 5.5% ABV, it's much easier on the senses than a wine would ever be. It's refreshing and should be enjoyed while the weather is still warm enough to warrant one.
Woodchuck's second offering, its Cellar Series Ginger, seems like jab at its fiercest rival on the surface. Since debuting two years ago, Boston Beer's Angry Orchard cider has featured a ginger variety among its offerings. That ginger is somewhat muted, but has just enough spice to let a drinker know it's there. Woodchuck's Ginger is on a completely different plane.
Nearly as clear as white wine and fairly potent at 6.8% alcohol, Woodchuck Ginger earns that capital G. There is a lot of ginger behind this cider, to the point that it bears more resemblance to carbonated ginger beer or -- more fittingly -- an alcoholic ginger beer such as the Scottish brand Crabbie's. The apples make a brief but strong appearance as you first take a sip, but it is ginger and fizz from the back of the tongue all the way down. Just a slight bit of heat puts it on par with some of the more intense ginger soda flavors out there, but it's worth seeking out if you're bold enough. It's only around through the end of July, though. We told you this season ends early.
-- Written by Jason Notte in Portland, Ore.
>To contact the writer of this article, click here: Jason Notte.
>To follow the writer on Twitter, go to http://twitter.com/notteham.
>To submit a news tip, send an email to: tips@thestreet.com.
RELATED STORIES:
>>What You're Really Paying For That Beer
>>Glass Half Empty? The Great Craft Beer Selloff
>>Is It Still A Craft Beer After The Brewery Sells?
Jason Notte is a reporter for TheStreet. His writing has appeared in The New York Times, The Huffington Post, Esquire.com, Time Out New York, the Boston Herald, the Boston Phoenix, the Metro newspaper and the Colorado Springs Independent. He previously served as the political and global affairs editor for Metro U.S., layout editor for Boston Now, assistant news editor for the Herald News of West Paterson, N.J., editor of Go Out! Magazine in Hoboken, N.J., and copy editor and lifestyle editor at the Jersey Journal in Jersey City, N.J.