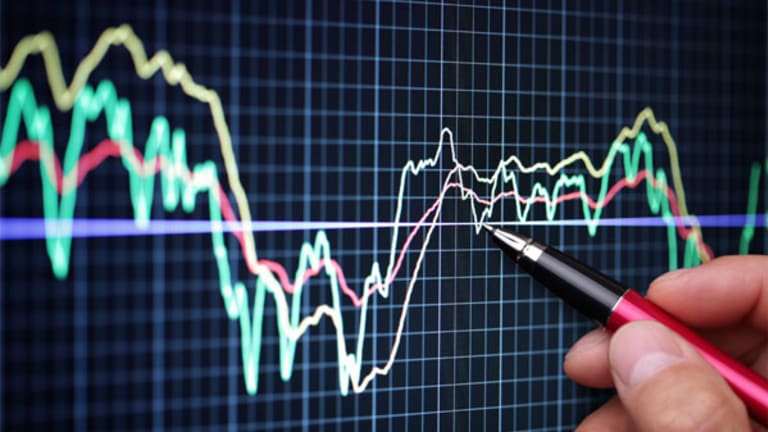 Be Ready to Ride out Bond Market Volatility
Analyst doesn't expect bond market Armageddon and looks for more upside with global equities.
Analyst doesn't expect bond market Armageddon and looks for more upside with global equities.
By Hal M. Bundrick
NEW YORK (
)--Bonds may under siege and investors have been quick to take cover but don't expect a market of mass destruction in the short term. At least one analyst is keeping a cool head under fire.
"We don't see a bond market Armageddon," says Russ Koesterich, chief investment strategist for BlackRock in a research report. "Though rates may overshoot to the upside in the near term and the long-term direction of rates is higher, the most likely near-term rate scenario is for volatile but sideways movement. We believe the 10-year Treasury yield will hover around 2.5% for the foreseeable future. There are a number of factors conspiring to keep a lid on long-term yields including foreign central bank demand for Treasuries."
Read: How to Ditch the Gym Membership and Still Keep Fit
And, despite recent events, including the Detroit bankruptcy, the analyst is still comfortable with the municipal bond market.
"We remain overweight municipal bonds," he says. "We believe the recent sell-off was overdone, as evidenced by the partial recovery since late June. Though we aren't likely to see the frothy returns of 2011 and 2012 this year, muni bonds still offer solid fundamentals at attractive prices and a compelling source of income. Credit quality has generally improved from a couple years ago and increasing tax rates should keep demand high. The Detroit Chapter 9 filing remains more of a Michigan-specific issue rather than a broader municipal markets issue and shouldn't have much long-term impact on the broader muni market."
Read: Peak Hurricane Season Looms And Oil and Gas Prices Will Blow
Koesterich notes that every asset class, from fixed income to stocks, has been roiled by increasing volatility since May and he expects that trend to continue in the coming months with the expectation of a tighter monetary policy.
"We foresee the Fed beginning to gradually wind down its asset purchase programs as early as this fall, assuming the US economy continues to slowly grow with an improving labor market," Koesterich says.
Read: Senators Warren and Reed Crunch New Numbers, But Their Deal is Above the Old Rates
Meanwhile, he expects positive news to continue to come from the global stock market through the end of the year, though gains may be less impressive. While Koesterich doesn't believe inflation is a threat, he notes three scenarios that could reverse further profits:
1. If the 10-year Treasury yield makes a prolonged and substantial move above 3%
2. If the European sovereign debt crisis flares up
3. And if tensions rise in the Middle East
The strategist also weighs in on other asset classes: "While we still believe that investors should maintain a long-term strategic allocation to gold, we are more cautious on the precious metal," he says. "Gold is likely to continue to be under pressure from rising real rates, a benign inflation outlook and poor supply and demand dynamics."
Koesterich says his firm remains neutral on U.S. and Japanese stocks, cautious on eurozone equities but favors emerging markets over the next 3-5 years.
--Written by Hal M. Bundrick