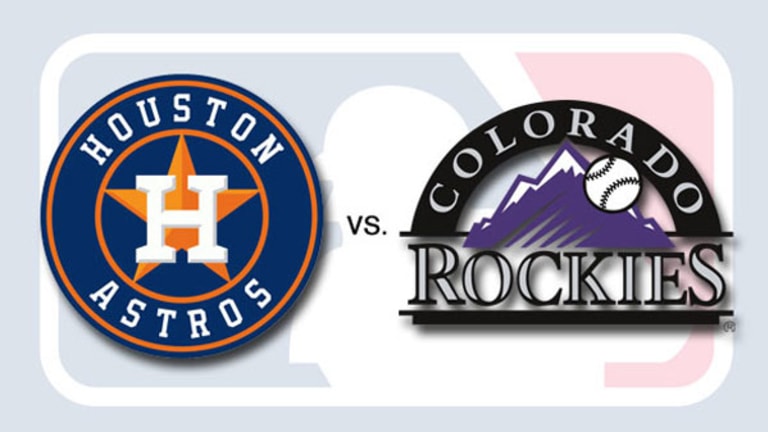 Baseball's 5 Worst Interleague 'Rivalries'
Ten Major League teams have to play a four-game series against 'rivals' they couldn't care less about.
PORTLAND, Ore. (TheStreet) -- Among the annoying minutiae baseball geeks obsess over -- the infield fly rule, the designated hitter, the game's increasing turn toward statistics and away from intangibles -- the subject of interleague play inspires some of the most unbearable debate in the sports world.
To a certain sniveling, whiny, perpetually unhappy portion of baseball's fan populace, 1997 was the year Major League Baseball died. By mandating that teams from the league's American League play teams from its National League -- meaning by forcing professional baseball franchises to play each other -- baseball somehow besmirched the purity of the game. You see, having teams from each "league" (they haven't actually been separate leagues since 2000) play during the regular season instead of existing in completely arbitrary groups that couldn't face each other until the World Series turned the world upside down for people who care about such things and made them even crankier about anomalies such as a tie in the 2002 All-Star Game that led to the outcome of said game deciding home-field advantage in the World Series.
To be fair, if you're the type who obsesses over these things, there's a lot to complain about. Intercity rivalries such as New York's Mets-Yankees matchups or Chicago's Cubs-White Sox games were being played six times a year, which critics say trivialized them (despite the fact that they were still a small fraction of the league's 162-game season). The interleague games were also lumped into specific portions of the season, rather than played all season long.
Tired of hearing the complaints, baseball's powers that be decided to pluck the Houston Astros out of their lifelong home in the National League and plopped them down in the American League for the 2013 season. That gave the National and American "leagues" 15 teams each, evened out the scheduling and allowed baseball to have interleague play year-round. Problem solved, right?
Only if your problem was running out of things to gripe about. Every team gets to play 20 interleague games, but the number of "rivalry" games -- presumably the whole reason baseball is doing this in the first place -- was just cut from six each season to four. Not only that, but instead of playing twice a year, those rivals will play one four-game home-and-home stretch at the end of May.
That still means 16 games a year against throw-in teams from a division in the other league, which is great for a Yankees-Dodgers matchup with some history, but not so much for a Rays-Diamondbacks matchup that rings hollow in Tampa and Phoenix.
It also doesn't change the fact that a third of major league baseball teams don't have a natural interleague rival. In fact, interleague rivalries suffered this year by making the Astros' series against the Texas Rangers an American League West contest instead of an interleague affair.
For those keeping track, that's 10 Major League teams who have to play a four-game series against "rivals" they couldn't care less about. It's these markets that foster much of the anti-interleague sentiment and that fill our list of the five worst interleague "rivalries" of the 2013 season. It's going to be a long four games for fans subjected to the following:
Houston Astros vs. Colorado Rockies
These teams weren't even divisional "rivals" before Houston made the jump to the AL, but that hasn't stopped MLB from trying to force this awkward relationship. It may be baseball's way of telling Houston it should take what it can get.
Houston -- and we're being kind here -- has stunk on turf for the better part of seven years. The team hasn't made the playoffs since being swept out of the World Series by the White Sox in 2005, was left to wither on the vine and be sold off for parts by its former owners and watched total attendance drop from more than 3 million in 2007 to just 1.6 million last year. Average attendance, meanwhile, was chopped from more than 37,000 to less than 20,000 per game.
One would think that a franchise that has never won a World Series and once had to play in Enron Field would know something about indignities. Being stuck next to some National League team it's never played an inning of playoff baseball against and being told they're a rival is about as disappointing as a routine pop fly turning into a home run in the thin Denver air.
Texas Rangers vs. Arizona Diamondbacks
Again, this is what happens when you mess with the natural order of things.
Texas has been a beastly team in recent seasons, making the World Series in two of the past three years and generally scaring the life out of the post-Yankees American League. The Diamondbacks, meanwhile, haven't been to the World Series since upending said Yankees in 2001.
Each team finished at the top of its respective division in 2011, but that would've meant a whole lot more if the Diamondbacks actually met up with the Rangers in the World Series that year. Instead, there's no history, no animus and no real reason to see these two as anything more than misfits forced to play out the string together.
Boston Red Sox vs. Philadelphia Phillies
This hasn't exactly been new ground for either team, as each has been saddled with the other since interleague play began. Boston's more natural National League rival would appear to be the mets, especially after Bill Buckner's error and that World Series loss in 1986, but the Yankees just keep ruining everybody's good time in The Hub.
The Phillies, meanwhile, had a pretty sweet thing going before 2005, when the Washington Nationals were still known as the Montreal Expos and a rivalry series against the Baltimore Orioles was a brief drive away. Now the Nationals have stolen Philly's thunder and left it with a fairly meaningless Interstate 95 matchup with Boston each year.
Sure, the Flyers and Bruins hate each other enough to make a decent Winter Classic matchup for the NHL. Yes, the Patriots and Eagles played each other in the Super Bowl once, but Donovan McNabb's vomit pretty much nullified any animosity there. The Celtics and 76ers. Who do you think Celtics fans were asking to "Beat L.A." when the 76ers topped them in the Eastern Conference Championships in 1982?
The closest Boston and Philly come to hate for each other is when former Red Sox closer Jonathan Papelbon comes back to town with the Phillies and opens his mouth. Even then, few listen or care.
Toronto Blue Jays vs. Atlanta Braves
No, it's not like playing the Expos, but at least Major League Baseball deserves credit for trying here.
Ask baseball fans about great Toronto Blue Jays moments and the first that comes to mind is Joe Carter's World Series-winning home run off of Phillies reliever Mitch Williams in 1993. Somewhat more forgotten are Ed Sprague and Candy Maldonado's late-game heroics during their first World Series win against the Braves a year before.
Toronto has a lot of memories attached to either matchup, but on history alone the better solution belongs to the Braves. Before their long journey to Atlanta by way of Milwaukee, the Braves got their start in Boston as one of the National League's charter franchises. Making them "natural rivals" with the Red Sox would not only bring up some of that history, but would reunite two franchises that called Fenway Park home. Granted, they haven't played any meaningful baseball against each other in a while, but fading memories of 1992 also only go so far.
Seattle Mariners vs. San Diego Padres
At no time was this ever a good idea. Ever.
These teams are more than 1,200 miles away from each other. They've never played in a World Series together -- or, in the Mariners' case, ever. They're rarely good at the same time and, lately, have been mediocre at best.
The Mariners haven't made the playoffs since winning a record 116 games in 2001 and losing to the Yankees in the American League Championship series. Since then, they've had seven losing seasons and have seen every star player not named Felix Hernandez take off for literally and figuratively sunnier climates.
The Padres, meanwhile, last made the World Series in 1998 -- when they were swept by the Yankees -- and have won exactly one playoff game since, in 2006. They've spent the past two seasons mired under .500 and have also watched stars such as Jake Peavy and Adrian Gonzalez scuttle out of town.
Is this a rivalry worth driving 19 hours to watch? Worth a flight? Worth a decent May weekend? No, it's a geographical anomaly for Major League Baseball and a conundrum for two teams that, all things considered, would probably prefer their own four-game series with the Yanks this year instead.
-- Written by Jason Notte in Portland, Ore.
>To contact the writer of this article, click here:
Jason Notte
.
>To follow the writer on Twitter, go to
.
>To submit a news tip, send an email to:
.
RELATED STORIES:
>>How Tapping The Jewish Beer Market Begat A Plan
>>Sierra Nevada CEO Makes East Coast Beer Run
>>Craft Brew Founder Widmer Savors Results
Jason Notte is a reporter for TheStreet. His writing has appeared in The New York Times, The Huffington Post, Esquire.com, Time Out New York, the Boston Herald, the Boston Phoenix, the Metro newspaper and the Colorado Springs Independent. He previously served as the political and global affairs editor for Metro U.S., layout editor for Boston Now, assistant news editor for the Herald News of West Paterson, N.J., editor of Go Out! Magazine in Hoboken, N.J., and copy editor and lifestyle editor at the Jersey Journal in Jersey City, N.J.