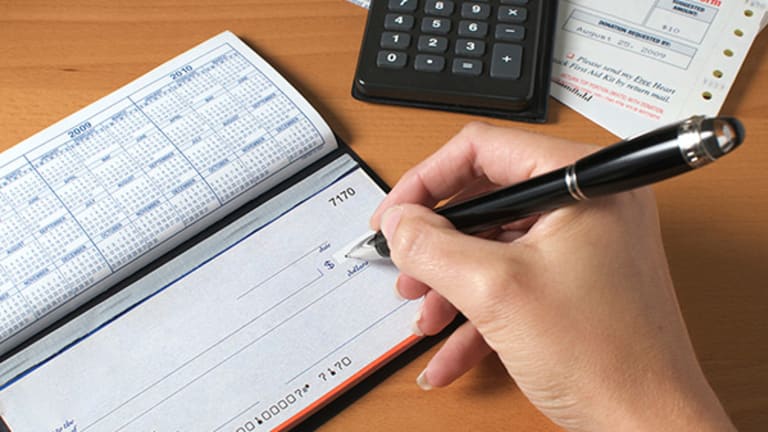 Banks Charge Up to 50 Different Fees and $700 for Checking Accounts
The average annual bank checking account cost for the 'Everyday Joe,' though, is $151. Do you need to pay even that much?
NEW YORK (MainStreet) — The average annual bank checking account cost for the "Everyday Joe," asone studysays, is $151. 
The gap between the lowest-cost and highest-cost checking accounts is a lot more than you probably think, though, with that pricing disparity more often than not coming down to fees.
It has to, for banks. Financial institutions earned $31.9 billion in overdraft fees alone last year, down from $37 billion in 2009, before the Dodd-Frank banking reform bill curbed the costs of bank fees to consumers.
Banks just are not going to turn their backs on billions in fees, so it's up to consumers to find the checking accounts that cost less.
That's where the "Everyday Joe" study, more formally known as the WalletHub Annual Checking Account Transparency Report, shines some much-needed light.
In a time consumers can incur a fee for simply speaking to a bank teller, the study provides a good glance under the hood of how bank fees and administrative costs can help elevate the "price" of a checking account (yes, even a free one) and give some direction to consumers on what kinds of bank account activity to avoid to save money on fees and charges.
Some of the study's key findings:
On average, there are 30 total fees linked to bank checking accounts, with some banks charging as many as 50. "The sheer number of different fees associated with checking accounts prevents effective product comparison and decreases the likelihood that consumers will find the best checking accounts for their needs," WalletHub says.
Grading out the best for consumers - meaning the bank offers a better deal on checking account costs — were USAA and Capital One. The worst, according to the study, were Fifth Third and M&T Bank.
Annual checking account costs are all over the map, ranging from nothing to $700. Generally, the less money you have, the worse you're hit by checking account fees. WalletHub reports the lowest-income earners (called the "Cash Strapped" in the report) pay close to $500 in annual checking account fees. That's usually due to high overdraft fees and for not meeting average daily minimum balance requirements.
Fees for sending money overseas can really add up, WalletHub reports. "Checking account currency conversion fees and other fees drive up costs dramatically, with the average cost for this segment being around $327," the study says.
To get the best deal on a bank checking account, WalletHub advises keeping it simple: "The sheer vastness of checking account fees is telling of the service variety they offer, ranging from ATM withdrawals to paper statements to international wire transfers. As you likely won't need all of them, it's best to approach checking accounts in practical terms."
Check your personal banking history, too. 
"When shopping for an account, think of your past usage patterns and evaluate the relevant fees," WalletHub says. "For instance, will you need a physical checkbook or paper statements? Will your transactions require frequent access to your local bank branch? How often will you need to withdraw cash from a non-bank-owned ATM? Let the answers to such questions guide your selection and dictate which fees to focus on minimizing."
Also, make sure to comparison shop, vetting offers from small and large banks. Take the bank that meets the majority of your needs (but don't expect one to meet all your needs.) Additionally, forget about debit card reward programs. They are few and far between these days, and credit card rewards programs offer a much better deal to consumers, the study reports.
Remember that banks make a bundle if you don't pay attention to the checking account you choose. Keep the process simple, know what fees can be incurred and avoid them, and choose credit over debit when it comes to rewards programs.
Take those steps, and you'll keep more cash in your pocket, giving less to your bank.
— By Brian O'Connell for MainStreet