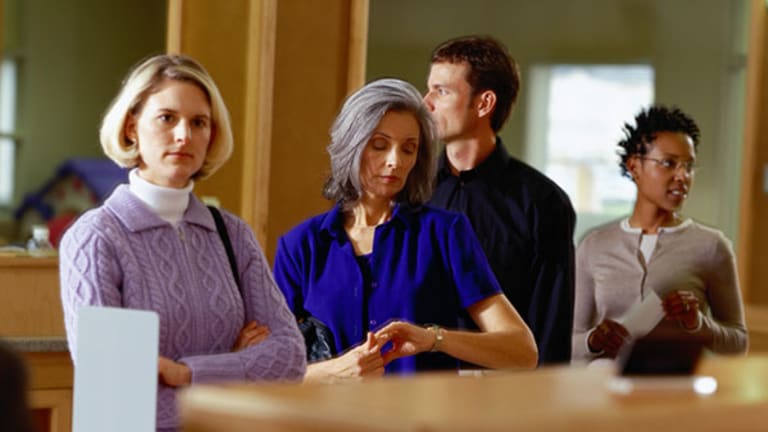 Bank Waits Have 75% of Customers Complaining
A customer-service expect questions how an industry survives with unhappiness among three-quarters of its business base -- and why.
NEW YORK (TheStreet) -- Bank customers face high fees, low savings rates and fewer bank branches -- but cooling their heels is what really drives them crazy.
Banks don't have a monopoly on slow customer service. A 2013 study from Radware, a U.K. technology security services provider, noted wait time is an issue for consumers of all retailers.
"Our study proves that brand perception is based on more than a powerful logo or smart marketing strategy," said Tammy Everts, a Radware spokeswoman. "A consumer's online shopping experience greatly affects their feelings about a retailer, and because these feeling are happening at a non-conscious, pre-cognitive level, they are beyond the control of site owners. A slow site and poor user interface can be detrimental -- potentially negating other, more expensive, branding efforts."
Also see: Banks Are Failing in Customer Service>>
TimeTrade's canvassing of 1,000 retail banking customers shows that 75% feel they "wait too long" for customer service from their banks. Another 65% say that even when they get a customer service representative, they don't get the answer they need.
"Banks and retailers are suffering from the same problem: They're selling what customers want, but they're doing it the wrong way," said Gary Ambrosino, president of TimeTrade, a customer service expert that works with banks. "This new data confirms the 'satisfaction gap' -- customers just want someone smart enough to help them and fast enough to be useful."
Also see: We Have Fewest Banks Since 1934, But That's Not Necessarily Bad>>
"No business can survive with 75% customer unhappiness," Ambrosino adds, "And this is an easy fix. Customers want convenient, one-on-one attention. It's time for banks to make that connection."
TimeTrade's data show that 95% of bank customers view "personalized service" as the No. 1 factor in choosing a financial institutions. Yet about 90% of bank customers surveyed by the firm said they had to wait for the person who could answer their question or solve a problem.
"Banks have ignored their customer service shortcomings for too long, and now they are paying the price," Ambrosino says. "If retail banks want to thrive  rather than continue on their downward spirals -- anticipating, and exceeding, customer expectations must top the priority list."