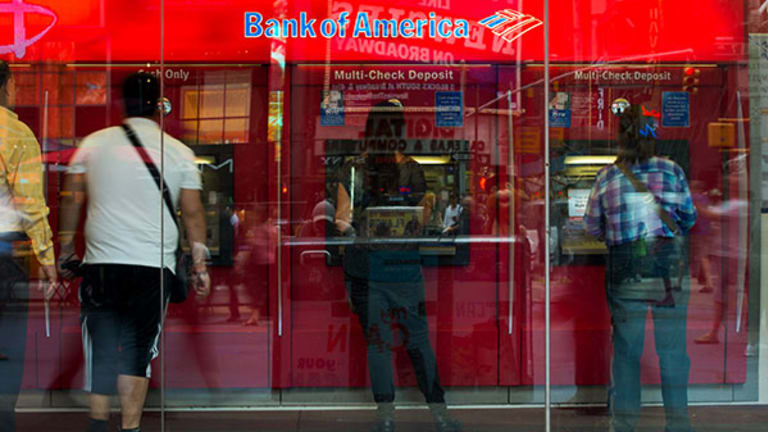 Bank of America, Santander, Bank Direct And PNC Are Among The Banks That Offer The Juiciest Perks
The best of 2015's checking account promotions offer 10,000 airline miles and up to $300 cash.
The best of 2015's checking account promotions offer 10,000 airline miles and up to $300 cash.
NEW YORK (MainStreet) — Since the 2008 financial crisis hit, banks are under heavy regulations from the federal government, which makes it more difficult for them to show gains to shareholders. And that's to the advantage of the consumer.
"[Banks] need more customers to increase their profits," said Morgan Quinn of GoBankingRates. "New checking account promotions lure customers in and the bank hopes to eventually profit from the customer later down the line. The key is getting that new customer in the door."
Benefits can range from a $300 bonus to free airline miles depending on the bank. For example, BankDirect is the first online bank to offer customers the chance to earn American Airlines miles through banking products, including checking, money market and CD accounts, according to a new study from GOBankingRates.
"The key is to not fool yourself into thinking your lifestyle or banking habits will suddenly change once you get a new bank account," said Quinn. "First look for an account with terms you can easily meet then consider the incentive."
The perks are most definitely worth it if a consumer has already been meeting certain requirements like minimum balances or deposit requirements, Quinn told MainStreet.
Take Casey Fones, for example, who banks for free at Regents as long as he maintains two direct deposits every month. "I pay my bills online, and I don't pay a service fee," Fones told MainStreet.
The 29-year-old husband and father based in Old Hickory, Tenn. uses Google Sheets to budget his income so that he can share the spending plan with his wife. "I don't think a day goes by that we don't spend on something but it's small and accounted for unless it's my wife's hair," said Fones, who works in Nashville as a technology salesman.
The Best Perks Around
Many banks across the country offer free cash and other incentives to entice new customers to open an account; however, some perks offered by financial institutions are better than others.
The 12 best checking account promotions include PNC Bank's cash checking $300 promotion, Santander Bank's cash checking promotion of $240, SunTrust Bank's $200 cash promotion and Bank of America's offer of $300.
"If you're comparing checking products, look at fees and interest rates first," said Casey Bond of GoBankingRates. "After all, a $150 promo could be easily wiped out by several overdrafts if you open an account with an unfriendly fee structure."
Qualifying criteria varies with most banks, requiring either a certain number of direct deposits per month or daily balance minimums.
For example, direct deposits through BankDirect's Mileage Checking with Interest Account must be made payable to the account holder for six consecutive statement cycles, total a minimum of $2,000 per month and there is no language on the company website that indicates there is a maximum number.
"The biggest downside is running the risk of getting locked into terms you can't fulfill or moving from a financial institution you are happy with and landing at one that doesn't compare," Quinn said.
After all, there's more to a bank than its incentives. "Clients should consider the level of customer service, the range of financial products offered and convenient bank hours and locations," said Quinn.
Overall, this year's checking account promotions can potentially sweeten banking transactions and boost savings.
—Written by Juliette Fairley for MainStreet