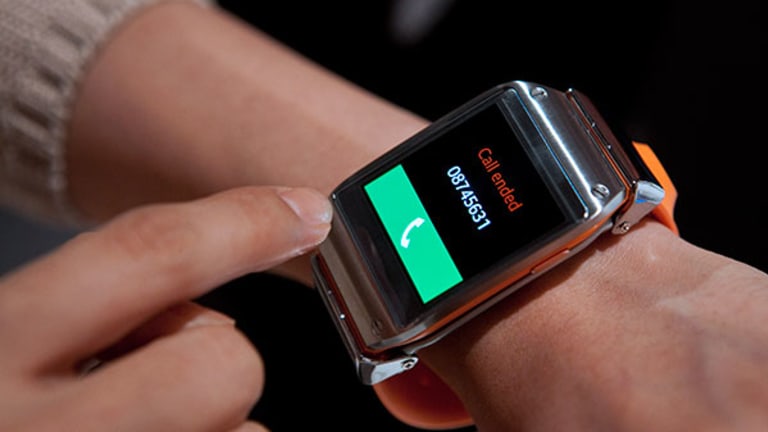 Publish date:
Bad News for Google on Adoption of 'Wearables,' but Apple Could Profit
If you don't quite know what to make of 'wearables' such as Galaxy Gear or Google Glass, you're not alone.
If you don't quite know what to make of 'wearables' such as Galaxy Gear or Google Glass, you're not alone.
NEW YORK (
) -- If you don't quite know what to make of "wearable" devices such as
Samsung
's Galaxy Gear wristwatch or
Google's
(GOOG) - Get Report
Google Glass, you're not alone.
U.S. consumers aren't exactly flocking to them, as just 9% of Americans say they are "eager" to use wearable technology, according to
, a New York City-based market information firm.
Read: 10 Best Cars On The Market
That's not to say consumers won't eventually embrace wearables. A
estimates that the wearable device market will grow from 15 million in unit sales worldwide this year to 70 million in 2017.
Even the TNS study says that 75% of U.S. consumers are "aware" of wearable technologies, although less than 10% of Americans want to use them. That suggests a brand-new industry just getting traction, but not revenues.
"Wearable computing is still in its infancy," says Tom Buehrer, a senior vice president at TNS. "The main challenge lies in convincing people of its value and developing a device with mass appeal. The future of computing will be wearable. The question is, which kind of computers will people actually wear?"
Right now, Buehrer says that the primary problem with wearables is more of a "feel" issue than a "style" issue. Nobody wants to wear something that's uncomfortable, he says, and right now, the part of the body where consumers feel most comfortable about wearing smart gadgets is on the wrist. TNS says 52% of consumers surveyed would consider wearing a smart device on their wrist (like a high-end smart watch or bracelet,) followed by 24% who say they would don a wearable smart device on their arm.
That's good news for Samsung and maybe for
Apple
(AAPL) - Get Report
and its long-rumored iWatch. Bad news for Google, as only 5% of U.S. consumers say they would wear a smart device around or on their eyes.
Read: New iPhone or Not, Smartphone Owners Aren't Moving Up
There is also reluctance due to cost, suggesting Americans are exhausted shelling out big dough for smartphones, tablets and personal computers. All told, 55% of consumers interviewed by TNS say wearable technology is "too expensive." Another 24% say they already have enough devices.
Another hurdle is security; 31% of consumers say wearable devices could threaten their privacy and their personal data.
Still, there is plenty of time for U.S. consumers to come around and eventually embrace wearable devices.
Buehrer says it's inevitable. "Imagine having information that literally is right in front of you that reminds you of important information that you should already know, like a colleague's name or important anniversary dates," he says. "Imagine using your wrist to pay for lunch or to buy movie tickets? Wearables will transform our lives in numerous ways, which we are just starting to imagine."