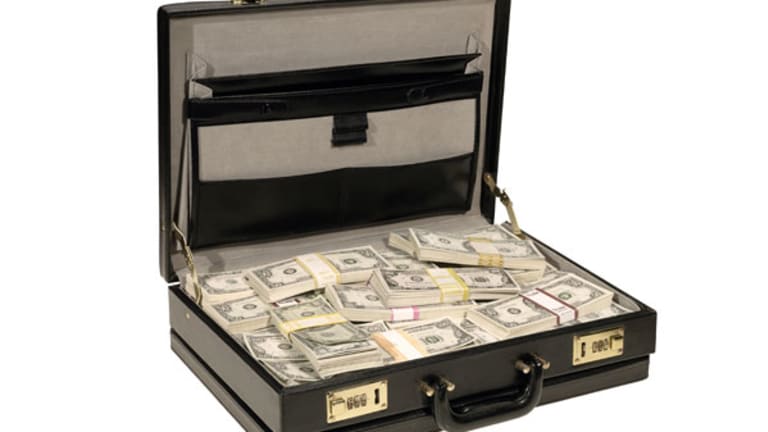 Bad HSBC Policy Raises Specter of Bank Run
The bank has reversed course on questioning its own customers who try to make big withdrawals.
NEW YORK (TheStreet) -- The term "bank run" conjures up all kind of bogeyman images, and right now it's rearing its ugly head in the U.K.
That doesn't mean a bank run is imminent here in the U.S., but in the age of global digital media, what's happening in England has American bankers thinking the once unthinkable.
The story starts in London, where customers of HSBC complained last week they couldn't withdraw large sums of money from local bank branches without asking for what amounts to a "permission slip."
According to the British Broadcasting Co., customers were being told by bank staffers they could not withdraw more than 5,000 in British pounds (or $8,253 in U.S. dollars) without having a "good reason" for making the withdrawal.
Also see: Your Card Data Is Safer at Banks Than Retailers>>
HSBC admits the policy was in place, but has reversed course on making customers explain why they need to withdrawal the money:
"We ask our customers about the purpose of large cash withdrawals when they are unusual and out of keeping with the normal running of their account. Since last November, in some instances we may have also asked these customers to show us evidence of what the cash is required for.
The reason being we have an obligation to protect our customers, and to minimize the opportunity for financial crime. However, following feedback, we are immediately updating guidance to our customer facing staff to reiterate that it is not mandatory for customers to provide documentary evidence for large cash withdrawals, and on its own, failure to show evidence is not a reason to refuse a withdrawal. We are writing to apologize to any customer who has been given incorrect information and inconvenienced."
The BBC interviewed several HSBC customers who said they were denied large withdrawal amounts when the bank told them their reasons for the withdrawal did not pass muster with bank personnel.
HSBC customer Stephen Cotton told the BBC he went to a local bank branch to withdraw a large sum to repay a loan from his mother. HSBC bank staffers didn't buy his story, and rejected the request, Cotton said.
"When we presented them with the withdrawal slip, they declined to give us the money because we could not provide them with a satisfactory explanation for what the money was for," he said in comments to the BBC. "They wanted a letter from the person involved."
Also see: 5 Predictions for 2014 From a Wall Street Insider>>
Cotton says he kept trying, but kept on being rejected.
"So I wrote out a few slips. I said, 'Can I have £5,000?' They said no. I said, 'Can I have £4,000?' They said no. And then I wrote one out for £3,000 and they said, 'OK, we'll give you that.'"
No doubt, stories like that, even if anecdotal, can give bank consumers on both sides of the Atlantic a bad case of the shakes in a skittish economy.
There's little evidence of bank runs, of even bank limits on withdrawals, in the U.S., although JP Morgan Chase was forced to explain certain limits on consumer accounts last year.
But the fact that such talk is now out in the open may give bank customers pause, leading them to at least start thinking about worst-case scenarios that might lead to big withdrawals. If enough bank customers start thinking those thoughts, that's where the seeds of a bank run are sown.