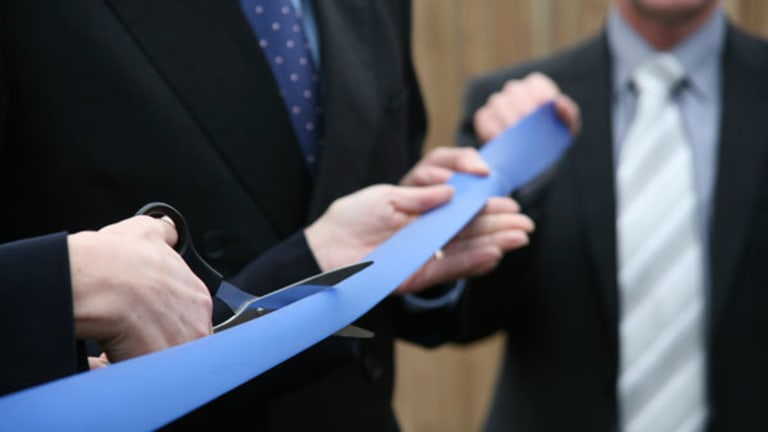 Bad Economy? Strike Out on Your Own
Starting a business now -- with these 12 tips -- might mean it will be ready for prime time just as the U.S. rebounds.
Starting a business is always stressful, ego-denting and financially risky. But during these tough economic times, any misstep can spell failure quicker than ever. Before you launch your baby, here are 12 ways to avoid being a statistic:
Be realistic
This applies to all areas of the start-up. Be honest about what you and your family can afford to put into the company. Be upfront about what you need from investors. Be judicious about your sales outlook and future.
Are you in demand?
A weak economy means people will pay for what they need, not necessarily what they want. Still, business opportunities abound. Industries likely to prosper during these tough times include collections, credit management and security, according to
, founder of the Paulson Group, a consulting firm that specializes in entrepreneurship, marketing and sales.
Not interested in those areas? Then consider opening a niche business specific to a region. Paulson, who also wrote
The Complete Idiot's Guide to Starting Your Own Business
(Alpha), believes smaller niche players can make profitable what larger companies cannot. Also keep up with the headlines and see where the government intends to spend its money in case there are opportunities there. But stay within your expertise.
What's it all worth?
More than ever, investors want to know what the return on their investment will be. It is therefore critical that you know how to speak their language, says Matt Edelman, CEO and co-founder of
, a company that provides consumers content, social tools, products and services on digital platforms to improve their lives. Understand what their financial exposure is before hitting them up for money. And be ready to give away more of your venture than you may want.
Just as important, you want customers to see your company as worth their time and money, says certified business coach
. Deliver great value very efficiently from the first contact on.
Work it, baby
Network, that is. With the markets so volatile, investors are cautious about what start-ups to invest in. Get that front door opened by networking. Investors are more likely to open their wallets to people they know, says Edelman, who also founded
, which helps companies extend their intellectual properties into TV and wireless platforms. Before launching PeopleJam.com, he made sure he had big-name advisers, like Bob Pittman and TiVo CEO and President Tom Rogers, on board.
Be budget-minded
Think lean and mean, even if you have to scale back until the economy gets better. Lauren Teton turned to blogging to getting the word out on her company, Twifties.com, when she realized spending $3,500 wasn't going to give her the Web site she wanted. "I saw it would be a continuous flow of money," she explains. "Following my own business experience -- I started two other companies -- I had to stop and find another route. The route now is to go public and become the spokesman for the idea. You get more bang for your buck."
Creative partnering
Lower overhead and costs by partnering with other businesses in an inventive way.
stocks its shelves with products they either get through consignment or buy at wholesale. "We ask them to take a risk on us and do consignment," says CEO John Friess. To date, about a third of their suppliers are willing to try this approach.
Another example of out-of-the-box thinking: The company is reaching out to real estate investors to help them buy and rehabilitate historic buildings to house their green retail stores. In return, explains Friess, they will receive a percentage of the profits for that location.
Tap into talent
Make the most of your partners by asking them to help out in their areas of expertise. One of the founders of Seven Planet built an architecture firm, so he's designing all the stores. Another created an ad agency, so he's designing the Web site. Tapping into partners or those on your board of advisers could translate into lower overhead since they may do their work for free or below cost.
Invest in people
If you can afford it, hire. Some of the best and brightest are looking for work, and during these lean times, there's less competition. Jay Bhatti, co-founder of search engine Spock.com, believes Google is successful, in part, because it hired the right engineers for their start-up in 2000, when the tech bubble burst. "I cannot stress enough how hiring the right people is key to any start-up," he adds. "Spend the time necessary to find the right people for your business and don't compromise."
Divide and conquer
Even though it's your idea and your company, you need to delegate. No one can do it all, says Straks, who also wrote the eBook "Top Ten Reasons Why Businesses Fail." Readers of this column can download this
for free.) He recommends focusing on your strengths and outsourcing areas that you're weak in. "There are three key roles in business: the visionary guy or gal, the manager of day-to-day operations, and the workers with specialized skills and knowledge," he says. "No person can do all three jobs. So you have to figure out which one or two you can do and find someone to help you with the third."
Go indie
With lending institutions as large as
Wachovia
(WB) - Get Free Report
and
Washington Mutual
(WM) - Get Free Report
going under and many investors skittish, you may need to go it alone for a while. Nail down that business plan. Find out as much as you can about your customers. Bootstrap it as long as you can. Says Bhatti, "If your product gets a positive reaction from the market, you'll be in a stronger negotiating position with venture capitalists and get better term sheets."
Don't quit your day job
Starting a business is always a risky venture, whether the economy is going gang-busters or bust. Unless you know with great certainty that you'll net a profit, it may be wise to have income flowing in somehow. Stay on the job for as long as you can. Work part-time if you can afford to.
Just do it
The state of the economy is making everyone tighten their belts wherever they can. But don't use it, says Friess, as an excuse not to try. "Lots of companies started in 1999 and 2000," he recalls. "It goes with the territory." Paulson agrees, adding, "At some point, it will turn around and the economy will again thrive. Start planning today to take advantage of the turnaround."
Lan Nguyen is a freelance writer based in New York City. She has written for the New York Daily News, The Wall Street Journal, Worth magazine and Star magazine.