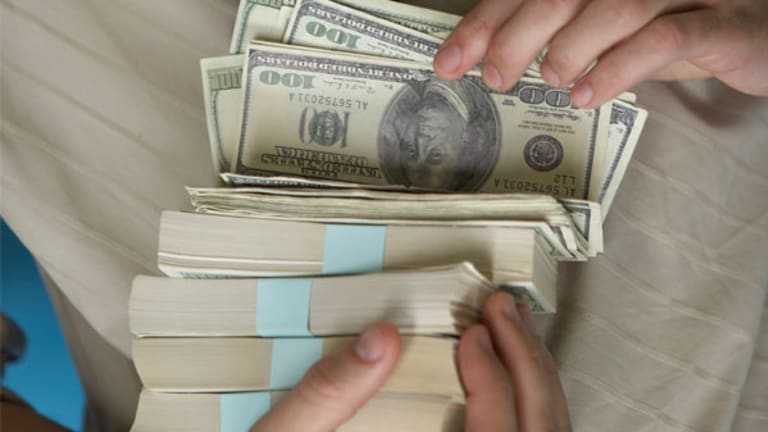 Baby Boomers Are Blowing Your Inheritance on Bali, Vegas
Expecting an inheritance from your baby boom parent? Forget about it. They just booked a trip to Bali.
NEW YORK (
) -- The 77-million member baby boom generation is entering retirement with wanderlust. Boomers are trotting the globe, whether it's to fulfill a bucket list or simply to stretch legs starting to experience circulatory problems. Either way, boomers are creating an unprecedented travel boom.
A
study from New York-based Scarborough Research indicates that boomers are more likely than any other demographic group to travel in the U.S. and abroad, and it's a trend that won't slow as more of the famed generation migrates into retirement and out across the globe.
The Scarborough study finds that baby boomers are 9% more likely than all U.S. adults to have traveled domestically for business or vacation purposes in the past year, and 3% more likely to have engaged in foreign travel for business or vacation purposes in the past three years. Nine percent of baby boomers have visited Europe in the past three years and 12% vacationed in the Caribbean.
Boomer wanderlust isn't exactly in line with the acting-out-against-a-staid-culture Beatnik urge or the scientifically curious and courageous Alexander Von Humboldts of history's golden age of exploration, but it is encouraging a "let it ride" mentality after all those years of hard work and saving: 9% of baby boomers have visited Las Vegas in the past year and 34% visited a casino in the same time frame.
All that boomer money isn't going to the roulette wheel -- breathe a sigh of relief now, children of boomers worried about your inheritance -- but the money is on the move.
According to
Leisure Travel Trends, over 81 million older adults say they plan to travel in the next year, and will spend $126 billion in the process, and many are making the trips simply to "explore the world." Boomers may be making up for lack of adventure earlier in life, but by nature they tend to be a precautionary lot.
That's how they saved enough to blow it all on wanderlust in the first place, and it's why many boomer will turn to travel insurance before trekking across Bali, or hitting the gaming tables in Vegas.
If you're a Boomer looking to gallavant the globe in a responsible way, Empire Blue Cross, the New York-based health care insurance provider, is out with some tips on travel insurance.
Aim for Medicare Supplement plans
Many boomers are starting to enroll in Medicare and should seek out Medicare Supplement plans, a great deal for older travelers. According to Empire Blue Cross, such plans are the "most flexible" and are accepted "anywhere in the United States, Puerto Rico, U.S. Virgin Islands and Guam." Unlike Original Medicare, the provider adds, most Medicare Supplement plans do offer international coverage, as well.
Pre-order extra prescription drugs
Empire Blue Cross advises ordering 90 days worth of any prescription drug you're taking well in advance of your travel date. The provider suggests mail order as your best option and notes that your current provider can provide the needed details (call the number on your insurance card for more information). Bring supporting documentation in the event you're stopped at customs in a foreign country to prove the prescription drugs are legit. If you're already away from home, contact your regular drug provider for overseas shipment.
Always carry your health insurance card and other key medical information
Keep your insurance card handy, along with the name and contact number of your doctor. Also carry a list of any allergies, preferably written in the language of the country you're visiting. That can save valuable time in the event of a medical emergency.
Get vaccinated, if necessary
Empire Blue Cross recommends getting a check-up four weeks or so before a big trip, especially one overseas. Also, get a prescription filled for common overseas maladies like malaria, altitude illness or travelers' diarrhea.
Get the "add-ons"
Don't forget about additional insurance for things like dental and lost medication insurance. Planning for the unforeseen is at the heart of traveling, and that goes double for potential medical emergencies.
"Traveling is a source of great joy to many of us," Mark Wagar, president and CEO Empire Blue Cross Blue Shield said in a statement. "But in the excitement of picking a hotel, booking a flight and planning your activities, please remember to devote some extra time to thinking about your health."
That extra time could mean a world of difference if you have health issues while traveling, and it will likely help you enjoy the experience even more, knowing your health is covered across the U.S., and in foreign lands.
As for thinking about those children and grandchildren who were expecting that trip to Bali to be forsaken for the good of their inheritance, forget about it! You've got your bucket list to think about, and maybe, just maybe, you'll do well enough in Vegas to leave the kids a stack of chips to play with.
More on Boomers:
Second careers for baby boomers
10 health issues plaguing baby boomers
10 things boomers should never do with their money
--By Brian O'Connell
Follow
TheStreet
on
and become a fan on