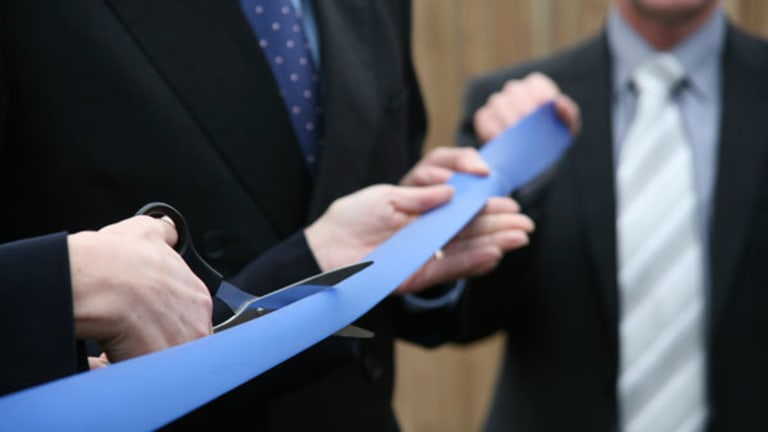 Awards Highlight Wacky, But Useful, Research
Here are some of the 2009 Ig Nobel winners, and why you should care about what they've done.
Here are some of the 2009 Ig Nobel winners, and why you should care about what they've done.
BOSTON (
) -- Each October, a science humor magazine called
The Annals of Improbable Research
gently spoofs the Nobel Foundation by presenting "Ig Nobel" prizes to scientific research projects with dubious merit.
The internationally acclaimed awards ceremony is famously silly. Attendees must rise from their seats to venerate the King and Queen of Swedish Meatballs. But the research is real, and honored recipients serve as proof that even the oddest university lab work might someday matter to the economy. So here's a sampling of some of the 2009 Ig Nobel winners, and why you should care about what they've done.
: New York Times columnist Paul Krugman dons a bra that doubles as a gas mask.
The Chemistry Prize:
Three scientists from Universidad Nacional Autonoma de Mexico earned this honor by "creating diamonds from liquid - specifically from tequila."
Why you should care:
The scientists created diamonds in the form of thin films -- very thin layers of material used in semiconductors, microelectronic magnetic systems and, more recently, batteries. Thin-film diamonds are a big deal because diamonds are resilient and virtually impossible to scratch. Japanese steel maker
Kobe Steel
is among the companies that have researched thin film diamonds for
practical use
.
The prizewinning scientists say they need to do more research before they look for business funding. They also acknowledge that diamond films can be produced using other liquids, such as water. However, "tequila is better," says Javier Morales, a graduate student who accepted his Ig Nobel prize wearing a giant sombrero.
The Biology Prize:
This award went to several scientists from Japan's Kitasato University Graduate School of Medical Sciences for "demonstrating that kitchen refuse can be reduced more than 90% in mass by using bacteria extracted from the feces of giant pandas."
Why you should care:
The diet of the giant panda consists almost exclusively of bamboo, which contains cellulose, says scientist Fumiaki Taguchi, who figured that panda poop must contain bacteria capable of cellulose decomposition. It so happens that cellulosic conversion is the next big thing in making biofuels. Making cellulosic ethanol requires less energy than producing corn-based ethanol and with no pesticides.
In June, two venture funds,
Khosla Ventures
and
Burrill & Co.
, announced investments in the start-up
HCL Clean Tech
to further the development of cellulosic technology. And last year,
General Motors
(GM) - Get Report
bought a stake in start-up Coskata, with plans to produce cellulosic ethanol by 2011.
According to Taguchi, 1.3 trillion cubic feet of hydrogen can be produced from the kitchen waste that Japan produces annually. That's enough to power a million fuel-cell-powered vehicles for 137 days. (A giant panda, for what it's worth, produces about 40 kilograms of feces per day.) Taguchi says he hopes to team with a biofuel start-up to further his research, but hasn't yet.
The Public Health Prize:
This award went to a team of researchers from the University of Chicago's Trauma Risk Management Research Institute for "inventing a brassiere that, in an emergency, can be quickly converted into a pair of gas masks, one for the brassiere wearer and one to be given to some needy bystander."
Why you should care:
Scientist Elena Bodnar garnered guffaws at the awards ceremony when she strapped a pink bra cup to the face of economist and actual Nobel laureate Paul Krugman, who was honored in 2008 for his work regarding economies of scale.
In a later lecture, Bodnar showed serious photos illustrating the aftermath of the Chernobyl disaster and the Sept. 11 terrorist attacks, in which panicked hordes were holding scarves and jackets up to their faces in an attempt to filter the toxic air. Her point: Crowds of people running from danger would have been better off with free hands, with the help of an emergency bra that filters out 99.97% of airborne toxins. "I believe that personal protection devices such as a bra mask can play an important part in preparedness," she says.
Bodnar says she's hoping to receive funding, noting that "in the Israeli Army, there are many female soldiers."
The Economics Prize:
This honor went to the directors, executives and auditors of four Icelandic banks "for demonstrating that tiny banks can be rapidly transformed into huge banks, and vice versa, and for demonstrating that similar things can be done to an entire national economy."
Why you should care:
Because we don't want that to happen to our banks.
-- Reported by Carmen Nobel in Boston.
Follow TheStreet.com on
and become a fan on