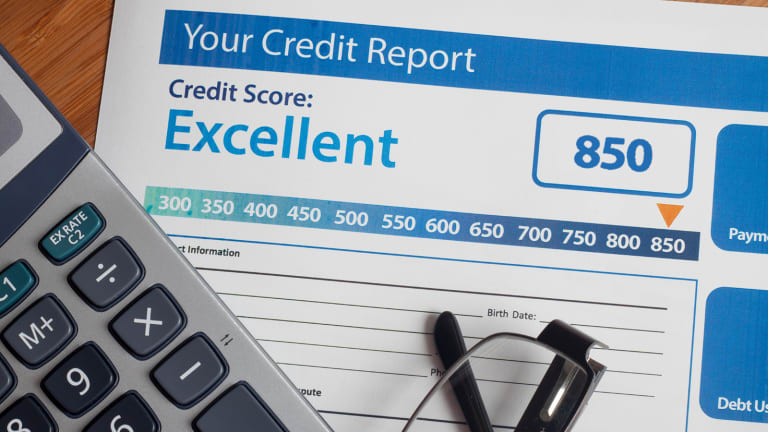 NEW YORK (MainStreet) -- U.S. consumer credit scores are inching upward, and that's good news for the economy with fiscally responsible consumers who have a much better handle on managing their debt than they did before the Great Recession.
Data from FICO show the following:
- More consumers have a FICO score of 800 or above, 19.9% of consumers in April 2015 vs. 16.9% in October 2005. 
- Fewer consumers have a FICO score of below 550, 12.5% of consumers in April 2015 vs. 14.6% in October 2005 
- The national average FICO score is at an all-time high at 695, compared to 688 in October 2005. 
Ethan Dornhelm, FICO's principal scientist in the firm's analytic development group, notes that the time since the end of the Recession has made a world of difference to American consumers. In fact, they're even seeing significant short term credit improvement.
"As we've observed for several years now, more consumers are scoring 800 or above, currently at 19.9% vs. 19.6% just six months ago," he explains. "And fewer consumers are scoring below 550. In fact, there's been a clear pattern of decline in this segment since the low point of the economy in late 2009 and early 2010."
Some of this trend may be a result of the fact that the lowest-scoring consumers are "dropping out" of traditional credit usage, and by extension, no longer have valid FICO scores, Dornhelm says.
"Still, this decline is encouraging," he says. "It indicates that overall more consumers using credit are managing it responsibly enough to not be among the lowest scorers."
Clearly, Americans are focused on their financial health, and it's starting to pay off. "When I opened my first credit card, I signed up for freecreditscore.com, because I wanted to learn more about how credit works," says Melissa L. Masters, a San Diego, Cal.-based public relations professional. "One thing I learned that I've found people overlook is that you shouldn't close your credit cards - the greater the average age of your accounts, the better your score."
"Another thing I've seen people do is open multiple cards, because they think having more credit cards will help them," Masters adds. "That just drags down the average age of the accounts."
Financial experts say climbing from a 695 FICO score, to one that is 800-and-above, is doable - you just have to go after it.
"The number one thing needed to know for building a better credit score is paying on time every time," notes Andi Wrenn, an Arlington Va.-based financial counselor and a specialist in credit and debt management. "Get your balances below 30% of available credit limits, and have a variety of credit types. This can mean loan, credit card, revolving accounts, and mortgages."

Also, don't close the account that you've held the longest, Wrenn adds. "It helps with your credit history, which is very important in your credit score," she says. If you need to build credit, Wrenn also advises getting a small loan of $500 and pay that off in six months time. This shows that you are making payments on time every time and that you can pay back a debt that is owed. "Pay down as much debt as possible," she says. "The less you owe, the better."
Alex Gerard, a credit card specialist and founder of Cardsmix.com, a credit card data analytics firm, agrees there's no "magic bullet" to beefing up a credit score. But he does offer a plan for consumers looking to get to the magic 800 FICO mark. "The hardest part is to pay off all credit card balances," Gerard says. "But you have to clean up to raise your score. Consequently, close all due payments and pay off credit card balances.
Also, improve your "types of credit" you use to get some diversity. If all your credit is just credit cards - get yourself an installment loan.
"There are a lot of 'credit builder' one-year type of loans on the market," Gerard says.
Then, start working on the "credit utilization" part of the score. "Pay off your balance in full every month," Gerard advises. "Use only up to 10% of total credit line during the billing cycle. For example, if your total credit limit is $2,000, never use more than $200 on the card. If needed, refill the balance several times a month. Never carry a balance and miss a payment and pay several days in advance." Many credit card experts are less conservative and recommend not exceeding 30% of your credit limit before settling a balance. 
Do all that and in less than a year, your credit score will be given a large boost, Gerard says.