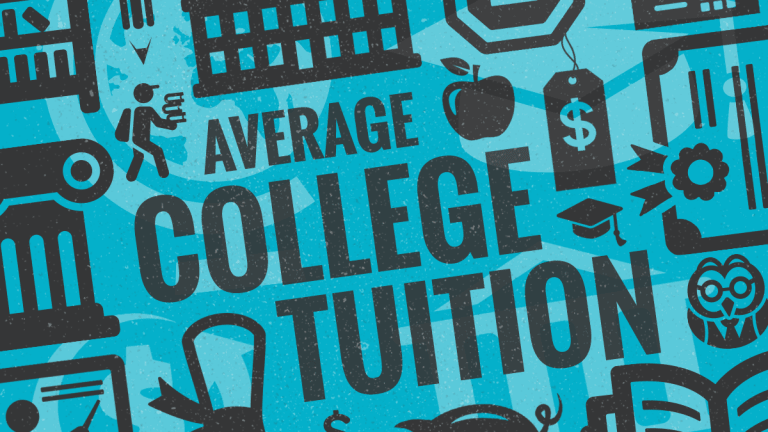 Average College Tuition: Increases and State-by-State Differences
College tuition keeps rising in the U.S., and students at private universities may be paying close to $35,000 for tuition. Here are the details on the average college tuition.
Whether you're a college graduate still paying for school years later or a parent who helped their child pay, you know all about the massive rise in college costs over the past several decades.
There is sort of a numb acceptance among Americans that college tuition gets more  expensive every year. But for the prospective student or their parent, you need to know the big picture of what college can cost you even before you've settled on a school - and even before you start applying.
So what does college cost in the U.S.? Here's what you can expect when looking into college tuition for you or your child.
What Is the Average College Tuition?
It depends on the type of college you're talking about. Are you looking into two-year schools or four-year schools? Public or private universities? And what degree are you seeking?
These are some of the ways The College Board divides colleges in their Trends in College Pricing study, which tracks changes in, among other things, tuition and fees for colleges over time.
The most recent study put out by The College Board posted averages for the 2017-18 school year. What they found was:
The average tuition and fees for an in-district student attending a two-year public college was $3,570.
The average tuition and fees for an in-state student attending a four-year public college was $9,970.
The average tuition and fees for an out-of-state student attending a four-year public college was 25,620.
The average tuition and fees for a student attending a four-year private nonprofit university was $34,740.
The tuition will also depend on the degree you are going to obtain. The average tuition and fees for a bachelor's degree at a four-year public university is $8,230. For a doctorate, however, it was $10,830.
It's even higher for private universities. Those seeking a bachelor's degree paid an average tuition of $33,450. For master's degrees, it was $29,960. Doctorates were an astonishing $42,920.
The difference in tuition between public and private colleges is staggering. Figure 2 in The College Board's study shows the distribution of tuition and fees across the entire spectrum of costs. The median tuition for four-year public schools was $10,270. That means half were below that figure; 35.3% of full-time undergraduates at these schools paid tuition between $6,000-8,999, and 29.8% paid between $9,000-$11,999.
For undergraduates at private universities, however, the median tuition was $35,260. Only 4.9% paid tuition ranging from $6,000-$8,999. However, 13% saw a tuition cost of over $51,000.
How Much Did Tuition Increase Year-to-Year?
All of these are increases, however slight, on previous totals. For example, the two-year public school average saw a 2.9% increase over the 2016-17 average, while the four-year private average was 3.6% higher. Private schools had the largest increases, as the average tuition for a bachelor's degree at a private college increased 4.4%.
However, these "slight" increases are just more of the many slight increases to tuition that have been going on year-to-year over the past several decades. Over the past 10 years, tuition for four-year public colleges has gone up $2,690 and private colleges have gone up $7,220.
Even small increases add up. Take the average bachelor's degree at a private school: 4.4% of tens of thousands of dollars is still a lot more money to pay, and it's an increase on the last increase, and the increase after that, and so on. Even now, when some private colleges are slowing the rate at which they increase their tuition, some of the most notable private schools were actually raising tuition at a rate that is outpacing the rate of inflation.
State-by-State Differences in Tuition
Where you attending school - as well as whether you're a resident of the state - is also a factor.
This also applies to two-year public colleges. Some states have put effort into curbing tuition increases; the lowest average in the country is in California, at $1,430. In inflation-adjusted dollars, that's actually a 6% decrease from California's two-year tuitions from five years ago. The second-highest, New Hampshire at $6,840, was a 5% decrease in inflation-adjusted dollars.
Only six states saw these decreases, however, as every other state increased tuition. The highest two-year public college average tuition was in Vermont, which increased to $7,980. West Virginia increased nearly 40% in inflation-adjusted dollars over the last five years, ending up at over $4,000.
The numbers get bigger at four-year public colleges. For of in-state students, New Hampshire and Vermont remain at the top, each averaging $16,070 in tuition. For out-of-state students,  Vermont takes the crown of highest average tuition at $38,990. The only state that comes close to that figure for out-of-state students is Michigan, with an average of $36,840.
This is the story in most states for non-resident students - most states average well over $20,000, and nine states surpassed $30,000.
Additional College Costs
As high as a lot of these figures are, some may be surprised at them and actually be expecting higher numbers. College is as expensive as can be.
Tuition doesn't tell the whole story when it comes to full-time undergraduates in college.  Room and board can be, depending on the school, just as large an expense. The average room and board for a student at a four-year public college is $10,800. That's more than the average tuition of an in-state student at that school.
The average room and board for a student at a two-year public school is more than double the tuition, at $8,400, and for students at four-year private colleges it's $12,210.
Books and supplies also add up. The average cost of books and supplies is $1,420 for a two-year public college student, $1,250 for a four-year public college student, and $1,220 for a four-year private college student.
These and other expenses bring total college costs to a whole other level. The $3,570 tuition for two-year public colleges becomes $17,580 in total costs. Out-of-state students at four-year public colleges go from $25,620 to $40,940. And costs for four-year private colleges go from $34,740 to $50,900.
Student Loan Debt
College students are often in a place financially where they have to find different ways to both save money and make money. Some of this is for obvious reasons; saving money for the future is important and most young adults don't start college overflowing with cash.
But the biggest reason is that college students take on more and more loans each year to pay for their education, and it has created a crisis in the U.S. Total student loan debt in the country has surpassed $1.5 trillion, and interest rates combined with stagnant wages have led to longer periods of having - and accruing - education debt.
Perhaps most troubling is the rate at which this debt is increasing. Combined U.S. student loan debt was slightly under $500 billion at the start of 2006. That means in the last 12 years it has roughly tripled. Slowing the rate at which tuition increases is far from the only thing that needs to be done to curb this.