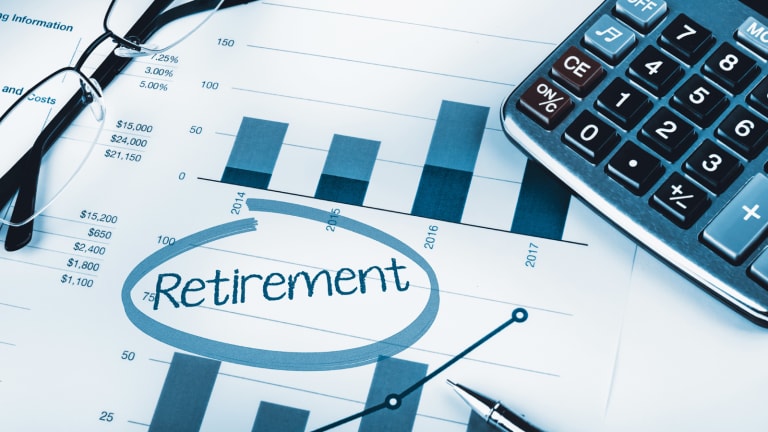 Auto Enrollment Has Solved Only Part of the Retirement Income Gap Issue
Despite the advent of automatic enrollment in 401(k) plans, Gen X-ers and Baby Boomers are still not saving enough money for retirement.
NEW YORK (TheStreet) -- Despite the advent of automatic enrollment in 401(k) plans, Gen X-ers and Baby Boomers are still not saving enough money for retirement. Companies need to adopt more aggressive enrollment default rates or mandate automatic increases.
While automatic enrollment has accomplished its initial goal of getting employees to save for their future, this option has never become a game changer for 401(k) plans. What's lacking is a stronger push to get people to increase the percentage of their salary that they contribute for retirement, said Jamie Hopkins, associate director of the New York Life Center for Retirement Income.
"Automatic enrollment works well getting complacent employees into the plan, but then any additional changes to their deferral amounts or asset allocation also becomes stagnant," he said.
There are four major parts to the problem.
1. Default Salary Deferral Percentage Is Too Low
At many companies, the default salary deferral percentage is 2% to 3% of the employee's salary, and that amount is "often not nearly enough," Hopkins said. Instead, companies should double that amount to 5% to 6%, so employees have a greater chance to reach their retirement goals.
Although automatic enrollment dramatically increases the number of employees who participate in 401(k) plans, too many people just stick with the initial amount and never increase it. The average starting rate can mislead employees who believe it is "an adequate amount of money to defer when it is in fact far too little," he said.
Some studies have shown the alarming fact that almost 90% of employees remained with the initial default salary deferral amount and did not increase their deferrals over time, Hopkins said.
2. Matching Programs Affect Savings Rate
The Center for Retirement Research at Boston College demonstrated that plans with auto enrollment have lower match rates than plans without auto enrollment, which could also affect the amount employees wind up accumulating.
Employers who provide auto enrollment are reducing the percentage of the match to keep their total 401(k) costs from rising, said Robert Johnson, CEO of the American College of Financial Services in Bryn Mawr, Pa. The 2013 study found that the average savings rate in plans with auto enrollment is 3.4%, a figure that significantly lags the 6% average for all plans.
Many employees start out saving in their employer's 401(k) plan by contributing only up to what their employer will match, and "then they get stuck there because they get psychologically anchored to the match," said Rick Mason, president of small/mid corporate and institutional investment markets for retirement at Voya Financial, a New York-based financial institution. A recent Voya study found that 33% of workers said they determined how much to contribute based on an employer's match.
If the company is only matching 2% to 4%, this can be an issue for employees, because it creates a gap in the amount they will actually need to live on in retirement. A general rule of thumb is that most people should be saving 10% to 15% of their salary annually, factoring in their own contributions and any match from the employer.
Some employers are getting more resourceful and are nudging employees to save more by using the "stretch match" approach, said Mason. Instead of offering a 50% match on up to 5% of their deferred salary, an employer may instead decide to offer 25% on up to 10% of salary.
3. More Companies Need to Use Auto Escalation
Research has shown that the "needle only begins to move in a meaningful way when you couple auto enrollment with an auto escalation feature," said Mason.
"The 401(k) stretch approach aligns with the same kind of thinking regarding auto escalation," he said. "If you make it easy for employees, they will likely save more."
Too many companies are not adding auto escalation, a feature that helps employees automatically save even more.
"Most plans with auto escalation increase the deferral amount by 1% per year up to a maximum of 10% of the salary deferred," Hopkins said. "Automatic enrollment has not yet realized its full potential."
These plans usually start at a fairly low threshold of 3% to 4%, and the amount increases by 1% each year until it reaches 6% of the person's salary, said Terry Dunne, managing director of rollover solutions at Millennium Trust in Oak Brook, Ill. Participants are usually comfortable, because their raises are larger than the amount of the escalation, he said.
A recent Towers Watson survey revealed not enough companies even offer this option, with only 55% of businesses who have chosen it and an even smaller minority of 28% who mandate it. Now some companies are catching on and "defaulting participants into auto increases, which helps people receive the full employer match and save enough for retirement," said Robyn Credico, director of defined contribution consulting at Towers Watson.
4. Auto Enrollment Remains Popular Among Employees
Still, despite the challenges and insufficient retirement savings in the population at large, both Baby Boomers and Gen X-ers are trying to save more money for their retirement. The median retirement accounts of families in which the head of household is between the ages of 45 to 54 is $87,200, and for those between 55 and 64 years of age, the median retirement account is at $103,200, according to the Federal Reserve. A realistic and prudent savings number is 10 times your current income, said MaryAnn Monforte, an accounting professor at Syracuse University.
The evidence on how well auto enrollment has worked is mixed, because while more employees participate in 401(k) plans, they are saving less compared to people without this option. But another drawback in many 401(k) plans is that the default investment vehicle chosen by the company is often a very conservative option such as a money market account. For many Millennials and Gen X-ers who have fallen behind the curve on saving enough money for retirement, it can be a challenge to make up the shortfall when their yields are extremely low.
"As many new hires are young people, this often results in them 'under-saving' and placing their funds in a vehicle that is inconsistent with their investment goals and long-time horizon," said Johnson, from the American College of Financial Services.