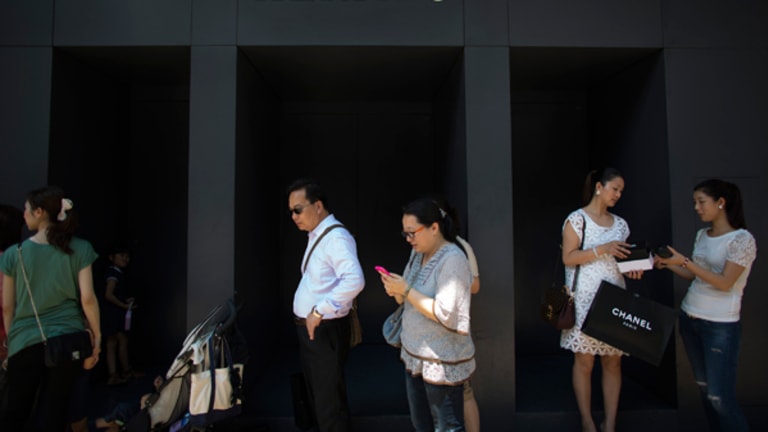 Asia Wants Your High-End Retail Right Now
Experts show the way for sellers of high-end goods who can act fast. In short, go east, young marketer.
SAN DIEGO (
) -- Buck Pei spends about six months of every year in China, and in the past five years he's noticed the changes:
A boom in the number of glitzy stores, high-end malls and expensive shopping centers opening to sell luxury goods, making even cities in the country's interior almost unrecognizable in some cases.
"In every tier-one and tier-two city there are very luxurious brands opening up stores. Not only in terms of luxury clothing, and women's fashion, but also in terms of automobiles, high-end watches and jewelry," says Pei, who teaches at Arizona State University's W.P. Carey School of Business.
According to
Rich Pickings -- The Outlook for Luxury Goods in Asia
, a report issued this month by the
Economist Intelligence Unit
, after years of growth the region's luxury goods market is actually beginning to show signs of a slowdown, from Japan to China to Hong Kong.
But there remain huge long-term opportunities in the region. Asia could account for more than one-half of luxury revenue globally within a decade, compared with one-third today.
Those sales will be driven primarily by the expanding middle class, the report says. By 2030 there will be more than 270 million Asian households with income exceeding $50,000, a six-fold increase from today. The number of households with annual income of more than $150,000 will rise from the current 2.5 million to around 27 million by 2030, and China alone will have 12.7 million such households.
Those numbers translate into luxury buyers at many levels. In many ways, it's a story of optimism, even among those with far less disposable income, says James Roy, a senior analyst with the China Market Research Group.
"Over the last 20 years, there's been really rapid economic growth, which has created a generation of optimistic young people who feel good about the future and who haven't really seen hard times. They've seen double-digit wage growth every year," Roy explains.
That means even a secretary earning about $1,000 a month is saving up to buy that luxury bag or other luxury items, such as apparel or watches, Roy says.
Also see: 4 Trends in Luxury Goods for 2013>>
India and Indonesia are also positioned to become key markets over the long term, particularly as Indian retail opens up more to foreign investment.
"In India, there has always been a lot of wealth and demand for luxury brands. But up until recently tariffs made it more expensive for luxury goods. Raw materials had to be domestically sourced. So wealthy Indians were traveling overseas to buy luxury goods," Roy says. "But regulatory requirements have been made less onerous, and that has opened things up ... you're starting to see that single
luxury brand retail store."
The EIU's five-year forecast for retail sales is stronger for Asia than any other region in the world, saying "Asia will cement its position as the dominant region for luxury goods, as income and consumption growth rewards the long-term investment plans of key players."
All of which means unlocking Asian potential will remain a priority for luxury brands.
To be among the beneficiaries of this valuable market, brands must focus on how to promote products, investing in online and offline marketing, the report says.
Targeting China's smaller, fast-growing cities will be key. In China, smaller cities underserved by luxury offer huge growth potential.
The challenge for companies will be finding the right segments of the market for their products. In India, for example, "status" is important to small-business owners and entrepreneurs, but such customers are generally under the radar of the marketers at many luxury brands, the report says.
Gender is another factor in luxury purchases. In Asia, luxury buying is fairly evenly divided between men and women, unlike elsewhere, where women are the primary purchasers. This is explained primarily by the gender disparity of incomes in Asia.
Also see: Luxury Brands Are the Latest Way to Coddle First-Class Fliers>>
Luxury brands benefiting from strong Asian sales, according to the report, include
Hermes
, which reported a 10.3% rise in first-quarter sales this year, with Asia (excluding Japan) reporting growth of 17%, and
Burberry
. The clothier announced annual results in May that included overall revenue growth of 8% -- according to the EIU report, driven largely by a 20% increase in China. Web traffic to Burberry's Chinese online store rose by 70% last year, and the company is installing Mandarin-speaking staff in European flagship stores to cater to Asian visitors.
Burberry's success is tied to accelerated branded store openings, which account for 90% of Asian sales.
Japan is the one dimming star in the region. According to the report, the Japanese market remains cowed by the impact of the 2011 tsunami and a weak yen.
"I think Japan's era already passed," Pei says. "In the 1980s and 1990s Japan was leading the Asian countries in terms of buying luxury. But Japan has had 20 years of stagnation -- the economy not growing."
Roy agrees, pointing out that Japan's younger generation is simply not spending the way even their parents did or feeling as hopeful as previous generations.
"Japan has always been a large luxury market. What we're seeing there is a younger generation that is less optimistic than their parents and less focused on luxury brands," Roy says. "
Versace
closed down stores in Japan a few years ago because they weren't doing well and wanted to focus more on the China market."
The fact that Asia may take over such a large share of the luxury market in coming years is also tied to stagnation in Europe and slower growth in North America, according to the EIU report. As a result, by 2023 Asia could account for 50% to 60% of revenue for many luxury goods brands.
"Think about the fact that Asia is home to about two-thirds of the world's population and that China has about 25% of the total population on the planet. When you look at that particular volume, if the top 10% of those people begin to buy, then the luxury market shifts to Asia," Pei says.