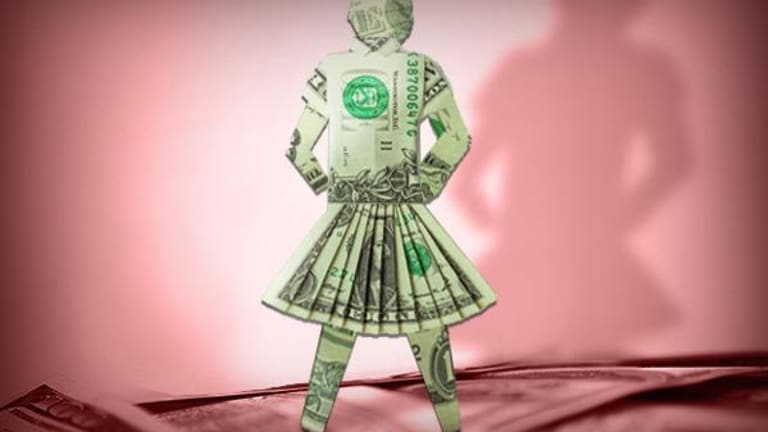 As More Women Become Breadwinners, Angst Over Finances Is on the Rise
90% of women will become family breadwinners at some point - but many remain anxious about their financial situation.
Hilary Thompson, a Salt Lake City-based sleep expert with a mattress company, is currently the main breadwinner in her family, and like most women in her situation, she's generally fine with that.
But below the surface, she has some angst over her financial situation.
"I am the main breadwinner in my household," Thompson says. "My husband was supporting us until recently, but business declined a couple of years ago for his small company and I had to change careers to earn more money, which I did happily. I felt it was my turn to support us all."
But money is still tight, and that's not helping a larger fear Thompson has over household personal finances.
"I have always had anxiety about money issues - a lot more than my husband seems to have," she says. "Sometimes it even keeps me up at night. I think generally women worry more about security than men do - especially when the well-being of their children is at stake."
Thompson is hardly alone. Data show that women - even as they increasingly take the reins as primary household winners - are generally more worried about money than men.
"While the pay gap and taking career breaks for motherhood have all contributed to women retiring with much less savings than men, recent research reveals a growing concern from females over whether retirement will be a possibility at all," notes Michelle Hutchison, a money expert at Finder.com.
The study Hutchison refers to, commissioned by Finder.com, found that while the majority of Americans believed they would retire between 60 and 70, a surprising number feared they won't ever be able to retire. In fact, almost one in three (32%) believed they won't be able to retire until they're over 70, or not at all.
"When bringing gender into account, men tended to believe they'd be able to retire earlier than women," says Hutchison. "Specifically, of those who didn't think they'd ever retire, women were more likely to say that (at 19%) compared to men (14%)." 
According to Janet Lombardi, a Rockville Centre, N.Y. resident and author of the book
Bankruptcy: A Love Story
, nine out of ten women will be "solely responsible" for their finances at some point in their lives. Yet still, most women still get nervous about making financial decisions, Lombardi says.
Lombardi, who says her attorney-husband left her with "a heap" of financial distress, says it's time for women to talk money. "Too many women have been blindsided by money issues like financial infidelity," she says. "But financial disaster doesn't have to hit you between the eyes before you take action. If you're open and honest about your money, you can regain control of your savings and your life. Because that's what money is for: to live."
That's good advice, for men or women. But the larger question is this - why are women more likely to be worried about money than men?
The answer lies in myriad areas, and gender has everything to do with the issue.
"Women tend to come across challenges that men do not face," says Maggie Johndrow, a financial advisor at Farmington River Financial Group, in Farmington, Conn. "First, women tend to earn less than men, as they receive $0.75 for every $1.00 men earn."
"Also, most women spend, on average, 15% of their lives out of the workforce to care for dependents, including children and older parents," Johndrow adds. "The result is that they receive less from Social Security and pensions. The data shows women average 30% less than men when it comes to Social Security and only approximately 13% of women earn a pension."
Not only do women get paid less, spend more time out of the workforce and therefore receive less from government and employer benefits, but they also have to make those reduced benefits work for a longer period of time, Johndrow adds. "Women on average live 4.9 years longer than men, and 50% of women live past 84," she says. "This means that, on average, it's important for women to think of their financial security over a longer period of time."
Johndrow has an interesting term for the anxiety women can hold over money and household finances. "Some women hold 'The Bag Lady' fear, which revolves around the concept of feeling as if you could lose all of your money and become homeless," she says. "The fear of running out of money in retirement, due to the loss of a spouse, divorce, or making the wrong choices, tends to be a top concern for all women."
How can women suffering from financial angst curb that anxiety?
The key, Hutchison says, is to develop good financial habits, building up emergency savings and use those savings to build wealth are all tactics women can employ to offset their financial setback.
"Debt reduction is also key for lessening financial anxiety," Hutchison says. "Combining your debts into one will cut the payments, allowing you to pay your debts off at a lower rate. A personal loan allows you borrow as much money as needed to pay off your debts, then you only have to worry about paying back the one company."
While money worries are common among men and women, the data seems to show the issue vexes women more so than men. As they continue to play a larger societal role as household breadwinners, it's time to address those anxieties, experts say, and take control over their financial situation, and even embrace it - one dollar at a time.