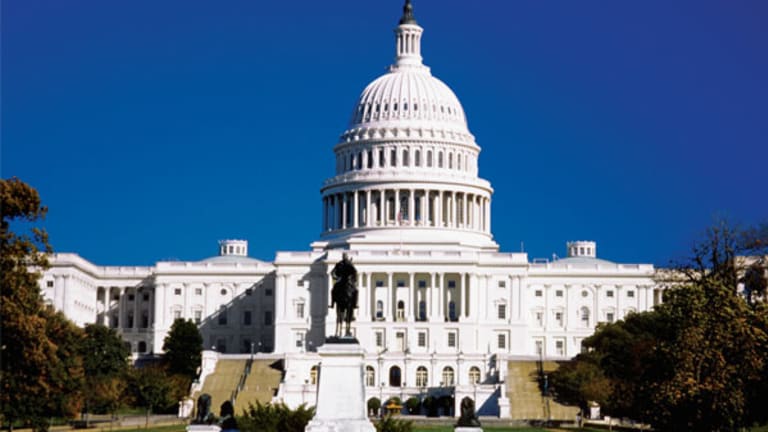 Arne's Army: Secretary of Education Duncan Tries to Draft Senators to Support Student Loan Bill
But can he sink the putt?
But can he sink the putt?
By John Sandman
NEW YORK (
) --
Education Secretary Arne Duncan
had his meet-up with Democratic senators to try and "do something" about the Stafford student loan crisis back in June. It didn't work.
Since then, rates have doubled from 3.4% to 6.8% as of July 1
.
Read: Avoid Popular Stocks like the Devil
Now he's trying to bust the same move on a few of the same senators--Republicans and Democrats--in an attempt to line up support for a crucial vote that will take place later this week--most likely Wednesday--to dial rates down
before Congress heads into summer recess on August 5
.
But Duncan's in a peculiar position. One problem is that even if rates are reduced, the reduction will be temporary and higher than the pre-July 1 rates. Another problem is that Duncan is an emissary from the Obama administration, whose own proposal is very similar to the ones from House Republicans--something that doesn't sit well with a host of Democrats, from Tom Harkin, who has represented Iowa since 1984, to Elizabeth Warren of Massachusetts, a first term Massachusetts senator who is generally to Obama's left.
Education, a core concern with voters who elected Obama, has also been described as one of the issues where there might be some commonality with Republicans--such as linking public school teachers' job security to job performance and emphasizing standardized testing for students.
Read: Living in a Boat to Pay Tuition
The Smarter Solutions for Students Act, one of several introduced by the GOP, included flexible interest rates pegged to the 10-year Treasury bill--a point where the Obama and House proposals are very similar. An Obama plan introduced earlier this year would tie rates to 10-year T-bills plus 0.9%. In the Republican bill, rates are tied to the T-bill plus 2.5%. The Obama plan also has expanded income-based repayment and
loan forgiveness options
. The numbers may be tweaked, but the link to market rates remains.
In discussing the Republican bill, Rep. John Kline (R-MN) was quick to point out that "the legislation is based on the President's own proposal and provides a solid basis for negotiation through the legislative process."
How much credibility will Duncan have with
the Senate at the eleventh hour
? He could conceivably score with some Republicans while being snubbed by some Democrats--which may be a best-case scenario as far getting a bill through the Senate is concerned.
Read: How I had an Extravagant Vacation for $1,000
"He seems to deliver whatever message the White House wants him to say," said a source at a Washington, D.C.-based think tank who spoke off the record. "He could really challenge the White House on their policy around student loans, but there appears to be no difference of opinion between the Department of Education and the White House."
--Written by John Sandman for MainStreet