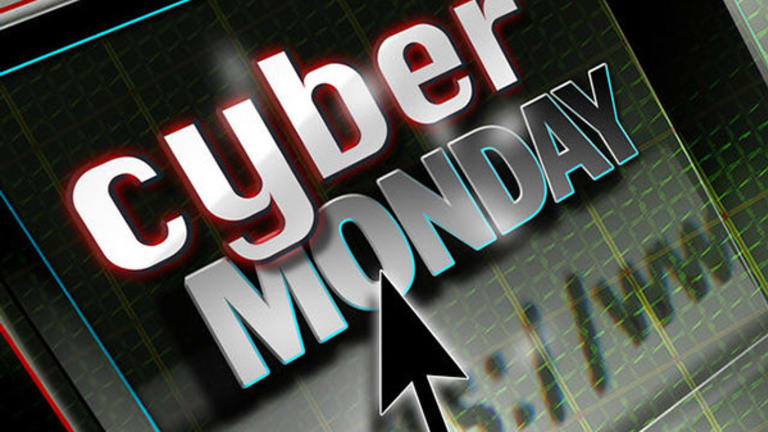 Are You Really Getting The Best Deal On Cyber Monday?
Holiday shoppers have already missed the best online discounts, and they're less open to shopping by retail's calendar. Cyber Monday feels as dated as that "cyber" portion of its name.
Please stop approaching Cyber Monday as if you don't have access to mobile and online shopping all the time.
As retail "holidays" go, no amount of online shopping touches the amount spent on Cyber Monday. Last year, according to ComScore, shoppers spent more than $2 billion that day alone. That's more than the $1.5 billion spent online on Black Friday and double the little more than $1 billion spent on Thanksgiving Day.
"With more than $2 billion in online buying on Cyber Monday to cap an exceptionally strong 5-day period since Thanksgiving, the online holiday shopping season is clearly going very well at the moment and is currently running ahead of forecast," ComScore chairman emeritus Gian Fulgoni said in a statement after last year's Cyber Monday sales. "Any notion that Cyber Monday is declining in importance is really unfounded, as it continues to post new historical highs and reflects the ongoing strength of online this holiday season."
Also, for the first time, the National Retail Federation retail industry group expanded its holiday surveys to include Cyber Monday shoppers. According to the survey 79.6% – or a potential 183.8 million unique shoppers – said they would or may shop on Cyber Monday. The survey also found that 88.7% of 18- to 24-year-olds and 90.9% of 25- to 34-year-olds said yes or maybe when asked if they will shop online on Cyber Monday.
"Given how shoppers today overall gravitate towards all things digital, there's a high likelihood online shopping will be bigger than ever over the holiday weekend and on Cyber Monday," says Pam Goodfellow, principal analyst for Prosper Insights & Analytics, which conducted the NRF survey.
However, just because we're still gravitating to Cyber Monday as if it's the mid-2000s and we need office Internet access to complete transactions, doesn't mean there aren't other options out there. As the folks at Adobe pointed out last year, the best online discounts aren't found on Cyber Monday (with an average savings of 20%) or on Black Friday (23%), but on Thanksgiving when everyone had the day off and could get an average of 24% off their holiday shopping by just browsing online stores on their device of choice while watching the football games and stuffing their faces.
But that's to be expected. It's been eight years since the iPhone was introduced and at least three years since U.S. smartphone users gained access to 4G LTE wireless systems. ComScore still measures Cyber Monday's online sales but also bundles them in with Cyber Weekend (the Saturday and Sunday after Cyber Monday, which took in $2.012 billion last year) and Green Monday (a Cyber Monday knockoff a week later that spurred $1.65 billion in spending in 2014). From Thanksgiving through Green Monday, online sales total nearly $15.3 billion, of which Cyber Monday sales are just a minor portion.
However, even that figure come in below the roughly $20.2 billion spent online from November 1 to the day before Thanksgiving, during what ComScore still considers the holiday shopping season. Those weeks make up a far greater chunk of the overall $53.3 billion spent online during the holiday season last year, while the 17% uptick in Cyber Monday online spending trailed well behind the 26% growth of both Black Friday and the rest of Thanksgiving weekend and the 32% surge in Thanksgiving-day shopping.
Retailers no longer peg online sales to any one point on the holiday calendar. Instead, Jordan Weinstein at market research firm IBISWorld firmly suggests addressing e-commerce all season long, especially with the NRF estimating that 44.0% of all 2015 holiday shopping will take place online, with about half of purchases made using a smartphone or tablet. During the last three years, IBISWorld notes that overall online sales have risen by an estimated 11.5% each year. If retailers don't have a well-designed site and haven't staffed their warehousing and distribution centers to compete with Amazon, Target and Walmart -- which have hired 100,000, 70,000 and 60,000 temporary workers, respectively, for the 2015 holiday season -- they're going to face serious problems. At the very least, hiring a fulfillment service to handle that burden should be part of a retailer's game plan.
But why does Cyber Monday still take such a prominent role in the holiday shopping season? Part of the reason lies with the desktop-shackled online shopping pioneers who played along when the Cyber Monday name cropped up in 2005. The organization that made up the term for a 2005 press release and owns CyberMonday.org, Shop.org, is part of the National Retail Federation retail industry group. That group and its retail partners have since pushed Cyber Monday relentlessly. Meanwhile those desktop shoppers, along with laptop users, are slated to spend more than $60 billion online this holiday season, according to ComScore's forecast. However, last year's growth in desktop/laptop shopping was outpaced by a 25% surge in mobile tablet and smartphone shopping. Mobile still accounts for less than 20% of all online shopping, but it brought in roughly $8 billion last year.

However, holiday shoppers are starting to reject the notion of consumer holidays altogether. From November 1 through November 23 of last year, online shoppers spent $17.5 million, or 11% more than they did in 2013. That far exceeds the $6.5 billion online shoppers spent last year from Thanksgiving through Cyber Monday. Meanwhile, the NRF's own survey from November 10 found that 57% of all holiday shoppers had begun shopping well before that date, with more than 13% saying they were more than halfway done. A month earlier, roughly 80% of shoppers said they started shopping in November or earlier. Of that group 61.4% said they did so to spread out their shopping budget.
A full 26% said they hate missing out on the specific items they're looking for, but 32.3% said it gave them more time to appreciate the holiday season. Saving the bulk of your holiday shopping for a random Monday deep in November where you'll have to hide your browsing from your boss just isn't necessary anymore, and consumers are starting to make Cyber Monday feel as dated as that "cyber" portion of its name.
This article is commentary by an independent contributor. At the time of publication, the author held TK positions in the stocks mentioned.