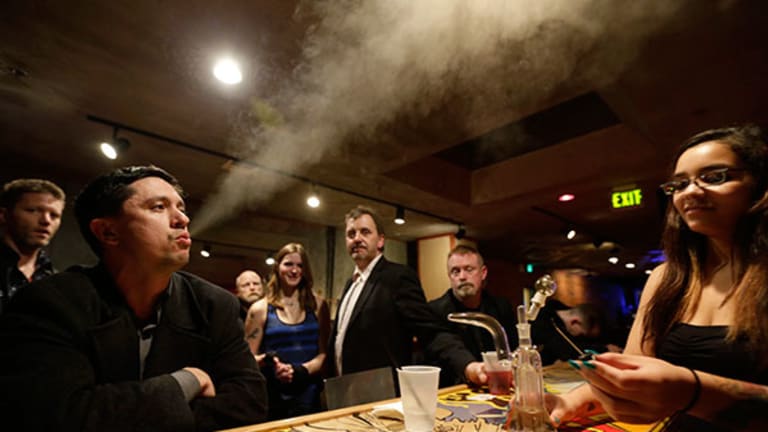 Are Proposed Seattle Cannabis Lounges the Precursor to a Starbucks of Weed?
A proposed fix to a problem in I-502 in Washington State may herald the beginning of a whole new opportunity.
NEW YORK (MainStreet) - The city attorney of Seattle, Pete Holmes, is becoming a public supporter of cannabis clubs as a way to enforce elements of Washington State's recreational pot law (I-502). The measure, which legalizes recreational sales and use, also prohibits smoking marijuana in public.
This idea is a legislative fix downstream to attempt to solve potential I-502 problems that could arise as recreational use becomes established in the state and oversights in the original law are identified. The advent of these ganja lounges will give tourists and people who live in rental properties where the consumption of marijuana is still banned a legal place to smoke marijuana.
Cannabis clubs have already opened legally in Colorado.
"This type of club has been talked about since December 2012, since I-502 became law," said Kevin Oliver, executive director of Washington National Organization for the Reform for Marijuana Laws (NORML). "The state legislature could potentially modify the law to allow for adult use clubs, sans sales, just a place where it was legal for adults to smoke marijuana. I believe the rationale is, as long as we can have bars and designated smoking area for cigarettes, we should be able to have a smoking lounge for adult use marijuana."
The proposed rules so far call for age restrictions, ventilation requirements and a vaporizer-only policy. What's more, alcohol is banned. One of the more interesting questions, however, is if promotion of this kind of destination would encourage people, particularly recreational users, to drive too soon after getting high at a public, non-residential spot they must leave.
This kind of experimentation with new forms of establishments and commercial licensing is clearly on the rise in all states where marijuana has been legal for some time - and for both recreational and medicinal use. The rise of delivery services, particularly for home-bound patients or recreational users who do not wish to risk a drugged-driving offense, is occurring all over the country - and many are meeting stiff resistance from local authorities.
For now, delivery services are a business model off the table in Washington state.
"Delivery of marijuana for sale is currently not allowed under any law in Washington - unless you are a licensed producer or processor making a delivery to another producer/processor and/or retailer," Oliver told Main Street. "However, it would seem like a viable business opportunity to license transportation companies to distribute marijuana in a retail fashion."
Of course, one of the biggest drawbacks are of a delivery service would be the inability to access credit/debit card banking for those transactions.
With new banks expected to enter the marijuana sphere again this year, and with banking reform never far away on the cannabusiness horizon, entrepreneurs have a better chance than ever to innovate.
On the business model front, particularly in Seattle, the increased acceptance of public "coffee shops" as they are referred to in Holland, also leads to the obvious question. How long will it be before authorities create the perfect environment for a ganja-tinged competitor to home-town franchise Starbucks?
"I can certainly imagine the possibility of a Starbucks for marijuana on the horizon," Oliver says. "However, for retail stores to sell marijuana over-the-counter and then allow you to sit and smoke, it would require both an amendment to the law and a re-write of the Washington State Liquor Control board rules governing retail transactions and establishments."
--Written by Marguerite Arnold for MainStreet