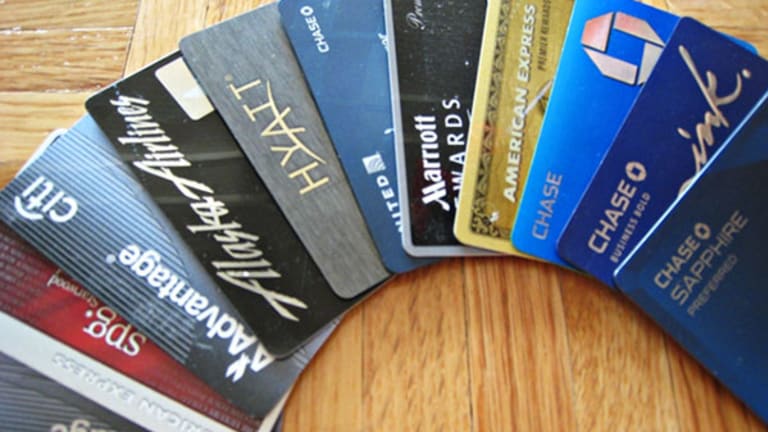 Are Airline Frequent Flier Miles Programs Just Rip-Offs?
A congressman calls out airlines' rewards programs as "deceptive, fraudulent"
NEW YORK ( MainStreet) - Congressman Alan Grayson (D-Fla.) has a big bone to pick with the nation's airlines. Their frequent flier rewards programs, he says, are fraudulent and deceptive.
In a Mainstreet interview, Grayson acknowledged that he personally belongs to such programs and, he added, "I absolutely feel ripped off by them. I am familiar with the term, 'Sky Pesos.'"
Orlando-based Grayson is not just blowing off steam. He has formally requested the U.S. Department of Transportation to investigate, and when a congressman rings the bell at a federal agency, you can bet action results.
Question: Have you ever cashed in miles for a flight? Not for a magazine subscription or a gift card or a hotel room. For an actual flight?
Grayson said that is a big part of the problem. Airlines advertise that miles equal flights but, said the Congressman, when we have accumulated those miles and then go looking for flights we often find that no flights are available or, if they are, the actual miles to book are a lot more than we anticipated.
It happened to me just a few days ago, when I sought to book a roundtrip from Phoenix to Newark Airport. That's 40,000 miles on US Airways, right? Wrong. It cost 55,000 and, said Grayson, that's exactly the kind of bait and switch he believes the airline industry has to end.
It gets worse. Travel blogger Joe Brancatelli, who files at JoeSentMe.com, said that airlines have claimed that they - not the fliers - own the miles, they can run the programs as they please, and if you complain too loudly, they can kick you out of the program and confiscate your miles. The U.S. Supreme Court, noted Brancatelli, in an April 2014 decision agreed with the airlines.
Airlines also, as the Congressman noted to Mainstreet, unilaterally, without notice, and willy-nilly raise the mileage needed to qualify for an award. Last year, for instance, Delta jumped its SkyMiles totals for just about every reward flight (thus "Sky Pesos"). BusinessElite tickets from the U.S. to Europe, for instance, were 100,000 SkyMiles. After the devaluation, that flight cost 125,000. Similar jumps afflicted just about all reward classes offered by Delta and it has not been alone. Both United and Southwest also have announced substantial rejiggering of awards programs that favor the airline, let the fliers eat cake.
When MileCards.com surveyed 1,600 frequent fliers it - unsurprisingly - found we have complaints about rewards programs. Notably, said Brian Karimzad, director of MileCards.com, 29% of us grumbled loudly about sudden rules changes. But our biggest complaint - cited by 50% of us, said Karimzad - is needing more miles than expected.
So is the Congressman right, that is, does the federal government need to stick its oar into these troubled waters?


Blake Fleetwood, the president of CookTravel.net in Manhattan, is on Grayson's side. Fleetwood explained that what ticks him off is that airlines "convince travelers to build up huge banks of frequent flier points and now they devalue them when it suits their purpose. It's as if the government devalued our currency without any kind of authorization or public scrutiny. With more than 200 million frequent flier accounts in the U.S. alone, the government should regulate how the airlines change the value of these points."
Not everybody wants government intervention however.
Harlan Platt, professor of finance at Northeastern University's D'Amore-McKim School, said no thanks. He elaborated: "What is important is that airlines properly communicate with passengers about the rules and changes to them, nothing more is necessary."
Well-known psychiatrist Carole Lieberman, M.D., also is a nay-sayer: "Although the frequent flier programs are riddled with confusion and consumer quagmires, if not purposeful false advertising and scams, the federal government should keep out. It has intruded upon too much of our lives already. If an airline's frequent flier program does something illegal, then passengers can take them to court."

Said travel writer Kelly Merritt: "Rewards programs are fun if you take the time to understand them. Bringing in the federal government probably would only make things ten times worse."
There you have the debate: Do you trust the airlines to safeguard your miles and their worth - despite a flagrant recent history of devaluations?
Or do you trust Congressman Grayson and the DOT?
Mull that but know: "DOT already is investigating these programs," said Grayson. "I look forward to seeing the results."
--Written by Robert McGarvey for MainStreet