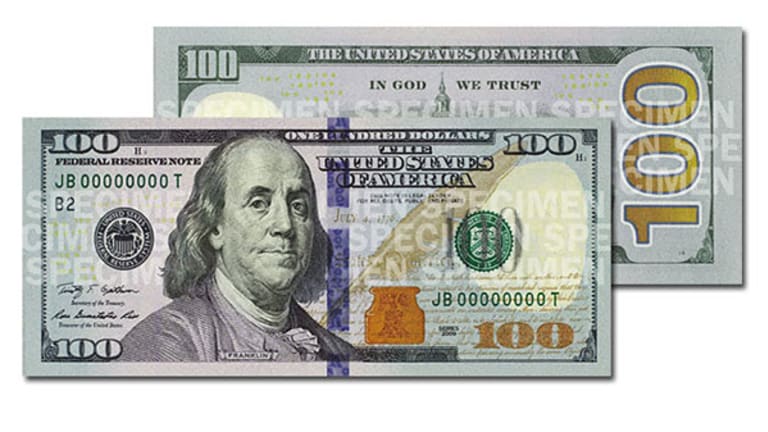 NEW YORK (
) -- With the government -- or at least a portion of it -- shut down due to the Congressional face-off over the Affordable Care Act, Uncle Sam doesn't have the time or the resources to put too much on the table.
But there is room for a new piece of currency -- a
released this week by the Federal Reserve.
The shiny new C-note was released Tuesday, and it's a doozy from a security point of view. The bill's new features, according to the Federal Reserve:
A 3-D security ribbon
A portrait watermark
Raised or "elevated" printing
More dynamic, "color-shifting 100" graphics
Also see: Online Bank Customers Are Surprisingly Short-Tempered>>
No worries about any old $100 bills lying around, if you have a few of them in this economy. Of course the old bills are perfectly good as legal tender.
Old bills are to be phased out gradually, though, mostly in the interest of security, as more counterfeiters are making bills that too often past muster with retailers and banks.
The new $100 bill was especially designed to thwart counterfeiters, government officials say.
"The new design incorporates security features that make it easier to authenticate, but harder to replicate," says Federal Reserve Board Governor Jerome H. Powell. "As the new note transitions into daily transactions, the user-friendly security features will allow the public to more easily verify its authenticity."
Also see: How the Government Shutdown Affects Your Real Estate Deal>>
Even the average consumer will be able to tell if a $100 bill is genuine, the Fed says. People should look for "100" repeating on the new 3-D security ribbon, as well as images of color-changing bells that weren't on the old C-note. The features are plain to see and very difficult for counterfeiters to duplicate accurately.
How long will it take for the new bills to take over and the old ones to fade into oblivion? The Federal Reserve isn't pointing to any dates, saying that the phase-in and phase-out depends on "distance, demand and the policies of individual financial institutions" across the globe.
In lieu of the real thing, the public can get a good look at the $100 note on a specially crafted government website called
(unlike many government sites, it's up and open to the public.)
Otherwise, you'll likely see it at a bank near you the next time you're looking for some hefty currency. Chances are the public will have no problem with the new bill, while counterfeiters won't be so happy.