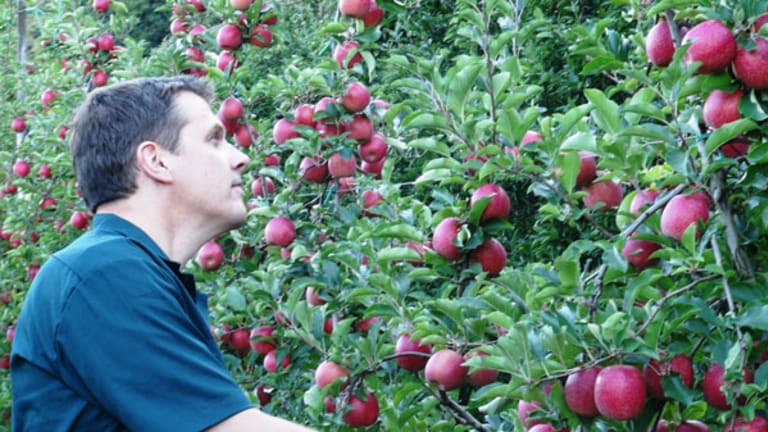 Angry Orchard's David Sipes Gets Samuel Adams to Try Cider
Cider can link beer fans, wine drinkers and cocktail snobs, and Boston Beer is showing the way.
PORTLAND, Ore. (TheStreet) -- When you grab a pint in almost any of New England's pubs, cider sits right beside stouts and lagers as a drink of choice. It's not a beer substitute, it's not there just for beer haters or vegans -- it just is.
It's a tradition that followed the area's British and Irish settlers and one that continues in Irish pubs and roadside watering holes to this day, much as it does in the European countries that spawned it. It was here that
Boston Beer's
(SAM) - Get Boston Beer Company, Inc. Class A Report
Angry Orchard was first leaked to the drinking public surrounding its Samuel Adams brewery in Boston's Jamaica Plain neighborhood in 2011, and here that Angry Orchard began building the base that made it the top cider brand in the country after it was released broadly in April 2012, according to market research firm
SymphonyIRI Group
.
For Angry Orchard cider maker David Sipes -- who drew from European influence and sources to make the brand's mainstay Crisp, Traditional, Ginger and Elderflower varieties as well as well as the stronger brews in its limited-release Cider House Collection -- that broad cider-loving base represents growth potential just waiting to be juiced. As recent shifts in the brewing industry have uncovered, Sipes isn't the only one who sees cider's untapped power.
According to SymphonyIRI Group, hard cider sales at supermarkets and other stores hit about $90 million for the 12 months ending Oct. 30. That's up more than 65% from a year earlier and outpaces the 5.6% growth of wine and the 13% growth of the craft beer segment in 2011, as well the 1.7% growth overall beer sales in 2012. SymphonyIRI's research excludes sales at liquor stores and discount stores such as
Wal-Mart
(WMT) - Get Walmart Inc. Report
, which may downplay cider's growth a bit, but Sipes is getting a whole lot of company from big brewers who want a bite of the cider market.
Hard cider sales still get tossed into the overall beer market and account for 0.2% of sales, according to a report by
Nomura Research
, which is a sixth of the 1.2% market share held by Boston Beer. Half of cider's consumer base is made up of women, though, compared with only 20% for beer. It also sells for an average $35 a case, according to Nomura. That's well above the $29-a-case paid for imported beers and $33 brought in by craft beer.
As a result, Nielsen ranked Angry Orchard among its Top 10 beer growth brands at the end of 2012. Granted, it grabbed only 0.1% of the market's volume and 0.2% of its share, but just remember that all the cider in the U.S. combined is only 0.2% of the beer market by volume. That was just after
MolsonCoors
(TAP) - Get Molson Coors Beverage Company Class B Report
and
SABMiller
joint venture
MillerCoors
scooped up Minnesota-based craft cider maker Crispin for a reported $40 million last February.
Since then,
Anheuser-Busch InBev
(BUD) - Get Anheuser-Busch InBev SA/NV Report
has been pushing Michelob Ultra Light Cider as it attempts to wriggle its way into cider, and Irish cider superpower
C&C Group
-- which owns the Magners cider brand and bought California-based Hornsby's in 2011 -- made a big push into the U.S. market by buying Vermont Hard Cider, its Woodchuck brand and nearly 50% of the U.S. cider market in October for $305 million. Not to be left out, Heineken bought Vermont Hard Cider's U.S. rights to the Strongbow brand last year as well.
With more cider competition fermenting among small regional brands, we spoke to Boston Beer's Sipes about Angry Orchard's first year, the growing U.S. cider market and how cider can serve as a common thread between beer fans, wine drinkers and cocktail snobs:
Boston Beer had previous cider experience with a product called HardCore, but how did the Angry Orchard concept come about, and what sold the company on the artisanal cider approach?
Sipes:
We've been making ciders for almost 15 years and during that time we worked with a variety of apples, interesting ingredients, cider making and aging techniques and finally developed recipes we were really excited to launch with Angry Orchard.
It started out as more of a side project, and we'd experiment with fermentation and apples. I studied fermentation at UC Davis and when I joined the Boston Beer Co. 12 years ago, I began working on cider recipes and traveling the world exploring and sourcing apples to make cider. We've experimented with too many recipes to count, but that process helped us learn what apples, yeast and aging techniques made the best cider.
We also worked with a European cider expert, Alan Tringham, who had more than 50 years' experience making ciders. Much of what we know about European orchards and cider making we learned from him. While he unfortunately passed away last year, we've carried much of what we learned from him with us. When we decided to create the Angry Orchard Cider Co., we want to dedicate ourselves to the same craft approach to cider as Boston Beer does to beer by making ciders with the best ingredients we could find and introducing drinkers to well-crafted and innovative cider styles.
At the end of last year, Angry Orchard was one of the fastest-growing premium brands offered by any brewer. Are you reaching markets where cider isn't as prevalent as it is in cities with Magners or Woodchuck saturation? If so, has Angry Orchard become a gateway cider?
Sipes:
In less than a year, Angry Orchard has become the No. 1 cider brand in the U.S., which is pretty exciting. We're seeing drinkers with sophisticated palates reach for Angry Orchard, as well as drinkers looking for something different that's not beer or wine. And cider is practically new to people everywhere because so few people have discovered it yet.
Cider consumption in the U.S. has grown exponentially over the past couple of years, and big moves in the cider industry such as C&C's purchase of Woodchuck and Hornsby's, MillerCoors' purchase of Crispin and A-B's introduction of a Michelob cider indicate even more growth ahead. How does Angry Orchard factor into that growth and what, if any, are the plans to expand the brand's footprint?
Sipes:
Cider in the U.S. is relatively unknown. While hard Cider in the U.S. grew 65% in 2012 vs. 2011, it's still a very small segment. We were excited to launch Angry Orchard last year, and to introduce more drinkers to the cider category, we want to continue to innovate with new styles. Our mission is to educate drinkers about hard cider -- what ingredients are used to make cider, how it's made and the differences between cider styles -- so that hopefully they consider cider when they reach for their next drink.
You have a tremendous background in cider making and have mentioned your Europe-based Angry Orchard research before. Are there key elements of European cider making and cider culture that translate well to the U.S.? Does Europe's embrace of cider both as a wine-style product and a barroom pint bode well for the U.S. market?
Sipes:
When I travel to France and Italy to speak to our apple growers, I also have the pleasure of tasting the local ciders, many of which are made by small farmers in the countryside. This experience helped spark the creation of Angry Orchard Strawman, from our Cider House Collection. Strawman was inspired by centuries-old farmhouse cider-making techniques traditionally found along the English and French countryside and is bottled in a 750ml corked bottle comparable to wine and meant to introduce specialty ciders to the dinner table.
Much like the ciders I've tried while traveling, its ripe apple, vanilla and honeysuckle flavors impart an earthy character complimented by a distinct aroma of ripe apples, wood, dark fruits and sweet citrus that serves as a complement to rich foods like pork, creamy cheeses and seafood. While this cider may not be for everyone, it introduces the specialty ciders Europeans have known for years that they pair with food, something Americans drinkers are just now doing with craft beer.
You've equated the cidering process to winemaking and the search for cider apples to hunting for the right wine grapes. Has that helped Angry Orchard woo wine drinkers and are there similar commonalities between cidering and beer brewing?
Sipes:
Making cider is more akin to making wine. In our Angry Orchard ciders, we're using a blend of Italian culinary apples from the Northern Italy and the southern foothills of the alps, and French bittersweet apples from Normandy. More specifically, we've been working with apple farmers in the Sudtirol region of Italy, near Bolzano, and Bretagne, France. These orchards have been around for hundreds of years, and their apples are perfect for making cider. We found that the apples here, much like grapes to wine, are unique to the terroir of the region. These European apples also provide much of the complexity in the cider's flavor profile.
The Bittersweet apples from France are traditional cider apples, bred and selected for cidermaking, and are not very tasty to eat in raw form. We found that these Bittersweet apples, blended with the culinary apples, create a certain balance of tannin, acidity and sugar -- also known as BRIX -- that's really unique. European apples lend themselves to and have been grown specifically for their complexity.
Also, the craftsmanship and techniques we're using to make the cider are similar to making wine. Ee have a long fermentation process that includes wood aging. We age our ciders on oak, which gives the liquid an additional layer of complexity. We also use a wine yeast which is selected in part for its relatively "neutral" character that allows the fruit to express itself. To determine the right blend of apples in combination with our yeast, it often takes trial and error with test batch after test batch, until we get that blend right.An interesting note for your readers ... because of the yeast, oak aging and the tannic characteristics from the bittersweet apples, our ciders show wine-like characteristics.
Our Traditional Dry shows characteristics of New World Sauvignon Blancs, or lighter Chardonnays -- fruity, perhaps slightly herbaceous with a soft astringency. Our Crisp Apple is more in line with fruit-forward styles like a Pinot Grigio, Pinot Blanc, Vouvray or Voigner. Our Apple Ginger has common threads with Crisp but takes away from the wine perspective with its relative intensity of spice that not common in wine. It could stand in for a Gewurztraminer or Alsatian white.
Do you envision a future where cider is as comfortable in American pub culture as it is in Ireland, the U.K. and elsewhere? Are you starting to see that shift already?
Sipes:
In the U.S., we're seeing more and more tap handles for hard cider. In parts of the U.K., cider accounts for almost 20% of the beer market, whereas in the U.S. it's only about 0.4%. So we have a long way to go until American drinkers recognize cider like Europeans do, but we're hoping Angry Orchard can help introduce drinkers to the beverage many imbibe across the pond.
You just debuted an elderflower version of Angry Orchard that's cidery on the nose, but drinks like a cocktail. Considering the popularity of elderflower products like St. Germain in recent years and the rise of artisanal cocktails, are you finding a lot of overlap among lovers of increasingly elaborate cocktails and cider drinkers?
Sipes:
While Angry Orchard hard ciders can be enjoyed on their own, incorporating cider into classic cocktail recipes creates a fun twist and also introduces cocktail drinkers to cider. We've teamed up with a mixologist and beer sommelier, Hayley Jensen of New York City's Taproom 307, who has mixed some innovative cocktails and provided some tips on how to incorporate cider into cocktail. Cider's carbonation can serve as a substitute for seltzer and its sweetness a lighter substitute for simple syrup. Or, to enhance the fruitiness of bourbon in a cocktail like a Manhattan, add cider, which will also complement the acidic flavor of oranges and cherries. You can even add to fruitier cocktails like a sangria and scale the recipe up to create a punch bowl.
One of the consistent narratives in stories about cider's U.S. growth is its embrace by groups who generally shy away from beer. Does cider fill gaps in pubs and taprooms that beer just can't, and does it help improve the social drinking experience by offering drinkers something other than beer that they can drink at the same pace as their beer-loving friends?
Sipes:
Cider is definitely an alternative to beer, wine and spirits that we find drinkers are just now exploring and, much like craft beer fans, we found that cider drinkers are looking for a beverage crafted with quality ingredients. Angry Orchard ciders have a similar ABV to beer but unlike beer, is less carbonated, made from fermented apples (instead of hops and barley) and a wine yeast. So our district and complex flavor profiles could appeal to those who look to an alternative to beer or beer-lovers who are looking to drink something different. We even found that cider drinkers are evenly split between men and women, unlike craft beer, which skews 80% towards male drinkers.
-- Written by Jason Notte in Portland, Ore.
>To contact the writer of this article, click here:
Jason Notte
.
>To follow the writer on Twitter, go to
.
>To submit a news tip, send an email to:
.
RELATED STORIES:
>>How Tapping The Jewish Beer Market Begat A Plan
>>Sierra Nevada CEO Makes East Coast Beer Run
>>Craft Brew Founder Widmer Savors Results
Jason Notte is a reporter for TheStreet. His writing has appeared in The New York Times, The Huffington Post, Esquire.com, Time Out New York, the Boston Herald, the Boston Phoenix, the Metro newspaper and the Colorado Springs Independent. He previously served as the political and global affairs editor for Metro U.S., layout editor for Boston Now, assistant news editor for the Herald News of West Paterson, N.J., editor of Go Out! Magazine in Hoboken, N.J., and copy editor and lifestyle editor at the Jersey Journal in Jersey City, N.J.