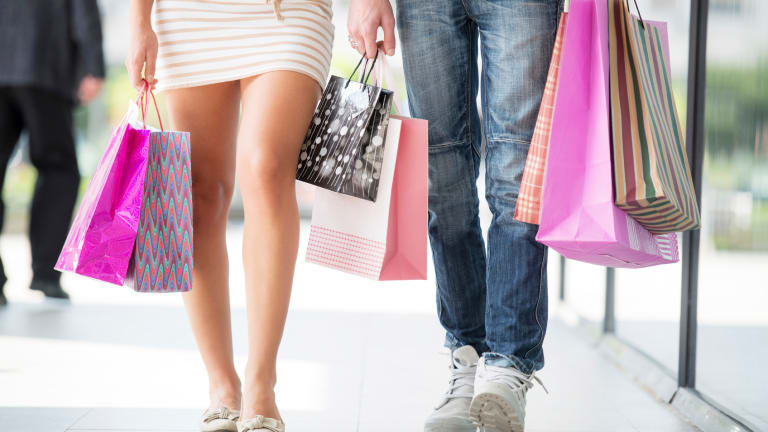 An 'Adult Allowance' From Your Bank Could Be All the Discipline You Need
U.S. adults are having so much trouble with their spending that banks and mobile financial app providers want to step in. Is that a good idea?
Is a more formalized "adult allowance?" an idea whose time has come? And should banks work in collaboration with adults to limit personal spending?
Ask a personal finance expert, and the answer is "yes and no."
No doubt, the need to limit adult self-spending is real. According to Debt.com, only 30% of Americans have a long-term financial plan that includes savings and investment goals. Additionally, 19% have $0 saved to cover emergency expenses; 31% have less than $500 in emergency savings.
Not surprisingly, about 49% of Americans are "concerned, anxious or fearful about their current financial well-being.
But what if your bank or favorite mobile personal financial app provider could step in with a digital-based "adult allowance" plugged into your account, which would install strict personal spending mandates, on a daily, weekly or monthly basis? Or, if you're the self-sufficient and disciplined type, what about examining the prospects of a self-imposed adult allowance, especially among couples?
The idea is taking route in the personal finance field, where specialists see formalized adult allowances as a good way to beat back debt, save more for retirement, and reduce high-interest credit card spending.
"We've talked to a lot of couples who use an allowance system," says Sam Schultz, co-Founder at Honeyfi, a personal financial app which, among other services, helps couples collaborate on a shared allowance system. "For most couples, that means they put all of their income into a joint account and use that for most expenses. But they give themselves "allowances" each month by moving a set amount of money from their joint account into their individual accounts."
The key allowance component in the Honeyfi app allows couples to "tag" spending transactions, and categorize it as either the household's or an individual spouse's purchase.
For many couples (including Schultz and his wife), an adult allowance system strikes the best balance of transparency with independence and teamwork with individual accountability. While personal financial apps are a big part of that budgeting campaign, getting banks officially on board with formalized "adult allowance" accounts isn't ready for prime time yet, finance experts say.
"At first glance, having the bank set spending or budgeting limits might seem like an easy solution, but it is much more complicated than simply setting automatic limits or rules," says Kevin Brauer, chief financial officer at Affinity FCU, in Basking Ridge, N.J.
The financial industry has been very good at creating processes and tools to help control the risk of overspending, such as setting credit card limits, lending caps, overdraft fees and even ATM daily withdrawal limits. But that's as far as it should go, at least in terms of imposing allowances on fully grown men and women, Brauer notes.
"In terms of daily financial management, however, allowing a financial institution to be the driver of an allowance just doesn't seem feasible," Brauer notes. "Institutional limits tend to be "hard limits," meaning if you have an unexpected event and need more cash, it is possible the system would not allow for a "bump" in your allowance. A robot can't plan for unexpected events."
"Instead, it's better to have a family unit monitor each other using a budget and other financial tools, many of which can be found online," he adds.
Still, there's at least a partial role banks can play in helping adults limit their spending in a formalized way.
"Set up a separate checking account that only holds your "fun money" allowance that you can spend guilt-free," advises Elyssa Kirkham, Financial Expert at Student Loan Hero. "Then, figure out how to develop your own financial wisdom, healthy money habits and restraint."
Financial services firms can also help couples create and manage adult allowances, too - with no judgement on their spending habits.
"Budgeting is hard, and its filled with eye-blurring Excel docs or apps constantly nagging you saying, "You're over your food budget again," says George Friedman, chief executive officer at Qapital, a banking and personal finance company.
Friedman's firm has built a technology tool, called the Weekly Spending Target, which helps provide a spending target and allows users to stay under that target number. He says it's main component -- established savings targets -- are actually better than traditional allowances.
"The goal isn't to spend too little and be miserable," he says. "It's about spending the right amount for your happiness and planning for that."
Maybe that's the adult allowance sweet spot both financial firms and high-spending adults can agree on. But let's face it, a little financial discipline, no matter how you achieve it, can go a long way.
TheStreet's investing interviews, all in one place!
More of What's Trending on TheStreet: