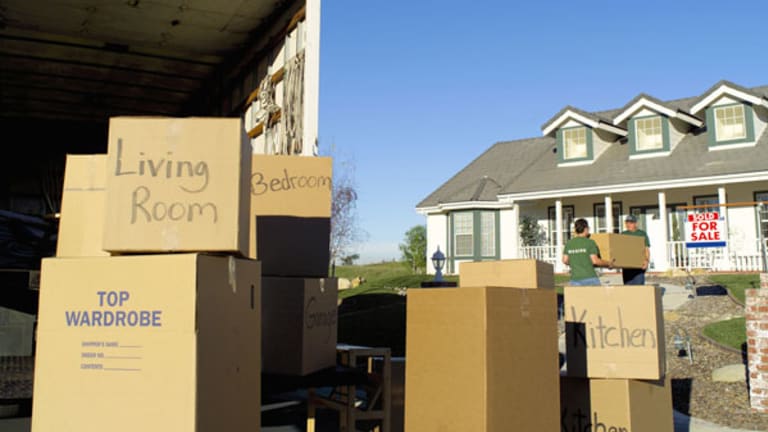 America's Packing Up Bad Economy, Losing It In the Move
More Americans are changing addresses, a trend with pleasing ripple effects across the economy.
NEW YORK (
) -- More Americans are changing addresses this year, and that trend is causing a tsunami-like ripple effect across the U.S. economic landscape.
According to the
American Express Spending and Saving Tracker
, 25 million Americans plan on moving in 2013.
That's great news for Americans looking to sell a home.
American Express
(AXP) - Get Free Report
says that home seller confidence has picked up by 36%. And investors may want to take a closer look at stocks such as
Home Depot
(HD) - Get Free Report
and
Lowes
(LOW) - Get Free Report
, as 72% of U.S. homeowners say they plan to spend, on average, $4,000 on home improvements this year.
>>>>Also see: Program Matches Retirees With Nonprofits
But it's the 35% of Americans moving this year that really sticks out. That represents 15% of the U.S. population -- a 50% uptick from last year.
Of that group, 43% plan to buy a home, while 57% will go for renting a house or apartment.
The window for either buying or selling a home may be a short one, if the Amex figures are accurate. While 57% of homeowners feel they can get their asking price for their home now, about half of all potential buyers (45%) say the best time to buy falls within the next six months.
To expedite a deal, homeowners say they will "sweeten" the deal by throwing in goodies such as paying closing costs (18%); including some major appliances (46%); and making household repairs (32%).
A big part of the reason for all this moving around is an improving economy, unemployment is down, housing costs are rising and consumers are increasingly viewing the Great Recession as disappearing in the rearview mirror.
Another reason is continued low interest rates. According to the
BankingMyWay Weekly Mortgage Rate Tracker
, average 30-year fixed mortgage rates are well below 4%, at 3.77%. Five-year adjustable-rate mortgages are even lower, at 2.67%.
Americans are catching on. According to Amex, 25% of U.S. adults say they will leverage lower mortgage rates to refinance, with 38% of Americans looking to use the money they save be refinancing to pay down debt and clean up some bills.
Also see: The Web Tool That Helps Find Your Tax Refund
Homeowners are also looking to spruce up their abodes. While Americans spent, on average, $3,500 on home improvement last year, that figure will rise by $500 in 2013 -- another sign of a growing economy, Amex says.
"Consumers are investing in their homes this year across nearly every category from DIY to new home furnishings," explains David Rabkin, a senior vice-president at American Express. "Whether they're redoing one room or the whole house, there is a significant bump in spending that should bode well for many merchants."