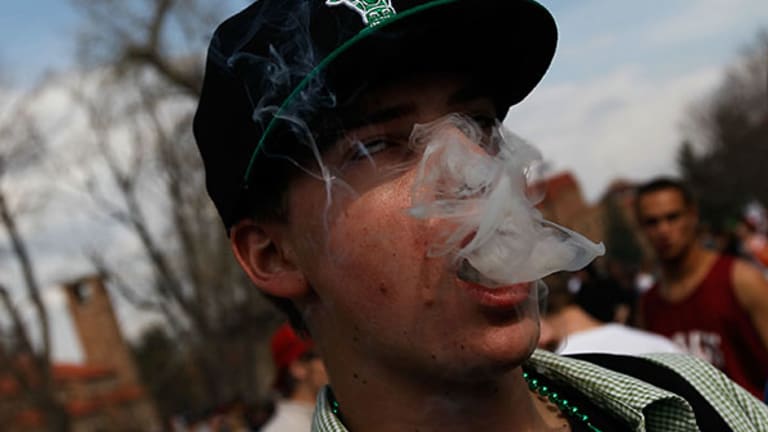 America's Best Cities for Stoners
With enough head shops, hemp festivals, dispensaries and prescription cards issued, you've got a pot-friendly place to visit or buy in.
BOSTON (TheStreet) -- Holy smoke! With Colorado and Washington State recently legalizing recreational pot and some 20 states allowing or soon to allow "medical" marijuana, here's a look at the five U.S. cities that market watcher Movoto.com recently crowned as America's most weed-friendly communities.
"[These rankings] could be useful for pot smokers who are looking for 'friendly' cities to at least visit, or serve as a jumping off point to researching places that could potentially have more in the way of festivals, clinics, etc., than where they currently live," says Movoto's Randy Nelson, who compiled the firm's study.
The site ranked America's 100 most-populous cities on a weighted scale of seven pro-pot factors, from whether applicable state laws legalize herb for recreational and/or medical use to how many "head shops" and other weed-friendly amenities a place has.
Movoto gave cities in Colorado and Washington tons of points for recently adopted state laws that allow adults there to buy and use pot for recreational use. (Marijuana remains illegal under federal law, but President Barack Obama said after Colorado and Washington approved recreational pot in 2012 that Uncle Sam had bigger fish to fry" than busting those who sell or consume weed there.)
States that have OK'd pot for medicinal use also scored high in Movoto's study, as did those that have "decriminalized" recreational weed. Those jurisdictions still consider pot illegal, but treat possessing small amounts of it as a non-criminal offense akin to parking near a fire hydrant.
Movoto's analysis also graded cities based on per-capita levels of head shops, hemp festivals, medical-marijuana dispensaries and how many residents hold prescription cards authorizing them to buy pot for medicinal reasons.
Nelson says many communities atop Movoto's list offer cool cultural offerings and laid-back local attitudes that can make them attractive to more than just tokers.
"This ranking was very obviously geared towards criteria that would make these cities appeal to fans of marijuana, but many of the cities [are] superb places outside of their pot-friendliness," he says.
Read on to check out the five cities Movoto considers America's most herb-friendly locales.
All rankings refer to how cities score on various criteria among the 100 most-populous U.S. cities, while all figures refer to just municipalities proper and not to surrounding suburbs.
Movoto based its counts of medical-marijuana cards and dispensaries on numbers tracked by advocacy groups, while numbers of local head shops and annual hemp festivals refer to offerings advertised on Yelp.com and other online directories.
Also see: 5 Best Cities for Singles>>
Fifth-best city for stoners: Aurora, Colo.
This Denver suburb (sometimes considered Denver's "twin city") really shines thanks to Colorado's liberal marijuana laws, which began with a 1975 decision to decriminalize small-time weed possession. Centennial State voters then approved medical marijuana in 2000 and recreational pot in 2012.
"The fact that the [study] was weighted heavily in favor of states where possession and use are legal had a lot to do with [Aurora's high score]," Nelson says.
The 332,000-population city also ranks No. 1 among America's 100 largest municipalities for the percentage of residents with medical-marijuana cards, as well as 29th for hemp festivals and 39th for medical-marijuana dispensaries.
All of that more than offsets a low 57th-place ranking for per-capita head shops.
Fourth-best city for stoners: San Bernardino, Calif.
Perhaps it's not surprising that the home of the world's first McDonald's has plenty to offer tokers.
Located some 60 miles east of Los Angeles, San Bernardino has the highest per-capita number of head shops and hemp festivals for any large American city.
The 213,000-population municipality also places fifth for the share of residents who hold medical-marijuana cards and 17th for per-capita medical-pot dispensaries.
That said, San Bernardino's recreational-drug scene looks more like something out of Breaking Bad than Cheech and Chong's Up In Smoke.
Nelson says San Bernardino's drug culture is known "most notably for the manufacture of methamphetamine," while the city's economy has fallen on hard times.
The San Bernardino government filed for bankruptcy in 2012, while the latest U.S. Census figures show that 34.6% of residents lived below the poverty line in 2010 -- a rate second only to Detroit's among big cities.
Third-best city for stoners: Seattle
The Emerald City has long been a friendly place for green plants, and that was before Washington State voters approved recreational pot use in 2012 (with 74% of Seattle's electorate saying: "Sure, dude").
Although the state's first legal recreational-marijuana shops won't open until later this year, Seattle residents also approved a local measure in 2003 that ordered police to make pot enforcement the department's lowest priority.
Also see: 5 Most Sinful Cities in America>>
In fact, the Seattle Police Department announced days after the 2012 recreational-pot vote that it would no longer help with federal marijuana investigations in the 621,000-population city. The cops even posted a handy fact sheet about legal marijuana that included a clip from the 2001 film The Fellowship of the Ring of the wizard Gandalf getting high.
As if that didn't make Seattle "4:20-friendly" enough, the city also places fourth on a per-capita basis for medical-marijuana dispensaries, 17th for marijuana festivals and 23rd for the share of residents who hold medical-marijuana cards.
Such factors outweigh Seattle's weak 66th-place ranking for head shops relative to population.
Second-best city for stoners: Colorado Springs, Colo.
Colorado Springs is home to the U.S. Air Force Academy, but students there aren't the only ones flying high these days.
Not only did Colorado's 2012 vote to legalize recreational pot rocket the 426,000-person city into the stratosphere of Movoto's rankings, but Colorado Springs also ties Denver for the second-largest percentage of residents with medical-marijuana cards.
Located some 60 miles south of Denver, Colorado Springs also places 13th for per-capita medical-pot dispensaries and 31st for the number of head shops per person.
In fact, there's only one real bummer for Colorado Springs pot smokers: Movoto found zero advertised hemp festivals there.
Best city for stoners: Denver
They don't call Denver the "Mile-High City" for nothing.
Colorado's capital takes the top spot on Movoto's rankings mostly due to the state's tolerant marijuana laws. But as noted, Denver also ties Colorado Springs for the second-highest share of residents with medical-marijuana cards.
On a per-capita basis, the 620,000-population city also places third for medical-pot dispensaries, 16th for hemp festivals and 22nd for head shops.
"There's obviously some correlation in the case of Denver between local culture and how well it performed [on Movoto's rankings]," Nelson says.