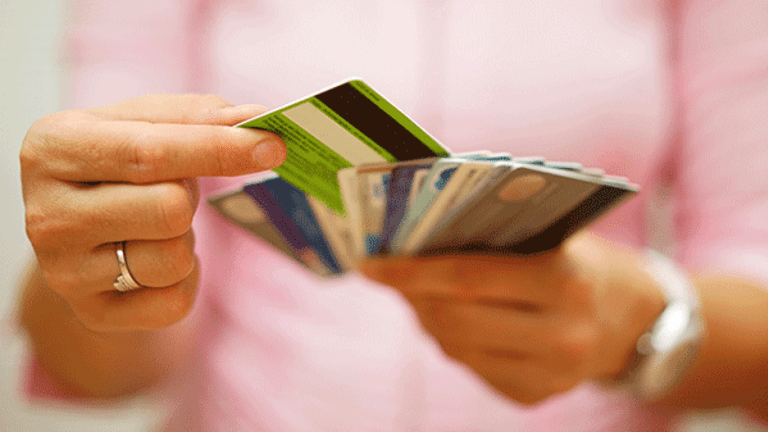 Americans' Spending Is Out of Control
The American consumer's love affair with plastic is not over, as outstanding credit card debt in the U.S. topped $1 trillion at year-end 2016.
The American consumer's love affair with plastic is not over.
Outstanding credit card debt in the U.S. topped $1 trillion at year-end 2016 according to the payment trade publication The Nilson Report. For comparison sake, there was $1.4 trillion at yearend of student loan debt.
"Over a 50-year period of normalization, consumers think of credit card spending as their own readily-available money rather that what it actually is — a loan," said Rakesh Gupta, associate professor at the Adelphi University Robert B. Willumstad School of Business. "Also, I think there is another psychological factor at work — a wad of money shrinks as you spend it, but the plastic remains the same size no matter how often it is used."
Gupta said many have fallen in love with instant gratification — and do not spend the time to distinguish between whether the item to be purchased fulfills an actual "need," or just serves as a "want."
"American's reliance on credit cards is really a symptom of a lack of savings," said Pedro Silva, a financial advisor at Provo Financial Services. "If folks have $20,000 or $30,000 in non-qualified savings, they would not have $20,000 or $30,000 in credit card debt."
Changes in society and lifestyles also have played a role. Over the past 30 years, Americans have increased the amount of "essentials" to include cell phones, internet costs, cable television, DVR, subscriptions to Netflix and more, said Silva, all cutting into possible savings more and more.
"Health care costs have skyrocketed, college costs have skyrocketed and many people are simply 'keeping up' with the bills rather than being able to save proactively," Silva adds. "This often means that when unexpected costs arise, such as brakes on car, water heater, child's braces, these costs end up on a credit card."
Silva said it is often those expenses — and not the frivolous or arbitrary purchases — that create credit card problems — the necessary expense that shows up when there is no discretionary money to pay it.
"We recommend clients deal with this issue in a few ways," he said. "Having a home equity line of credit open, and opening it when you might not need it, is a good practice to help be able to pay for larger expenses without a credit card."
He said he also encourages people to have savings, and finally, if there is a spending problem, he often tells people to carry cash.
"There is something about counting out a few hundred dollars in bills, that makes people reconsider the value of what they are buying," said Silva.
Lisa Chastain, a money coach and vice president of the National Association of Women Business Owners Southern Nevada, said her experience also is people sometimes lean on the plastic for those emergency costs that cannot be covered any other way.
"If they have medical or health problems — or if their children do — they have a very hard time keeping up with the bills, even co-pays," she said. "If they do not have control of their household spending, they very easily need to resort to credit to start making ends meet.
"The problem with that is that once they get into debt, it is a viscous cycle that they have a hard time getting out of," Chastain added.
However, she also admits another reason she sees people fall into are debt is they are addicted to experiences like eating out, attending shows, driving nice cars and appearing to have money.
"The credit cards are a way for them to essentially 'buy' up in their social status," she said. "It's hard to keep up with Jones these days."